Energy Transfer Partners (NYSE:ETP) and Energy Transfer Equity (NYSE:ETE) reported solid third quarter earnings on Wednesday, November 6. Units have logged a 23 percent gain this year, not counting cash distributions.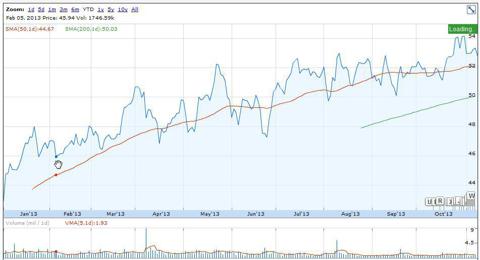 Click to enlargecourtesy of google.com/finance
I have offered a bullish view of these MLP units previously; seeing the company not for where it's been, but for where I believe it's going. The thesis remains intact, though every path includes some speed bumps.
Third Quarter Earnings: The Ten-Second Takeaway
Energy Transfer Partners is successfully digesting an enormous amount of M&A activity. In addition to getting a handle on a stable of new assets, significant rationalization and restructuring has been ongoing.
The business settling down nicely. Cash flows are strong. Nine-month year-over-year Distributable Cash Flow was up 43 percent. The distribution has been raised, divestiture activity is further streamlining operations, there's a focus on expense management, and lucrative business prospects are numerous.
Challenges include continued weakness in the intrastate / interstate pipeline transportation segments, and a bit of a gut punch to the Trunkline gas-to-crude oil conversion plans.
What Unitholders Want to Hear About: Cash Distributions
Next week, Energy Transfer Partners unitholders will receive a long-awaited quarterly bump in the cash distribution, even though it's barely more than a penny. The increase should be the first of a series; signifying renewed business growth.
During the 3Q conference call Q&A session, CFO Martin Salinas bolstered this view by offering the following remarks:
I think .... what we've done over the course of last several years puts us in a very good position to not only start the resumption of distribution rate growth but continue that. And as [COO Mack] Mackie just stated, we still see a lot of growth in our midstream NGL platform. I think retail will continue to deliver strong results. So that really sets us up for I think some nice growth and distributable cash flow and in turn rewarding our unitholders.
As an investor, it's important to know what's behind those words. There are several reported and calculated measures I use to analyze the Energy Transfer balance sheet and cash flows:
Distributable Cash Flow coverage ratio
Debt / EBITDA ratio
Interest Coverage ratio
Return-on-Equity
Return-on-Capital Employed
Distributable Cash Flow-- Energy Transfer uses this non-GAAP measure to identify its net cash flow versus unitholder distributions. The stated target is 1.05x, meaning that the business must generate 5% more net cash flow than it doles out to unitholders.
As predicted, the new assets are falling into place. The DCF coverage ratio has gone into the black. The reported quarterly coverage figure was 1.14x. The nine-month YTD ratio has now climbed to 1.02x.
Debt / EBITDA-- ETP management has a stated objective to get this ratio between 4 and 4.5x. During the M&A transition and rationalization process, there's been too much money sloshing around to make the hurdle. The agencies understood this, and retained Energy Transfer's investment grade credit rating. At last, the third quarter marked the numbers coming in; on an annualized basis. The ratio is currently 4.1x. Additional good news is coming: the New England Gas Company divestiture should close in the fourth quarter. Funds from that transaction are earmarked to pay down more debt.
Interest Coverage ratio-- Energy Transfer doesn't emphasize the ICR, but I do. This ratio is figured by dividing EBIT by Interest Expense. It provides a snapshot as to how comfortably the company can meet its debt service obligations. The current quarter showed a 3.1x coverage ratio, well above my minimum threshold of 1.5x.
On a go-forward basis, I plan to track the following two measures closely. Return-on-equity and return-on-capital employed offer insight as to how effectively Energy Transfer management is handling owners equity and invested capital.
Return-on-Equity-- I elected to ETP's unadjusted "net income" to determine the return figure. As such, the quarterly annualized RoE is now 9.6 percent. This figure should improve going forward.
Return-on-Capital Employed-- The numerator of this calculation reflects EBIT. The denominator is assets and debt (gross corporate capital), reduced by cash on hand, goodwill and intangibles. I estimated the quarterly annualized RoCE to be 7.3 percent. A low double-digit return is the benchmark.
How About Future Business?
Energy Transfer has many irons in the fire. I like that. Furthermore, the management team understands that MLPs cannot just grow organically, the business must continue to build assets and returns via focused acquisition activity.
Here's a few current highlights:
The construction of Mariner South project, a $700 million transmission pipeline and state-of-the-art Texas gulf coast import / export LPG facility, remains on track for a first quarter 2015 start.
A series of pipeline expansion projects have been completed on-budget, on-time. These will slowly build hydrocarbon volumes and revenues. Unfortunately, the natural gas market isn't cooperating particularly well. Stubbornly low prices resulting from over-supply have suppressed margins, and will likely continue to do so for at least the near-term.
ETP and Regency Energy Partners LP (NYSE:RGP) announced that Lone Star NGL LLC, a joint venture between ETP and Regency, has placed in service a second natural gas liquids fractionator at its facility in Mont Belvieu, Texas, bringing Lone Star's total fractionation capacity at Mont Belvieu to 200,000 barrels per day. This project will further widen the company's quarter-over-quarter EBITDA "double" for the NGL business segment. Volumes, revenues and margins all expanded.
The Sunoco Logistics (NYSE:SXL) businesses are shining brightly. This wholly-owned ETP subsidiary combines excellent current cash flow with good growth prospects. This unit has exceeded post-acquisition expectations.
Meanwhile, the Sunoco retail marketing business does exactly what it was intended to do: generate ratable cash flows. At first, I questioned why Energy Transfer wanted to retain these assets. However, folding it into the MLP structure and the wisdom retain much of its old leadership expertise, Energy Transfer has a solid franchise that can spin off cash sustainably. Segment-adjusted EBITDA was $100 million in the third quarter.
All the news was not positive. With a bit of a thud, the conference call saw Energy Transfer management note that Enbridge (NYSE:ENB) nixed their partnership to develop a new St. James pipeline leg off the proposed Trunkline gas-to-crude oil conversion project. The decision came as a result of a weak "open season" effort to line up enough oil shippers to justify capital expenditures to construct the new line. Energy Transfer will continue to pursue the existing Trunkline conversion project alone. The setback has pushed a likely completion date back to late 2016 versus a previously-anticipated 2015 startup. On Wednesday's conference call, COO Mackie McCrea remarked:
....the outcome of the open season did not justify us building a line down to St. James, so with several customers we are in negotiations to transport that crude to another market and we continue to be very optimistic that we will ultimately fill up that pipeline with crude sometime in late 2016.
Summing Up
For those who've followed my Seeking Alpha articles about Energy Transfer, it's been a long journey from a sleepy intra-state NGL carrier to a national, integrated, hydrocarbon transportation company. Kudos to management. Going forward, I envision modest, but consistent unitholder cash distribution growth.
Eventually, I believe we will see the SXL General Partnership find its way to Energy Transfer Equity, additional asset streamlining via "tail" divestitures, and a host of successful capital projects support returns. Better pricing and margins in the NGL business should add gloss to the enterprise.
Finally, I come back to my initial premise, "It's not where the stock has been, it's where it's going." Energy Transfer Partners has effectively outperformed many of its large-cap peers YTD 2013. Here's a chart recapping the price action: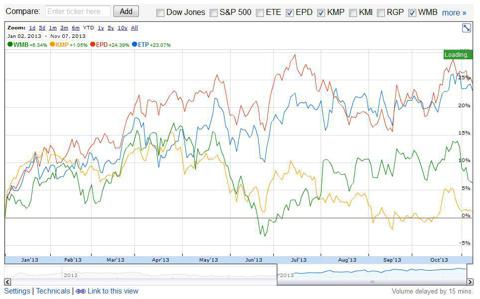 Click to enlargecourtesy of google.com/finance
Now, here's another chart comparing ETP (the entity that generally holds the assets) with the ETE (the operating general partner):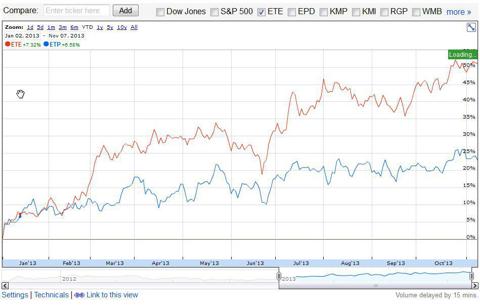 Click to enlarge
courtesy of google.com/finance
Interesting charts, huh? Nor do I believe the ETE run is over.
I have decided to re-allocate some of my Energy Transfer capital between the two companies. I believe the new assets and business opportunities may afford GP Energy Transfer Equity significant future growth.
I hope to learn more upon my plans to attend the Energy Transfer Investor Day presentation, held in Dallas later this month. I will like to report back to you all after that event.
Please do your own careful due diligence before making any investment decision. Good luck with all your 2013 investments.
Disclosure: I am long ETP. I wrote this article myself, and it expresses my own opinions. I am not receiving compensation for it (other than from Seeking Alpha). I have no business relationship with any company whose stock is mentioned in this article.
Additional disclosure: Author owns ITM November puts to purchase ETE units.