Overview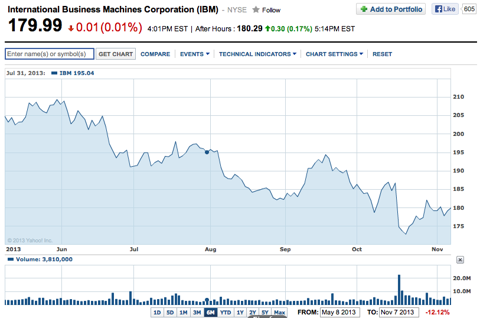 Click to enlarge
International Business Machines (NYSE:IBM) does not share the intense news driven lifestyles that Apple (OTC:APPL) and Samsung (OTC:SSNLF) do, although it is an undervalued technology company that offers significant upside for the investor. This discussion will detail the fundamentally undervalued natured of IBM, and as such it offers an attractive entry point for investors looking to profit as the market realizes the growth in store for IBM to the tune of $230 per share.
IBM vs. Computer Services Sector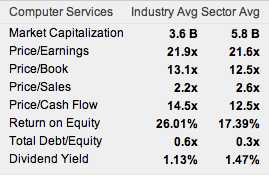 A quick-view of company metrics can offer just that, a quick analysis. Although a comparison of a company to the individual sector within the industry they do business in offers a much more useful analysis. IBM is within the technology sector and the computer services industry.
| | | |
| --- | --- | --- |
| Metric: | IBM: | Computer Services: |
| P/E | 12.49x | 21.9x |
| P/B | 9.83x | 13.1x |
| P/ Sales | 1.93x | 2.2x |
| P/ Cash Flow | 9.34x | 14.5x |
| ROE | 77.90% | 26.01% |
| Total Debt/Equity | 1.82x | 0.6x |
| Dividend Yield | 2.11% | 1.13% |
One area of concern is IBM's near 3x the debt/equity ratio of IBM compared to the industry. Using debt to finance growth is a concern that the growth is not material, although as we can see below this divergence between the computer services industry's total debt/ equity and that of IBM's is of no concern. This is due to IBM's growth rates that are in turn well above the industry average.
| | |
| --- | --- |
| IBM's Growth | Metric |
| Return on Assets | 13.81% |
| Return on Equity | 77.90% |
| Return On Invested Capital | 20.86% |
IBM's total debt/equity is higher than the computer services industry, although IBM's growth metrics are way above average. Surprisingly, IBM's return on equity is 2.995x higher than the industry average while their total debt to equity is 3.033x higher than the industry average. IBM's only metric of concern, total debt to equity, is of no worry since their return on that equity has been on par with the debt they have accumulated financing this growth. If IBM's return on equity was well below the industry in comparison to their debt being above the industry then that would be a cause of concern - although that is not the case here.
$230 Target Using These Metrics:
IBM is undervalued in comparison to the high growth industry that they compete within. My target price of $230 would change the metrics of IBM to be more closely on par with the computer services industry. If IBM was at $230 per share today, the following metrics portrayed below would highlight IBM.
| | | |
| --- | --- | --- |
| Metric: | IBM at $230 Per Share | Computer Services: |
| P/E | 15.92x | 21.9x |
| P/B | 12.56x | 13.1x |
| P/ Sales | 2.47x | 2.2x |
| P/ Cash Flow | 11.93x | 14.5x |
Using a share price of $230 when comparing the current amount of earnings, book value, sales and cash flow of IBM created a valuation that is more closely correlated to the computer services industry. Moreover, these values are generally still below the computer services industry itself. That is due to the fact that IBM is an extremely large company at $195 billion in market capitalization compared to an industry that has a market capitalization of $3.6 billion. Investors will likely not bid up IBM to the actual averages as money will flow into smaller names that have promise for extreme gains and high growth, although IBM is clearly the safer bet with their size.
At a price of $230, IBM's multiples would still give room for variations, and are generally below averages that would account for the company's massive size in comparison to the industry itself that contains smaller companies.
| | |
| --- | --- |
| Metric | IBM at $230 Per Share |
| P/E | 72.7% of industry average |
| P/B | 95.9% of industry average |
| P/ Sales | 112.3% of average |
| P/ Cash flow | 82.3% of industry average |
At a price of $230 per share, IBM would still be considerably below the averages of the industry on a P/E, P/B and P/Cash Flow basis. P/Sales is an area of concern as IBM would be over the average, although no company is perfect. Comparing IBM's future to the current industry average is useful since as time goes on IBM's advancement will alter these industry averages, as IBM is a large component of the industry.
More On The Target:
The estimate used above demonstrated UBS analyst Steve Milunovich's cut that included a price slash to $186 from their previous target of $235.
"So, we see it as dead money for, say, the next six months." (source)
I think this analyst may have gotten the call completely backwards as back on April 10, 2013 the same UBS analyst raised his price target on UBS to $235. Although from April 10, to today UBS did not hit the target or get close and shares have fallen over 16% from the call at $212 to where they are now at $180. I think this analyst got it backwards and on April 10 was the time to sell and now is the time to buy. That is why I would not put too much stock into this analyst estimates.
Why Are Shares Cheap Now?
On October 17, 2013 UBS downgraded IBM from a buy to neutral following negative third-quarter earnings results. IBM has actually appreciated 3.58% since October 17 though. The company reported revenue of $23.7 bullion or a billion dollars off from $24.7 billion. The analyst stated that the company reported EPS that was in line with estimates, although missed profit and revenue numbers for two of the last three quarters which they saw as unusual.
Put simply, there has to be a reason to pick up shares of a company cheaper than normal. These events give the investor the ability to pick up shares on the cheap, for the long term. Known as a contrarian investment viewpoint, investing in the bounce back against the community can offer an investor significant gains. Although IBM is no BlackBerry (NASDAQ:BBRY), and this bounce back play offers less risk due to the company's size and financial security. There is no doubt that investors should question two out of three earnings and revenues misses as it is unusual, although these are the opportunities that allow investors to buy into oversold companies.
Did The Analyst Call Affect Institutions?
Moreover, the change in UBS's outlook for IBM has majorly impacted institutional holdings of IBM, as over the prior to the latest quarter the chance in net institutional purchases is a negative 1.14%. Although the analyst call will likely be seen looking at these numbers next quarter, institutions held strong into the end of the quarter.
Earnings Numbers Had Some Glimmer:
IBM's recent earnings numbers for the quarter ending September 30, 2013 had some positives over the quarter ending June 30, 2013. Net income increased to $4.04 billion from $3.82 billion and earnings per share increased to $3.68 per share from 3.33 per share in the same quarter last year. Keep in mind that excluding one time charges, the company crested estimates of $3.96 and earned $3.99 per share.
Moreover, IBM stated that the absence of $408 million in charges related to job cuts that it logged in the year ago period and lower expenses aided the company's recent earnings numbers.
IBM and Servers:
A lot of people do not hear too much about IBM in comparison to the news hungry companies such as Apple and Samsung. Although in the background, IBM is not going anywhere anytime soon. IBM has the highest revenue per employee of all major IT service vendors. Their employees are not only efficient, they generate more revenue than any company in the field. The two on the list that may pop a thought are HP (NYSE:HPQ) and Dell (NASDAQ:DELL), although they have heavily lagged behind in revenue per employee in comparison to IBM.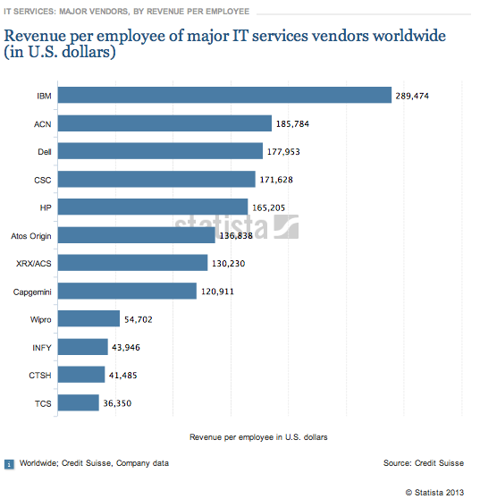 Click to enlarge
IBM is a major player in the server business. The growth of server shipments is key in that it allows IBM to not only compete with their competitors for sales as seen with stagnant worldwide growth of a product, although it allows for increased sales as the product demand has increased.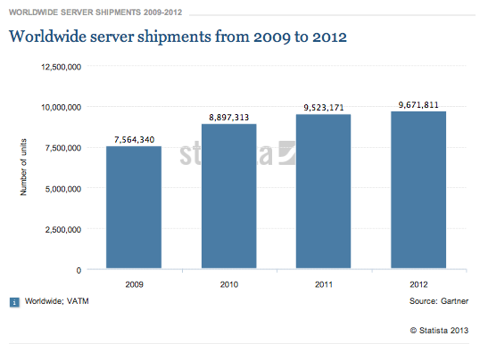 Click to enlarge
With the increase of server shipments, IBM has held strong and increased their market share of the server system market. IBM increased their marketshare to 27.90% in Q2 of 2013 from 25.70% in Q1 of 2013. Moreover IBM's market share does fluctuate between 25% and 36% so their is more than enough room for growth over the coming quarters by this server powerhouse.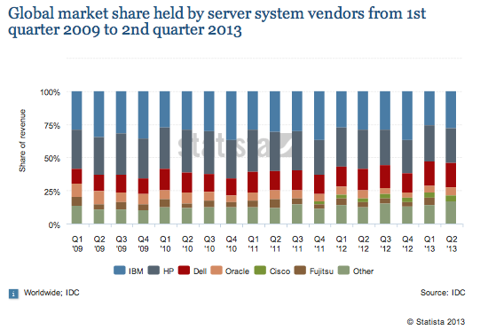 Click to enlarge
Moreover, IBM may be large, although they are not maxed out with regard to their marketshare as seen in the last graph although further detailed below. IBM's revenue derived from IT operations management, ITOM for short, is at 18.20%. This means that there is still room for significant growth in this area as well.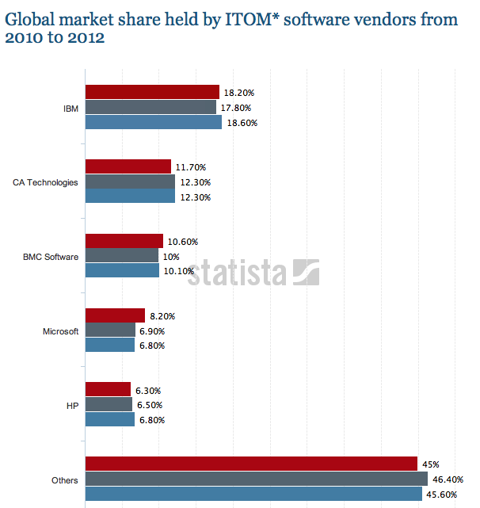 Click to enlarge
Moreover, these market share statistics further demonstrate IBM's significant lead in employee revenue, market share of server systems and market share of ITOM software. All the while server shipments are growing worldwide annually, leading the investor to note that the main target market for IBM's sales (servers) has not stagnated and is growing worldwide to further feed growth.
Trading:
(click to enlarge) (Source)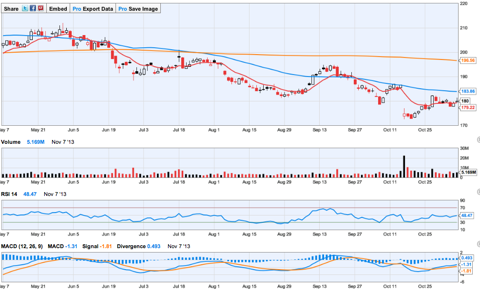 Click to enlarge
Another source of IBM's decline in share price technically could be the death cross that occurred in late July, 2013. This is a bearish signal that occurs then a stock's 50 day moving average crosses below the 200 day moving average. We can assume that this technical metric will last about 6-7 months for this large cap. This is due to the fact that the last golden cross (opposite the death cross) occurred back in late February of 2013 until the death cross in late July. It has been around four months since the death cross, although the distance between the 50 and 200 day moving average is about equal to what it was at the middle of the length in between the last golden and death cross. This is a good sign since if the investor can get in between these crosses, it allows for more gains on a technical basis. This is due to the fact that the trader does not only benefit from the 50 DMA cross above the 200 DMA, although form the middle of the two technical crosses to this golden cross event.
In plainer terms, profit before the actual golden cross occurs buy buying when the maximum distance between the 50 DMA and 200 DMA occurs to profit from the trek back as well as after the golden cross occurs. These are all technicals and predictions and I generally do not use too much technical analysis when investigating a stock, although it can be a useful tool for the investor or trader to get the best possible price.
Moreover, IBM currently has an RSI or relative strength index rating of 48.47. This demonstrates that not only is IBM not overbought, they are even below the neutral range of 50 and bordering on oversold. A good technical indicator for the investor.
Recent News:
IBM has not been without the move to the cloud, even at the government level. The company recently recieved a government operating approval to allow federal agencies the ability to use IBM's infrastructure as a service to cloud platform. Moreover, it meets federal network security standards. Although IBM was shot down recently over a CIA contract that Amazon (NASDAQ:AMZN) won, new details have shed additional light on these developments. It was not as simple as a lower total price, as Amazon's services were superior - so IBM has some catching up to do. Although that could just be the opinion of the board, I'll leave a comparison to the tech gurus involved with comparing the two company's services.
Moreover, IBM was named a leader in providing customer relationship management services by Gartner, Magic Quadrant for CRM Service Providers, Worldwide. IBM's Paul Papas had some words to say about this report, the key being as IBM is a leader in CRM, that will further drive top-line growth.
"Customer experience has become the primary lens through which organizations are looking to achieve competitive advantage and drive top-line growth," said Paul Papas, global leader for Digital Front Office, IBM Global Business Services.
Although the setback from Amazon is real, it will be interesting to see how well Amazon makes due on their contract, as IBM is the clear leader in the space.
Indeed it was IBM who, in years gone past, differentiated its cloud products as "trusted enterprise cloud", its way of keeping itself distinct from new players such as Amazon Web Services who, while being new and exciting, don't have a decades-long legacy of delivering solutions robustly, with backwards compatibility and with enterprise levels of service. (Source, bold for emphasis)
Conclusion:
IBM is clearly not the news hungry company that many large tech names in the industry such as Apple and Samsung are, although I see that as a positive. Instead of watching Samsung's net income crest Apple and the news debacle over the two companies, I would rather take the secure and stable tech name that is undervalued. Moreover, IBM is of course in the news, but not to the degree of its competitors. A share price of $230 offers a gain of 27.78% while still not being fundamentally overvalued in comparison to the industry itself. Moreover, analyst opinions and technical metrics have driven the PPS down, creating this buying opportunity for investors. The analysts did not want to wait around for the bounce back as stated in their PR, a bounce back that I will be more than happy to wait for without them.
"Normally we would wait out mediocre results in preparation for the bounce back, but there are too many questions at this time." (source)
Disclosure: I have no positions in any stocks mentioned, and no plans to initiate any positions within the next 72 hours. I wrote this article myself, and it expresses my own opinions. I am not receiving compensation for it (other than from Seeking Alpha). I have no business relationship with any company whose stock is mentioned in this article.
Additional disclosure: Always do your own research and contact a financial professional before executing any trades. This article is informational and based in my own personal opinion.