On Tuesday, a 56-year old administrative assistant by the name of Deborah Watkins used her lunch break to walk down to her local TD Ameritrade branch with the intention of purchasing shares of Twitter (NYSE:TWTR), only to discover that -
...trading at the so-called IPO price - available to large investors and certain brokerage customers before the shares begin trading publicly - wasn't available to her
If Twitter's IPO Prospectus is any guide, Mrs. Watkins will be counting her blessings for that Coach-class ticket by the time Thanksgiving rolls around.
There are two reasons why I believe investors should adopt a wait-and-see approach re: #Twitter, neither of which have anything to do with the company's advertising prospects:
1) Twitter's abstention from the public markets resulted in a dependence on venture capital considered excessive even by Silicon Valley standards. Apart from insiders like Twitter Chairman Jack Dorsey (23.5 million shares), Dick Costolo (7.7 million shares, or 1.6% pre-IPO/1.4% post-IPO), and co-founder Evan Williams (56.9 million shares, 12% pre-IPO/10.4% post-IPO) and major multinational banks like JPMorgan Chase (NYSE:JPM) (48.8 million shares or 9%), Twitter counts five different VC and private equity firms among its Beneficial Owners. (See Table 1 below.)
Table 1: Twitter Beneficial Owners and 5% Stockholders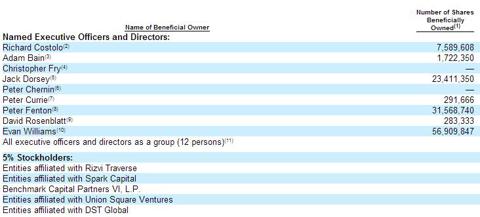 (Source: Twitter SEC Form S-1 Registration Statement)
The way that a VC or private equity firm succeeds is by making relatively small bets on dozens - even hundreds - of different start-ups at the same time with the expectation that 9 out of every 10 will fail, but that the money made off the 10th will more than make up for the losses of the other 9. These funds usually have a limited lifetime, which means that capital gains must be realized before expiry regardless of how bright the prospects are for any one investment, which is why VCs work out their exit strategy well before they invest even a single $1 in a start up. The whole reason they're in the business to begin with are the potentially stratospheric ROIC that venture capital affords, which means that there's little point in sticking around after the Lock-Up period.
The large number of VC firms that own 5% or more of Twitter implies significant selling pressure on the stock going forward.
2) Twitter's pre-2013 obligations will have a significant negative impact on the company's ability to achieve profitability on a GAAP basis in 2013 and 2014. Twitter is currently engaged in a war of attrition for talent with well-heeled competitors like Apple (NASDAQ:AAPL), Microsoft (NASDAQ:MSFT), Google (NASDAQ:GOOG), LinkdIn (NYSE:LNKD) and Facebook (NASDAQ:FB), all of which have deeper pockets that Twitter does. The only way that Twitter could attract and retain top flight talent against an All Star lineup like that was by using its equity as currency.
According to leaked correspondence between Twitter's legal team and the SEC's Office of Chief Council dated August 23rd, 2011, Twitter's current employee stock plan looks like this:
Table 2: Twitter's RSU Schedule
| | | |
| --- | --- | --- |
| Length of Service Prior to Liquidity Event | Number of Shares of Acquiring Entity Issuable Upon a Liquidity Event | Number of Shares of Acquiring Entity Issuable After Liquidity Event (Assuming Continuous Service) |
| 2 Years | 50 shares | 6.025 shares/quarter for 24 months |
| 18 months | 37.5 shares | 6.025 shares/quarter for 30 months |
| 6 months | 0 shares | 25 shares six months after Liquidity Event |
Unfortunately, the company wasn't always so conservative with its stock awards. As of June 30th, 2013, the company's outstanding option-based obligations include:
44,157,061 stock options as of June 30th, 2013 with a weighted-average exercise price of $1.82 per share;
59,913,992 shares of common stock subject to employee-based compensation or RSUs;
116,512 shares of common stock issuable upon the exercise of a warrant to purchase convertible preferred stock outstanding as of June 30, 2013, with an exercise price of $0.34 per share;
27,002,040 shares of common stock issued after June 30th, 2013;
up to 14,791,464 shares of common stock due to the acquisition of MoPub;
7,814,902 shares of our common stock reserved for future issuance under Twitter's 2007 Equity Incentive Plan.
In fact, when these 150 million off-balance sheet shares are accounted for, Twitter's valuation rises to nosebleed levels of 33x 2014 sales estimates, which makes Twitter one of the most expensive companies on the planet on a per user basis.
Conclusion
Twitter is a great brand with a hot product, but being a great brand doesn't automatically make the company a great investment. The combination of heavy VC participation, stock options and vested RSUs will put significant downward pressure on the stock over the next year. The company admits as much on pg. 24 of its revised IPO prospectus:
Following the completion of this offering, the stock-based compensation expense related to Pre-2013 RSUs and other outstanding equity awards will have a significant negative impact on our ability to achieve profitability on a GAAP basis in 2013 and 2014.
The question, then, is why any rational investor would believe that Twitter will be profitable in the next 12 months when the company itself doubts it. I expect that Twitter will fall into the low $30s in the near term, as the combination $459.2 million in stock-based legacy compensation expenses, negative earnings, divestment by the company's VC partners and a slowly expanding North American user base take a toll on investor sentiment.
Keep in mind, however, that this is a strictly near term price target. Twitter has a number of aces up its sleeve that I expect to tell over the long term, including (but not limited to) negligible content costs and the potential for margin expansion.
Disclosure: I have no positions in any stocks mentioned, and no plans to initiate any positions within the next 72 hours. I wrote this article myself, and it expresses my own opinions. I am not receiving compensation for it (other than from Seeking Alpha). I have no business relationship with any company whose stock is mentioned in this article.