"Engaged, as I am, in a great war, I fear it will be difficult for the world to understand how fully I appreciate the principles of peace." - Abraham Lincoln
While 2013 has been a well-received year for diversified stock investors as a whole, many income-oriented investments have been devastated. In regards to equity investments, investors who have held real estate investment trusts (REITs) have been through the trenches and back.
As measured by the iShares U.S. Real Estate Index ETF (NYSEARCA:IYR), U.S. REITs are down 1.05% on the year while the S&P 500, as measured by the SPDR S&P 500 Index ETF (NYSEARCA:SPY), is up 24.5% as of the close of trading on Friday November 8, 2013. On this day in trading (not reflected in chart below) the IYR closed down 1.34% while the SPY fund traded up 1.35%.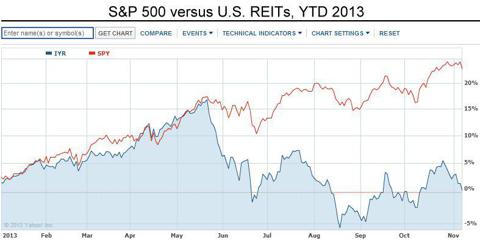 As noted by the YTD performance chart, the U.S. REIT market was up over 15% on the year in May, tracking close to the S&P 500. After talks of the taper and interest rate fears took hold of the market, the entire REIT market suffered a summer swoon while the general market continued to advance.
While the first half of the year was a combination of sweet victories for the REIT market, the summer swoon destroyed confidence in the sector. Subsequent minor victories and defeats brought both joy and carnage to REIT investors.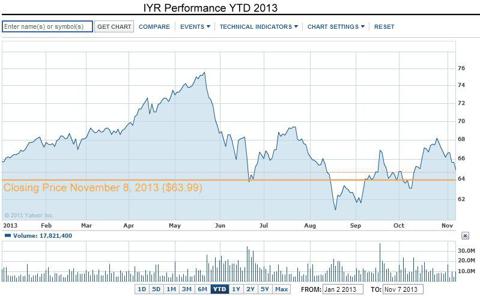 As noted by the IYR performance chart above, most investors who purchased REITs in 2013 and are still holding will have unrealized capital losses in their portfolio.
The 2013 REIT Sell-Off Continues: A Perfect Storm
On October 21, 2013, I wrote an article titled The U.S. REIT Market: IYR Is Ripe For A Pullback, detailing two reasons that the general REIT market was at risk of a short-term correction. In the 14 trading days since, the IYR was down 4.09% while the SPY was up 1.66%.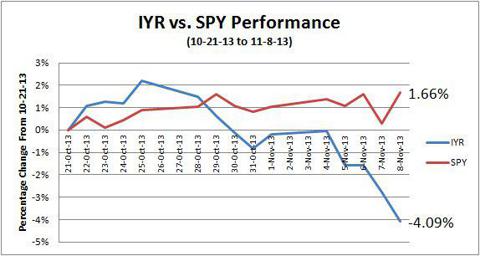 The two reasons I gave were anticipated U.S. 10-year treasury bond weakness and the end of year tax incentive to sell unrealized capital losses that offset capital gains. In this article, I will follow-up on this theory and add a third variable that could create a "perfect storm" that would lead to further deterioration in the REIT sector.
Market Wisdom: The REIT Sell-Off Trifecta
Markets are forward looking, yet investors who are able to correctly anticipate moves ahead of the market are able to sustain further gains while preventing and/or lessening losses. In the REIT market, there are three investment themes and strategies brewing that may lead to a short-term correction in the IYR.
This trifecta that may create this perfect storm is continued weakness in the 10-year U.S. treasury bond, tax-loss selling and the influence of professional money managers. Each presents specific risks and catalysts that when combined could create a disaster for current REIT investors.
1. 10-Year Treasury Weakness
Major foreign holders of treasuries are reducing positions. Countries leading the way are Switzerland, Russia, Hong Kong, Belgium and Israel, who have reduced their treasury exposure by 8.7% to 29.1% YTD.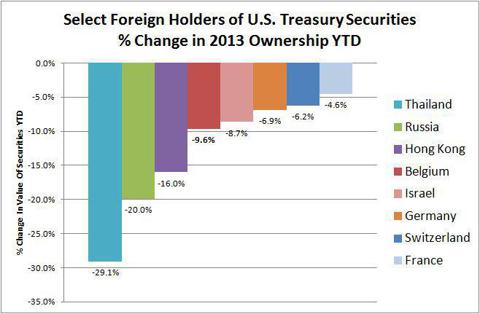 The accelerated reduction of treasuries by these nations would add fuel to the fire.
A bandwagon reduction of treasuries by other nations looking to reduce risk and stay ahead of further weakness in the long-bond market could also lessen demand for the 10-year note.
Reduced QE prospects in 2014 have the potential of causing an increase in 10-year bond sales. The October jobs report today (11/8/2013) signaled strength in the U.S. economy, which threatens QE. Also, the FOMC meeting minutes of October 29-30, 2013 will be released November 20, 2013. See the 2013 Federal Reserve public calendar here.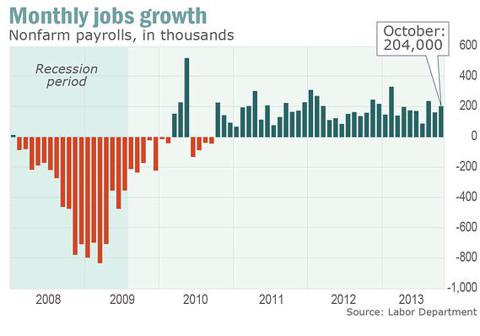 REITs are seen as income investments and have a negative correlation to the 10-year treasury yield. As noted in the scatter graph below, since October 1, 2013 there was a negative correlation between the 10-year bond and the U.S. REIT sector. The largest 10-year treasury increase was today (11/8/2013) at 5.62%, which is notated by the red dot. The IYR was down 1.34% in what was an otherwise up market.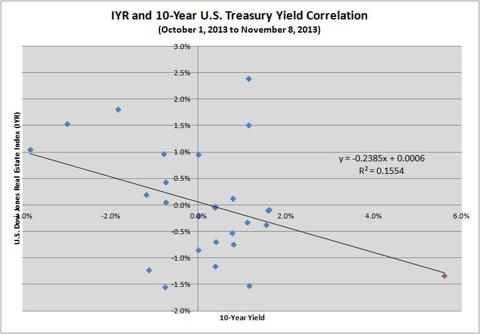 2. Tax-Loss Selling
Investors sell losing stocks by the end of the year to offset capital gains as part of a U.S. tax incentive.
REITs are down 1.05% on the year, with most of the year sales above the current price when measured by the IYR. When a majority of YTD pricing in one sector is higher than the early-November price, tax-loss selling may be focused in that sector.
The general market as measured by the S&P 500 Index ETF is up 24.5% on the year. The S&P 500 includes REITs, without such inclusion the index would be up even further. With a strong general market there are more capital gains to potentially offset, which would thus trigger more demand for tax-loss selling.
Markets are forward-looking. As tax-loss selling is anticipated, a reduction in demand for securities underwater for the majority of the 2013 calendar year will be in place. This leads to further declines of weak stocks and sectors ahead of such sales.
Tax-loss selling now occurs in November as investors are forward-looking.
November is a month of a naturally anticipated increase in volatility. This can exacerbate the ups and downs of the market.
3. Fund Management Influence
Fund managers sell stocks with large losses and purchase momentum stocks near the end of the year to boost performance.
Fund managers may drive up the performance of their own winning stocks to boost portfolio returns.
Fund managers buy stocks that make them look good at the end of the year called "window dressing."
Conclusion
With the threat of continued weakness and the higher risk profile associated with REITs this year, income investors may choose to reduce their tolerance to the sector at this time.
With a slide in prices, however, healthy companies yielding 5% and higher in this long-term low interest rate and low inflation environment could prove rewarding. The question that would remain for current and potential REIT investors then becomes one of when to pull the trigger, not if.
To read about potential REIT buys due to tax-loss selling this month, please read 4 Big REITs That Could Drop And Pop On Tax-Loss Selling, published November 6, 2013. The four stocks mentioned here have dropped 2.7% to 4.4% since November 6, while the IYR is down 2.5%.
Disclosure: I have no positions in any stocks mentioned, and no plans to initiate any positions within the next 72 hours. I wrote this article myself, and it expresses my own opinions. I am not receiving compensation for it (other than from Seeking Alpha). I have no business relationship with any company whose stock is mentioned in this article.