On Friday, November 8, Medical Properties Trust (NYSE:MPW) announced a quarterly dividend increase of $0.01/share, bringing its upcoming quarterly dividend payout to $0.21/share. It should be noted that this boost represents a 5% increase from its prior dividend of $0.20/share, which was paid on October 10. In the wake of MPW's dividend increase, I wanted to not only examine the company's recent performance but take a look at several factors behind my decision to establish a long-term position in the company.
Recent Performance & Trend Behavior
On Friday shares of MPW, which currently possess a market cap of $1.92 billion, a beta of 1.64, a forward P/E ratio of 18.04, a P/E ratio of 15.07 and a current dividend yield of 6.55% ($0.84), settled at a price of $12.81/share. Based on their closing price of $12.81/share, shares of MPW are trading 1.60% below their 20-day simple moving average, 2.57% above their 50-day simple moving average, and 8.47% below their 200-day simple moving average. These numbers indicate a short-term and long-term downtrend for the stock which generally translates into a moderate selling mode for most near-term traders and longer-term investors.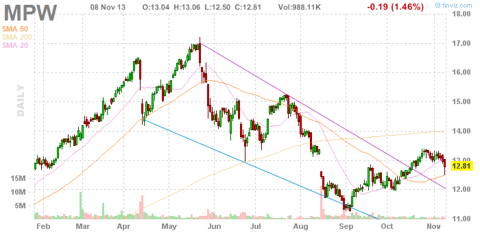 Click to enlarge
Recent Dividend Behavior
From December 19, 2008 until November 7 2013, the trust had actually maintained its quarterly distribution of $0.20/share over the last five years. On Friday, November 8, MPW announced a $0.01/share or 5.0% increase in its quarterly distribution. The trust's forward yield of 6.55% ($0.84) makes this particular Healthcare REIT a considerable option, especially for those who may be in the market for a higher-yielding stream of quarterly income.
Recapping a Fairly Strong Q3
On Tuesday, November 5, Medical Properties Trust reported FFO of $0.25/share and revenue of $60.45 million. These results were in-line with analysts' FFO estimates but missed revenue estimates by a margin of $1.1 million.
Some the more positive notes to come out of MPW's earnings announcement included but were not limited to a 15% increase in normalized FFO which came in at $38.4 million for Q3 2013 vs. $33.4 million for Q3 2012 and a 12.72% increase in net income which came in at $25.7 million for Q3 2013 vs. $22.8 million for Q3 2012.
It should also be noted that the trust's Q3 2013 acquisition expenses increased to $4.2 million which was nearly 10.5 times higher than its Q3 2012 acquisition expenses of $0.4 million. This increase was due, in large part, to the $650 million that MPW had spent on the acquisition of a number of high quality assets in both the United States and Germany through the first nine months of this year.
Looking Ahead
Analysts on Wall Street are estimating that Medical Properties Trust will demonstrate FY 2013 FFO of $1.00/share on revenue of $245.59 million. Although a planned divestiture is scheduled to take place during the fourth quarter, I strongly believe that a number of the company's recently acquired properties in Germany will begin to impact earnings and as a result a $0.02/share-to-$0.04/share beat in terms of full year FFO could very well occur.
Risk Factors
Are there any risk factors associated with an investment in Medical Properties Trust? According to MPW's most recent 10-K, there are a number of risk factors all investors should consider. These factors include but are not limited to potentially adverse economic and geopolitical conditions and dislocations in the credit markets could have a material adverse effect on our results of operations, financial condition and ability to pay distributions to stockholders, and certain Covenants in our debt instruments limit our operational flexibility, and a breach of these covenants could materially affect our financial condition and results of operations.
Conclusion
For those of you who may be considering a position in Medical Properties Trust I'd keep a watchful eye on a number of catalysts over the next 12-24 months as each could play a role in the company's long-term growth. For example, near-term investors should focus on the REIT's recent trend behavior, while long-term investors should pay close attention to any potential dividend growth which could be directly related to the REITs recent acquisitions in both the US and Germany.
Disclosure: I am long MPW. I wrote this article myself, and it expresses my own opinions. I am not receiving compensation for it (other than from Seeking Alpha). I have no business relationship with any company whose stock is mentioned in this article.