The purpose of this article is to highlight an income closed end fund that could offer an investor's portfolio solid monthly income and a high yield. EHI's primary investment objective is high current income. EHI's secondary objective is total return.
Quote Snapshot
Market Cap: $389.1mil
Distribution Rate: 9.22%
Total Leverage Ratio: 21.33%
52 Week Range: $11.34 - 14.25
Premium/Discount: -6.07%
Current Market Price: $12.27
NAV: $13.34
Expense Ratio: 1.53%
Here is why you should add EHI to your portfolio if you are a yield hungry investor:
CEF Diversification (mainly from Equity heavy portfolios) - EHI invests in a variety of sectors and markets, giving investors strong exposure, globally. View the Asset Allocation details below.
Monthly distributions - With a distribution rate of 9.22%, every investor's portfolio could find this fund useful from a monthly distribution (frequency and yield) perspective. EHI pays out a solid Fund Income distribution on a monthly basis (this means that the distributions you get are net of NAV, no returning capital or shrinkage of NAV).
Reasonable Expense Ratio - 1.53% is about the average across the high yielding closed end fund industry and it makes sense relative to the market capitalization of the fund.
Reasonable Leverage Ratio - Considering this fund does not return capital to investors, the leverage ratio is impressive, which is only 21.33%, unlike PIMCO's Global Stock PLUS fund (read my article on PGP here) which maintains a much higher leverage ratio and has returned capital to investors (which is not good for high yield investment funds).
Morningstar 3 Star Rating - Unlike PGP, a three star rating for EHI actually makes sense. EHI doesn't have an equity weighting in the portfolio, while PGP does, making PGP more diversified from an investment (bond and equity blend) perspective.
Discount to NAV - EHI's discount is a relative figure (must analyze the entire fund before making a buy/sell decision) and in EHI's case, there is a discount while the fund continues to pay Fund Income distributions (which is what an investor wants in their portfolio) (view annual distribution chart below).
What other Closed End Funds would go great with EHI in an Income Portfolio:
NCZ - NCZ will offer some extra high yield (NCZ yields 11%+ per year) plus more bond exposure. Read more about the distribution, leverage ratio, and expense ratios across NCZ and other funds here.
PHK - PHK would also fit nicely with EHI, which would give an investor even higher yield than NCZ and even greater bond exposure. Note: PHK s current market price is also in service to rise, read about it here under the PHK Betalyst View.
GPM - If you are very bullish on the Equity markets, pick up GPM, giving you significant exposure to Equities and several large ETFs that track multiple sectors (while enjoying a very generous yield).
Our View: EHI is a buy and I expect that discount to NAV to converge closer to zero (market price and NAV will be the same) if the market realizes the income advantage and consistency associated with this investment. EHI is one of those funds that an investor should buy and "tuck under their mattress" to put it more simply. EHI would go great with GPM and/or NFJ.
(Sources: all data points and information came from Morningstar, Google Finance, and Yahoo Finance)
EHI s Portfolio Composition as of 9/31/2013 (Source: Morningstar.com)
Click to enlarge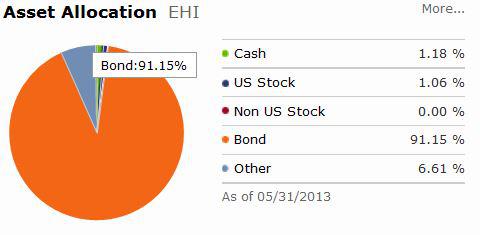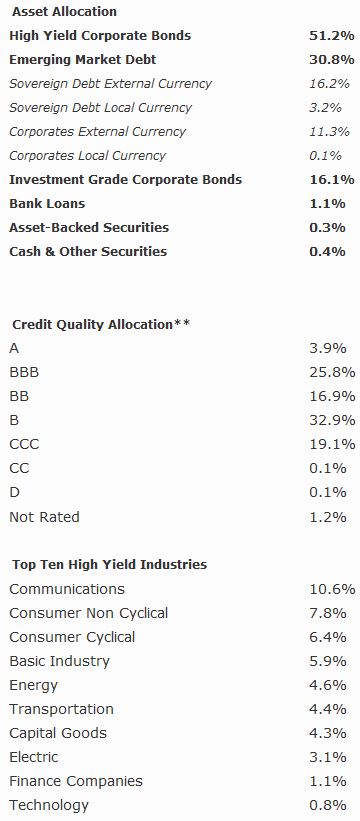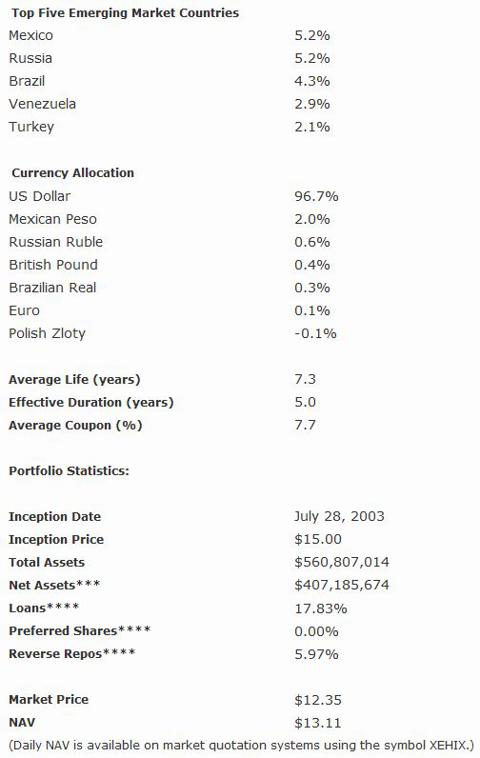 Click to enlarge
Disclosure: I am long EHI, GPM, PHK, NCZ. I wrote this article myself, and it expresses my own opinions. I am not receiving compensation for it (other than from Seeking Alpha). I have no business relationship with any company whose stock is mentioned in this article.