Royal Dutch Shell plc (NYSE: RDS.A; NYSE: RDS.B) is building the largest ship in the world. This prestigious project is known as 'Prelude FLNG-project'. Shell intends to be the first company in the world to create a floating natural gas (hereafter: FLNG) facility. The initial announcement of the investment was made on May 5, 2011. Now two large parts of the hull are complete, constructors are facing a tough challenge to join the two parts together. When they succeed, completion of Prelude is just a matter of time. Investors are looking for some good news after disappointing earnings and share performance this year. Completion of Prelude, the largest ship in the world, could bring new life to Shell's struggling share price.
The company
Shell is an independent major Oil & Gas company, headquartered in The Hague, the Netherlands. The company was founded in 1833 by Marcus Samuel and initially imported shells from the far east. Nowadays, Shell explores and extracts crude oil and natural gas (upstream activities) and Shell refines, supplies, trades and ships crude worldwide (downstream). The company earned total annual revenue of $467.15 in 2012, total assets amounted $360.32 billion at December 31, 2012 and the company's current market capitalization is $207.53 billion.
The company invests a lot of capital to maintain its leading position in the Oil & Gas industry. Shell invests in mature fields to extend the life of these assets and develops new field for growth. Future growth will come from deepwater projects and increasing LNG production capacity. Shell has 9 deepwater fields under construction in the Gulf of Mexico, Brazil and South East Asia. The company invests in projects in Australia to lift LNG production capacity over 30% in 2017 (see figure below)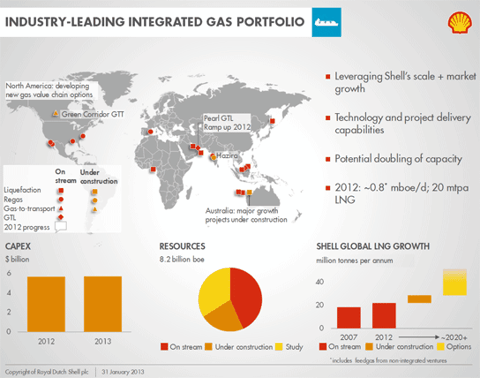 Source: shell.com
Performance
In recent years Shell invested heavily in integrated gas, which is Liquid Natural Gas and Gas to Liquids. A total of $24 billion was invested in shale gas activities within the United States. CEO Voser stated he is not happy about the returns coming from these fields and the company is evaluating the entire shale gas portfolio. Disclosed in the second quarter earnings report, Shell took a $2.1 billion write-off regarding shale gas activities in the United states.
Third quarter earnings were published October 31, 2013 (see graph below). Total income attributable to shareholders was down 35%, due to lower margins on refinement activities. However, cash flow from operation activities was up 10% year-on-year. Shell declared a quarterly dividend of $0.45 per ordinary share, a pay-out ratio of 66% of third quarter earnings per share.
According to Deutsche Bank Shell's outlook regarding capital expenditure (hereafter: CAPEX) makes third quarter earnings even worse. Maintenance in Nigeria, Qatar and United Kingdom are a serious threat for profitability.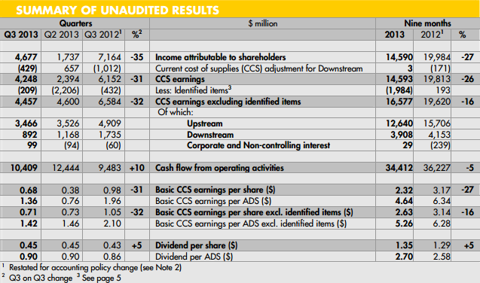 Source: shell.com
All the disappointing news did not miss impact on Shell's share price (see graph below). Share price plunged after publishing second and third quarter earning. Total stock return is negative 4.6% year-to-date. A quarterly dividend of $0.90 per -ADS- share kept share price from falling even further. Based on Friday's closing total dividend yield is now at 5.46%. Given Shell earned $1.36 per -ADS- share and cash flow generated from operating activities increased 10% in third quarter 2013, future dividend payments are not in jeopardy for now.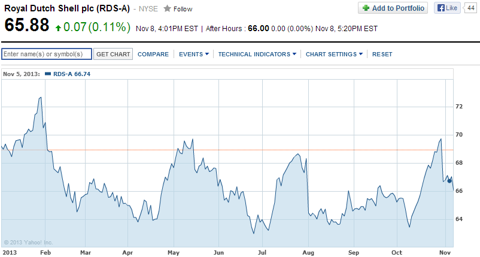 Floating Liquefied Natural Gas
The Prelude FLNG-project (Floating Liquefied Natural Gas), 67.5% owned by Shell, concerns a 85 billion m3 gas field in the Browse Basin offshore Northwest Australia. Shell decided to invest in a 1,601 feet long floating structure, approximately 10 Olympic swimming pools. The facility weighs 600,000 tonnes, six times of that of the largest aircraft carrier and can withstand tropical hurricanes up to category 5. Prelude FLNG-project is about to become the world's largest ship ever build.
FLNG-technology is an important innovation and complement Shell's onshore LNG activities. Developing the Prelude FLNG-project is a major breakthrough within the industry. Normally development costs to explore and extract offshore fields are too high. Prelude's floating facility enables Shell to explore and extract these high cost offshore fields. As a result, production of natural gas will increase and stimulate growing worldwide demand for clean fossil fuels.
Extracted natural gas need to be cooled to minus 162 degrees Celsius before it decreases up to 600 times in volume. Until now, extracted off-shore gas had to transported through a pipeline to an onshore facility to be liquefied. Shell's new technology provides large LNG carriers to pick up liquefied gas directly at the facility. This means a hugh competitive advantage for Shell, because it enables the company to increase efficiency and lower production- and transportation costs.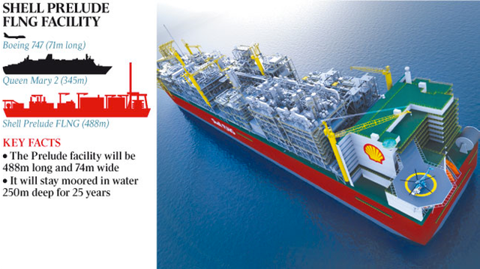 Source: largestshipintheworld.com
Shell expects production to equal 100,000 barrels of oil per day. This means the fields will produce 5.3 million tons of liquefied products, including 3.6 mtpa LNG, 1.3 mtpa condensate and 0.4 mtpa LPG. Shell estimates the Prelude gas field to produce for at least 25 years. The FLNG-facility will permanently stay in the Prelude field over this estimated period of 25 years. Afterwards the facility will be used in other offshore fields owned by Shell.
Australian offshore fields are an important part of Shell's growth strategy. As mentioned above, Shell is betting huge on LNG activities and expects production of LNG to increase by 30%, mainly as a result of the investments in Australia. Most of this increase will come from the Prelude FLNG-facility. If the Prelude FLNG-facility is a success, Shell considers to build another floating facility. This enables Shell to extract even more natural gas from offshore fields.
Peers towards natural gas
Shell is investing in natural gas. How about peers like Chevron (NYSE: CVX), Exxon Mobil (NYSE: XOM) and BP (NYSE: BP)? Chevron is Shell's main competitor in North America and BP is Shell's main European competitor. However both companies are investing more in oil fields and less in natural gas fields. Due to higher oil prices and lower natural gas prices, this turns out to be a good short-term strategy. Chevron and BP shares outperform Shell by 14.4% (Chevron) and 13.2% year-to-date.
Exxon Mobil is the only of Shell's major peers to invest heavily in natural gas. Exxon Mobil stated several times the company expects natural gas to become much more important in the future. Exxon Mobil already owns facilities in Qatar and Indonesia, which has a capacity of approximately 65 million tons per year, and the company plans to increase capacity in the upcoming years. Exxon Mobil share outperformed Shell by 9.1% year-to-date, less then oil oriented peers Chevron and BP.
Natural gas demand and prices
U.S. Energy Information Administration (HEREAFTER: EIA) published their Annual Energy Outlook 2013-2040 on May 2, 2013. According to this report demand for natural gas in the United States will grow from 24.4 trillion cubic feet in 2011 to 29.5 trilling cubic feet in 2040. EIA expects natural gas price to rise by an average of about 2.4% per year as a result of increasing demand and an increase in production costs after 2015.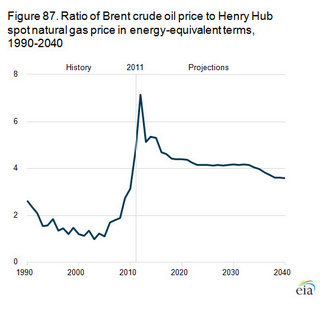 Source: eia.gov
EIA calculates the rise in natural gas price on average demand and available resources. Should economic recovery speed up, natural gas prices could go up an extra 25% in 2040, according to the report. Despite expected increase in natural gas price, energy from natural gas remains far less expensive than energy from oil through 2040 (see graph above). Oil price will rise in a more slowly pace than natural gas price. Still, natural gas will be almost 4 times cheaper compared to oil.
Conclusion
Shell is not just building the largest ship in the world. This ship represents Shell's strategy to invest in offshore natural gas production facilities, because the company expects demand for clean fossil fuel to increase in the future. Completion of the ship would mean a big deal to Shell. The company will be 'sweeping' offshore gas fields and will realize a 30% increase in natural gas production in 2017.
Natural gas price will rise as a result of stronger demand and increasing production costs, according to the EIA. This copes with Shell's expectations regarding growing demand for natural gas. More important: FLNG technology provides Shell to extract natural gas more efficient than competitors. If the natural gas price goes up, Shell will benefit from higher prices and lower production costs. This competitive advantage will support future earnings and share performance.
Current dividend yield of 5.46% will likely support share price to be stable short-term. Sure, the company has to solve current problems, for example: activities in Nigeria and United States shale gas production. However, Shell has a strong balance sheet, which provide time to resolve these problems without bringing dividend yield in jeopardy. All factors combined makes Shell a great long-term pick.
Disclosure: I am long RDS.A. I wrote this article myself, and it expresses my own opinions. I am not receiving compensation for it (other than from Seeking Alpha). I have no business relationship with any company whose stock is mentioned in this article.