The purpose of this article is to highlight an income closed end fund that could offer an investor's portfolio solid income, a high yield, an efficient expense ratio, and diversification (against a bond heavy portfolio or a basket of bond heavy closed end funds). Highlighted on Morningstar's website, AllianzGI NFJ Dividend Interest & Premium Common Fund (NYSE:NFJ) seeks current income with long term capital appreciation through investment in dividend paying common stocks, income producing convertible securities, and through utilizing a covered call and options strategy.
NFJ 3 Year Price Returns data by YCharts
Quote Snapshot
Market Cap: $1,648.5mil
Distribution Rate: 10.32%
Total Leverage Ratio: 0.00%
52 Week Range: $17.39 - 18.62
Premium/Discount: -5.22%
Current Market Price: $17.38
NAV: $18.40
Expense Ratio: 0.97%
Here is why you should add NFJ to your portfolio if you are a yield hungry investor:
Diversification - (View Asset Allocation Chart Below) NFJ is very well diversified by sector weighting and across US/Non-US Stocks with low exposure to Non-US stocks (for investors who prefer US Equities).
Very Low Expense Ratio - It was very surprising to learn that NFJ had an expense ratio below 1%, which is definitely a closed end fund low in terms of active covered call and options strategy fund management. If you have closed end funds like PGP in your portfolio, NFJ's expense ratio could take the average expense ratio in your portfolio down and give you the same overall yield.
Zero Leverage Ratio - NFJ manages to distribute earnings and achieve what PGP does (from a yield and strategy basis), but with no leverage, which is surprising in the high yielding closed end fund industry when it comes to covered call and option strategy closed end fund management.
Discount to NAV - Based on a 10 year chart of NFJ, the discount and trading market price are converging to zero (when NAV equals trading market price), but at a very slow rate. In this case, buying NFJ would be an advantageous position with the potential for a 5% upside in price solely in price appreciation (on top of the high yield).
Market Capitalization - there are only a few closed end funds that have an investor base that is over $1,648.5mil, including PHK (which is actually smaller by market cap), and this is viewed as a strong point in the closed end fund industry (the bigger the fund, the more on the line for the investment manager to perform and deliver strong results in terms of reputation, especially PIMCO/AllianzGI).
Thin 52 Week Range - NFJ's closed end fund price is very consistent (does not drastically swing within any given year in a normal market environment), with very little swings, unlike other high yield funds (like: PHK, PGP, GPM, which are sensitive to market swings) that have much wider 52 week price ranges.
Morningstar Bronze Rating (this is a final consideration, not primary when buying NFJ)- "This fund has earned a Morningstar Analyst Rating of Bronze for its decent risk-adjusted performance against its large-value peers, but mediocre performance on an absolute basis…Though the fund giant has improved its transparency around CEF leverage, it could still do more to increase transparency." (Source: Morningstar.com)
Here is why I haven't bought more of NFJ:
Distribution Frequency - NFJ makes quarterly distributions, which at first glance isn't what I favor when it comes to high yielding closed end funds considering many alternative closed end funds offer monthly distributions. It's just nicer to get monthly distributions if the option exists, which in the closed end fund industry, it does.
Distribution Composition (View Distribution Chart Below) - NFJ pays out a combination of Fund Income and Return of Capital to meet investor expectations (distributions), which is not a sustainable distribution composition. Even if the closed end fund is trading at a discount to NAV, that does not explain why such a significant portion of the distributions are made up of capital returns to the investor.
What other Closed End Funds would go great with NFJ in an Income Portfolio:
NCZ - NCZ will offer some extra high yield (NCZ yields 11%+ per year) plus bond exposure, balancing out an investor's portfolio nicely. Read more about the distribution, leverage ratio, and expense ratios across NCZ and other funds here.
PHK - PHK would also fit nicely with NFJ, which would give an investor even higher yield than NCZ and even greater bond exposure. Note: PHK s current market price is also in service to rise, read about it here under the PHK Betalyst View.
GPM - If you are very bullish on the Equity markets, pick up GPM, giving you significant exposure to Equities and several large ETFs that track multiple sectors (while enjoying a very generous yield).
EHI - if you are a more conservative investor, EHI offers less yield than PHK and NCZ, read my article on EHI to learn more.
Our View: Owning NFJ is very advantageous for all the reasons mentioned above, however, do not weight too much of your portfolio on NFJ. Let NFJ serve as an income diversifier in your portfolio from drastic market swings and don't forget to own higher yielding closed end funds for yield type diversification (balance of Bonds and Equities) and higher upside from a yield perspective. I would recommend pairing NFJ with NCZ (and potentially NCV, if the price drops to reflect its fair market price) for efficient yield utilization.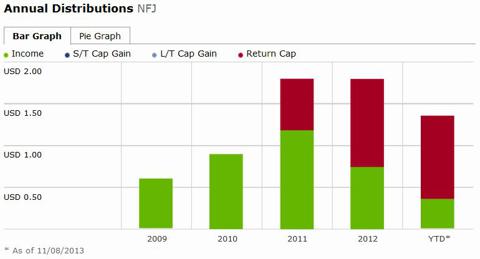 Source: All data points came from Morningstar.com, Google Finance, and Yahoo Finance.
Disclosure: I am long NFJ, GPM, PHK, NCV, NCZ. I wrote this article myself, and it expresses my own opinions. I am not receiving compensation for it (other than from Seeking Alpha). I have no business relationship with any company whose stock is mentioned in this article.