I was a longtime investor of American Capital Agency Corp. AGNC (and several other REITs, such as TWO, MFA, ARR), but sold out for several reasons including its potential to cost my portfolio a big time loss (already apparent in that 30%+ drop in price in the last 12 months (source: Google Finance)).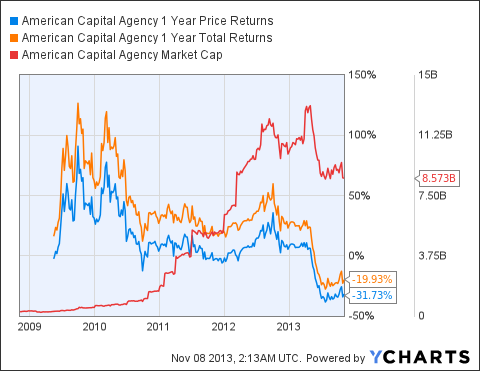 AGNC 1 Year Price Returns data by YCharts
My thesis on AGNC is very simple: if the financial leverage, interest expenses, management fees, operating margin, and accounts receivable are rising, and the earnings per share and Shareholders' Equity are shrinking (due to business performance), you should find a better investment, immediately, because when it comes to leveraged mortgage REITs (Agency and Non-Agency) the upside just isn't coming.
Quote Snapshot
Performance Last 12 Months: -32.15%
Current Market Price: $21.05
Yield: 20.67%
Total Leverage Ratio 2012 actual: 9.36%
Total Leverage Ratio 2013 (our estimate): 10.58%
52 Week Range: $20.20 - 33.31
Market Cap: $8.1bn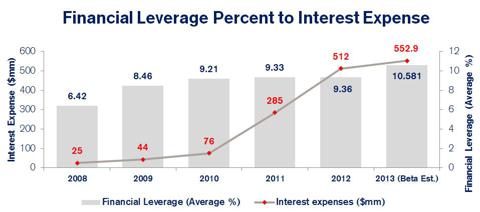 Based on the chart above, AGNC's Average Financial Leverage has increased steadily, but not in a favorable position for an investor. In tandem, the Interest Expense has also risen in the same timeframe shown above and this is not a good sign for AGNC. Overtime, if the interest expense keeps rising to fund new and ongoing investments, the AGNC shareholder will also watch their investment returns shrink in time (dividend cuts is only one example), especially if their earnings per share are also shrinking (view next charts). When the cost of leveraging also rises (which is forecasted to come in the next 12 months), that interest expense will follow suit.

Based on the second chart, not only are interest expenses and leverage levels increasing, but the operating margin is also increasing, eating into the investors' bottom line (view next chart for Basic EPS figures). What this basically means is that the cost to operate the company are sliding in the wrong direction. In addition to the management team sliding in the wrong direction, the accounts receivable (% of Balance Sheet) have also increased, meaning payments are coming in later and later every month, which is not a good sign for a REIT investor. If you still cannot see the disappointment to come when investing in AGNC, read on.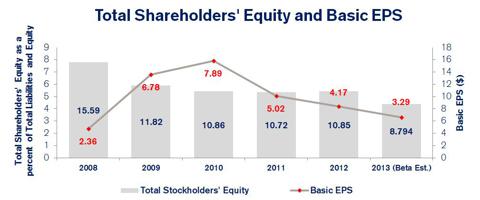 As mentioned earlier, AGNC's leverage and interest expenses have risen, and as you can see by the chart above, earnings per share have dropped and Total Shareholders' Equity is shrinking. At this point, it is unclear why investors think AGNC will fix this problem anytime soon considering their business is solely based on managing their portfolios by managing risk. From their most recent 10-Q (9/31/2013), AGNC highlights a few key risks to their business:
"Interest Rate Risk: We hedge some of our exposure to potential interest rate mismatches between the interest we earn on our longer term investments and the interest we pay on our shorter term borrowings. Because a majority of our leverage is in the form of repurchase agreements, our financing costs fluctuate based on short-term interest rate indices, such as LIBOR. Because our investments are assets that primarily have fixed rates of interest and could mature in up to 40 years, the interest we earn on those assets generally does not move in tandem with the interest that we pay on our repurchase agreements. We may experience reduced income or losses based on these rate movements… The value of our mortgage assets may also be adversely impacted by fluctuations in the shape of the yield curve or by changes in the market's expectation about the volatility of future interest rates."
"Prepayment Risk: Because residential borrowers have the option to prepay their mortgage loans at par at any time, we face the risk that we will experience a return of principal on our investments faster than anticipated… In this scenario, our financial results may be adversely affected as we may have to invest that principal at potentially lower yields."
"Extension Risk: …we face the risk that a return of capital on our investment will occur slower than anticipated. Extension risk generally increases when interest rates rise… The principal instruments that we use to hedge a portion of our exposure to interest rate, prepayment and extension risks are interest rate swaps and interest rate swaptions… and invest in other types of mortgage derivatives, such as interest-only securities, and synthetic total return swaps, such as the Markit IOS Synthetic Total Return Swap Index ("Markit IOS Index"). Our hedging instruments are generally not designed to protect our net book value from "spread risk" (also referred to as "basis risk"), which is the risk of an increase of the market spread between the yield on our agency securities and the benchmark yield on U.S. Treasury securities or interest rate swap rates. "
(Sources: all data and information came from Morningstar.com and Google Finance. My 2013 estimates are projected based on directional averages, taking prior year trends into account for Financial Leverage, Interest Expenses, Shareholders' Equity, Basic EPS, Operating Margin, SG&A, and Accounts Receivable. I would describe my estimates as Very Conservative and reflect highly likely performance measures for 2013).
Based on this article's thesis, it should be no surprise if investors get crushed considering interest rates are expected to rise in the coming few months or year(s). I strongly believe that most investors have no idea how their investments are managed at American Capital Agency from a risk perspective based on the excerpts quoted above.
Disclosure: I have no positions in any stocks mentioned, and no plans to initiate any positions within the next 72 hours. I wrote this article myself, and it expresses my own opinions. I am not receiving compensation for it (other than from Seeking Alpha). I have no business relationship with any company whose stock is mentioned in this article.