Realty Income (NYSE:O) shares have fallen back into the $40 range and investors ask themselves whether this $8 billion REIT now makes an interesting Buy candidate. A couple of things happened since May 2013 when the share price of Realty Income started to slide. First off, the market feared that Realty Income was approaching bubble territory and investors started to indiscriminately throw shares out in the open. Secondly, Realty Income named John Case to succeed Tom Lewis as CEO in September 2013. Mr. Lewis was CEO of Realty Income since 1997 and credited with building a high-quality real estate portfolio that allowed the company to pay investors a rising dividend stream. Thirdly, the company announced a common stock offering in October at a public offering price of $40.63 per share. The company intends to use net proceeds of around $378 million from the offering to repay borrowings under the $1.0 billion acquisition credit facility. In addition, the end of tapering by the Federal Reserve is likely to increase long-term interest rates which created negative sentiment for the REIT industry.
Share performance
Shares of Realty Income started to slide 5% again last week. Shares are down 2.55% YTD and up 4.32% over the last year.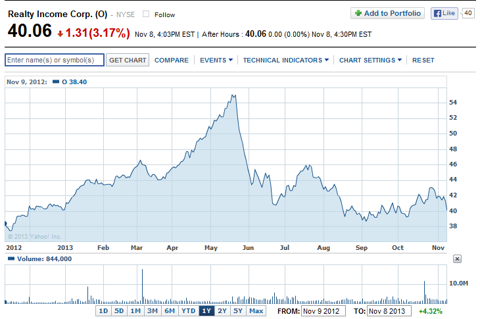 Click to enlarge
Common stock offering and track record
Realty Income originally intended to offer 6.5 million shares but later decided to increase the sale to 8.5 million common shares. It has granted underwriters an over-allotment option covering an additional 1.275 million shares. The over-allotment option was fully exercised leading to a sale of 9.775 million shares. Strong demand for its common stock offering is a good sign for shareholders.
Realty Income has grown a substantial real estate portfolio over the years and acquisitions are a core part of its growth strategy. More importantly, both organic and strategic growth enabled the company to consistently increase cash flows and pay shareholders an ever rising stream of dividends: Since 1994 the company has paid 519 dividends including 73 dividend increases. This track record deserves acknowledgement and also creates confidence that management will be able to deliver value to shareholders in the future.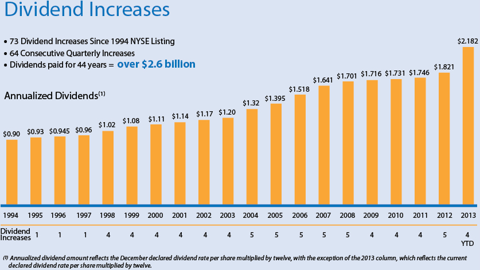 Click to enlarge
The graphic above depicts Realty Income's dividend record since its NYSE listing in 1994. What is particularly noteworthy about its dividend record, though, is that the company was able to continuously deliver value for shareholders throughout the financial crisis (2007-present). In addition, the time period in the graphic above covers more than one business cycle: The golden nineties, the devastating dotcom-bubble period with low interest rates subsequently, the recovery and expansion period from 2003-2007 with higher interest rates and the real estate- and financial crisis in the period after. During all those years Realty Income's cash flows to investors have increased showing that the company is able to deliver value through its real estate portfolio in times of low and high interest rates.
Higher interest rates in the future are unlikely to hurt the financial performance of Realty Income since higher economic activity (which justifies rising interest rates in the first place) will lead to higher property utilization and higher rents. Inflation hedging is another solid reason why investors could add Realty Income, or any other REIT for that matter, to their portfolio.
Q3 results show that company is delivering solid performance
Realty Income's Q3 results highlight that the company is well set for future growth:
Revenues in the third quarter 2013 increased to $199.3 million vs. 117.1 million in Q3 2012 (up 70.2% y-o-y)
Normalized FFO increased to $116.1 million (up 68.5% y-o-y)
Normalized FFO per share increased to $0.59 (up 13.5% y-o-y)
AFFO jumped 15.4% y-o-y to $0.60 per share
Like-for-like rents increased 1.3% to $109.6 million
Portfolio occupancy increased further to 98.1% from 97.0%
Realty income continues to build its real estate portfolio by investing $502.7 million in 219 new properties.
Those results are truly impressive. I find Realty Income's aggressive expansion strategy especially noteworthy with more than half a billion dollars invested in 33 states in just one quarter. Realty Income has a track record of investing both opportunistically and strategically and remains committed to expand its real estate portfolio.
Conclusion
A couple of things make Realty Income a very attractive portfolio addition for income oriented investors who desire US real estate exposure. Realty Income owns properties across the United States and essentially operates a diversified real estate business which lowers risk for investors. The company has also proven in the past that it is a savvy real estate investor creating value for shareholders by buying accretive properties. The main reason speaking for an investment in Realty Income, most certainly, is its outstanding dividend record that gives retirees or other income-dependent investors the confidence that the company will continue to remunerate its shareholders in the future. Furthermore, investors shouldn't overemphasize higher interest rate scenarios. Realty Income's record in delivering cash flow and dividends in times of low and high interest rates speaks volumes about its ability to adapt to different economic conditions. Realty Income, in my opinion, remains one of the most savvy, resilient and proven real estate investors in the US REIT sector. Investors currently buy Realty Income at an initial yield of 5.44% with strong chances of increasing dividends in the future.
Ladenburg Thalmann has recently evaluated Realty Income and reiterated its Buy rating on Realty Income shares with a modified target price of $48. With a current share price of $40.06 Ladenburg Thalmann sees nearly 20% upside. Strong long-term BUY on Realty's dividend history and current yield, its opportunistic real estate acquisition strategy and top-notch Q3 results.
Disclosure: I am long O. I wrote this article myself, and it expresses my own opinions. I am not receiving compensation for it (other than from Seeking Alpha). I have no business relationship with any company whose stock is mentioned in this article.