By Brad Zigler
The holidays may be over, but don't put away those special cocoa mugs yet. There may be more celebrating to do with your cups and saucers.
Cocoa's one of the commodities that old traders both love and hate. The strong seasonal moves that cocoa makes are usually set in a very volatile context that can quickly bounce out weak (aka "undercapitalized") players.
Nowadays, however, you don't even need margin to trade nibs (another name for cocoa beans). It's NIBs, in fact, that you ought to consider when a little cocoa could sweeten your portfolio.
Let's not get ahead of ourselves, though. Take a look at the March cocoa contract.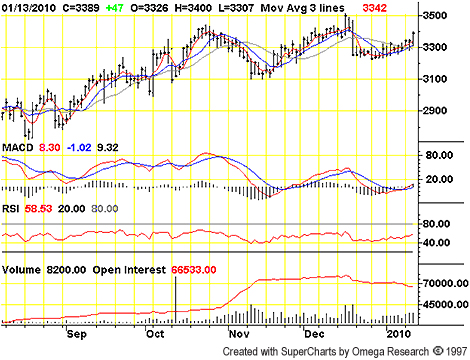 March cocoa closed $63 higher on Wednesday, extending a rally from the $3,223 level. Cocoa topped out at $3,510 last month, the seeming culmination of a run started in November 2008 at $2,010. That top, however, has set up the present opportunity. The rounded bottoming action you see over the past three weeks suggests the formation of a "cup and saucer" pattern that signals $3,510 is only an interim high. The pattern typically presages strong upside moves, albeit after a relatively brief drift into sideways-to-downward trading on low volumes. With the cup's "handle" thus formed, significant upside momentum is developed as the old high is exceeded.
On Monday, the MACD indicator rolled over into positive territory and, according to the RSI indicator, there's plenty of upside room before cocoa becomes overbought. Stochastics, too, remain bullish. It really would take a move below the reaction low of $3,223 to spoil the bullish mood.
The iPath Dow Jones-UBS Cocoa Sub-Index ETN (NYSE Arca: NIB) allows traders the luxury of trading cocoa without a futures account and without margin. You will, though, take on credit risk as a trade-off. The notes are direct obligations of Barclays Bank plc.
NIB closed at $50.58 Wednesday. Judging from the 50-cent upswell in price this morning, some investors are already filling their cups with nibs, er NIBs.