Cisco (CSCO) has announced that it will be bringing high-end video conferencing equipment to consumer homes. According to IDC research, about 32 million homes in the US have bandwidth capable of handling video conferencing. Cisco will be targeting HDTV set owners and is partnering with Verizon (VZ) to do so.
So far the company has video-conferencing equipment primarily to corporate customers. We believe that the current announcement reflects company's long term strategy in 2 ways:
1. More data traffic on the web will be driven by video
Cisco believes that about 90% of the consumer web traffic will be driven by video content by 2013 and video data requires higher bandwidth. The higher bandwidth requirement will in turn help boost Cisco's network equipment business as it will be selling upgraded network routers and switches to support larger traffic. Network Switches and Routers together constitute about 40% of Cisco's stock price. The company's value is sensitive to its share in the switch market. For example, 1% increase in Cisco's market share within the bottom layer switch market would impact our Cisco valuation by more than a $1 billion.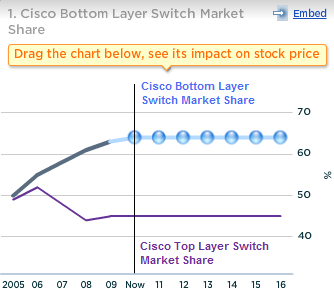 Thus Cisco wants to drive video traffic over the internet and its recent acquisition of video conferencing market leader Tandberg is a significant step in this direction.
2. Consumers will generate more data
Cisco has expanded into consumer-oriented products that are based on generating digital data – TV set-top boxes, digital video cameras and home routers . The acquisition of the set top box maker Scientific-Atlanta and the recent announcement to bring telepresence to homes is part of the same consumer-focused strategy. We estimate that virtual conferencing (video and web) constitutes about 4% of Cisco's stock price
However, Cisco is not the only company making move in this direction. It will have to compete with Skype (EBAY), which is integrating its client in upcoming HDTVs from LG (OTC:LGERF) and Panasonic (PC), and Polycom (PLCM), which is expected to bring home video conferencing using IBM's technology.
Disclosure: No positions