Whereas revenue advanced in Bristol-Myers' (NYSE:BMY), Eli Lilly's (NYSE:LLY), and AbbVie's (NYSE:ABBV) respective calendar third-quarter results, the same cannot be said about the performance of Pfizer (NYSE:PFE) and Merck (NYSE:MRK) during the equivalent period.
Pfizer's third-quarter report, showed that net revenue dropped 2% as strength in its smallest segment, Oncology, failed to offset weakness at the rest of the firm. Pfizer continues to deal with the impact of product losses of exclusivity (Lipitor) and the expiration of its Spiriva collaboration in certain countries, which overwhelmed growth in its blockbuster Lyrica (up 11%), Celebrex (up 13%), Inlyta (up 186%), and Xalkori (up 92%). Sales of Pristiq advanced 15%. Emerging market expansion tallied 5% in the period.
The US basis product patent expirations for Pfizer's strongest revenue growth drivers in the quarter, Lyrica, Celebrex, Inlyta and Xalkori, are as follows: 2018, 2014, 2020, and 2029 (not a typo), respectively:

Image Source: Pfizer
Merck's third-quarter report, revealed that its top line fell 4% as a result of patent expiries (Singulair) and a 2 percentage point negative impact from foreign exchange. The company experienced strong growth in Gardasil (up 19%), Janumet (up 17%), and Nasonex (up 13%). However, unlike Merck, sales from emerging markets decreased 4%, including a 6 percentage point impact from foreign exchange.
The year of expiration in the US for the firm's largest revenue growth drivers in the third quarter Gardasil, Janumet, and Nasonex, are as follows 2028 (not a typo), 2022 (compound) / 2026 (salt), and 2014 (use/formulation) / 2018 (formulation).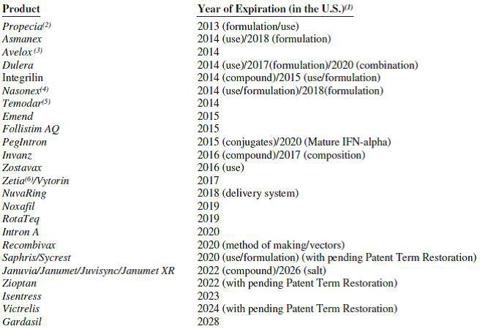 Image Source: Merck
The bottom lines of both pharmaceutical giants were mixed. Adjusted diluted-earnings-per share expanded 16% in the third quarter at Pfizer, while the same measure fell roughly 3% at Merck. Pfizer's and Merck's bottom lines continue to benefit greatly from two of the largest share buyback programs in our coverage universe. Pfizer narrowed its 2013 guidance for adjusted diluted earnings per share to the range of $2.15-$2.20 (was $2.10-$2.20), while Merck did the same (now $3.48-$3.52, was $3.45-$3.55). Pfizer ended 2012 with $32.7 billion in cash and cash equivalents, while Merck ended 2012 with $16.1 billion.
We think both firms have tremendous flexibility to hit their bottom-line targets, given the ability to buy back significant amounts of stock with cash on hand. In other words, a future miss on the bottom-line in the next few quarters will be more than just a red flag - it could either signal mismanagement of financial resources at the top or more fundamental weakness to come, despite the advancement of their respective pipelines. We'll be watching developments closely.
<< Select link to view Pfizer's pipeline.
<< Select link to view Merck's pipeline.
Valuentum's Take
Pfizer and Merck continue to battle declining revenue as they work through patent expiries and use their large cash positions to mitigate earnings-per-share pressure. And while each will face uncertainty in 2014, we like that both continue to advance their respective pipelines. Still, we prefer exposure in our Best Ideas Newsletter to one of the best-performing sectors this year via the Health Care Select SPDR (NYSEARCA:XLV).
Disclosure: I have no positions in any stocks mentioned, and no plans to initiate any positions within the next 72 hours. I wrote this article myself, and it expresses my own opinions. I am not receiving compensation for it (other than from Seeking Alpha). I have no business relationship with any company whose stock is mentioned in this article.
Additional disclosure: XLV is included in the portfolio of our Best Ideas Newsletter.