Whether you are an Apple (NASDAQ:AAPL) consumer (which we are) or an Apple investor, you just have to love the company for making life richer in so many different ways.
The Apple investor fan base has been well rewarded over the years. If you had invested $10,000 in Apple at the height of the Tech Boom (at around $34 per share), your investment would be worth nearly $62,000 today.
It seems that every Apple earnings announcement is becoming more and more of a must-cover media event. The company reports first quarter earnings on January 25, 2010, and Apple followers are hoping it will include commentary on the long-awaited the iTablet device.
In recent days we have seen September 2010 price targets of $370 and $450, which we believe are a tall order unless the company pulls many a white rabbit out of the company magic hat between now and that date.
Why a tall order?
To answer that question we turn to our favorite valuation method, the under-utilized Price To Sales ratio (P/S). We agree it is not the perfect valuation tool, but then again what valuation method is. We favor it because it is less open to any sort of earnings manipulation inherent in some of the other valuation tools, such as P/E ratios.
The current P/S for Apple is 5.2. This essentially means that investors in Apple are currently paying $5.20 for every $1.00 of Apple's sales. The chart below shows Apple's historical P/S ratio from 1981 to 2010. It has ranged from 0.5 to 9.0, and it peaked at just over 6.0 in late 2007. The "Apple Bulls" will claim that the company's high revenue growth and return on equity warrant the current lofty P/S.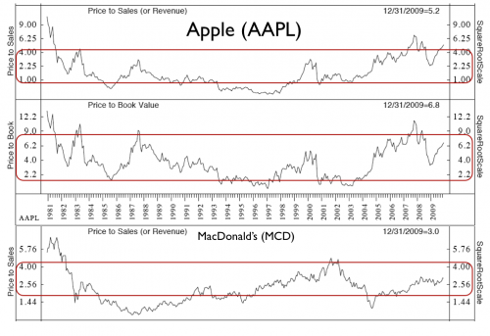 Source: Ned Davis Research

Perhaps, but all "Super Stocks" slow down at some point, which generally leads to a lower P/S. McDonald's (NYSE:MCD) provides a good example of this, as shown in the historical P/S chart below Apple's.
The table below compares the current P/S, five-year revenue growth, five-year return on equity and 12-month return on equity. Understandably, Apple's higher P/S over McDonald's can be justified by the company's higher revenue growth.



However, returning to the previously mentioned share price targets for September 2010 of $370 and $450, these seem to be a tall order in terms of Apple's historic P/S or that of any other "Super Stock." At $370 (assuming the historic 5-year 35 percent growth in revenue rate), the P/S would be around 7.0, and at $450 around 8.5. This would take the valuation ratio above the 2007 peak and back to the levels last seen in the early 1980s. If we factor in a higher revenue growth such as that seen from 2006 to 2009, at about 89 percent, it would give us a projected P/S for 2013 of 2.8, on revenue of $69,000 billion.
While Apple is one of our favorite demographic stocks due to its growing consumer support from Generation X and the fast rising Generation Y, on the short-term its P/S basis makes it look like it may be flying into a few headwinds. Therefore, the company needs to bring more than one white rabbit out of its magic hat on January 25. On the other hand and on a longer-term basis if the iTablet, along with the continued move away from PCs to Macs, can maintain Apple's high historic revenue growth, the shares may look very attractive on any overly sharp pullback after its earning announcement.
Disclosure: No positions, but AAPL is frequently featured in our model portfolio.