Alcoa's (NYSE:AA) shares spiked in the last weeks due to speculation that aluminum prices will rise in the future and positively influence Alcoa's profitability. After all, aluminum prices had been consolidating over the last two years and the fate of bullish investors literally hangs on the commodity price.
Share performance
Alcoa shares have recouped a lot of ground in the last two weeks. Shares have risen from $8.00 a share in October to nearly $10 under high volume before falling back down to the $9.06 level.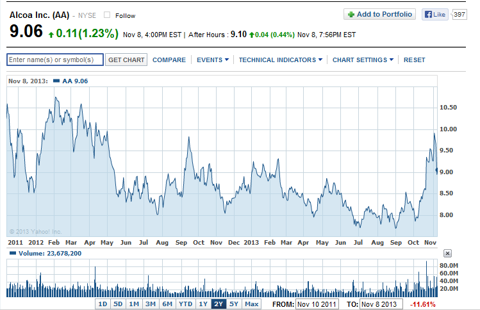 Click to enlarge
Oversupply and plunging demand caused aluminum prices to collapse as the financial crisis unfolded in 2008. Alcoa isn't the only company taking the heat: The entire sector fell on hard times as capacity issues and faltering Chinese demand impacted sector profitability, particularly since 2011. Alcoa lost 16% over the last five years while Century Aluminum (NASDAQ:CENX) lost 27%, Aluminum Corporation of China Ltd. (NYSE:ACH) 17% and Noranda Aluminum Holding (NOR) 68%. Alumina Ltd. (AWC) gained 11% and Kaiser Aluminum (NASDAQ:KALU) 160%.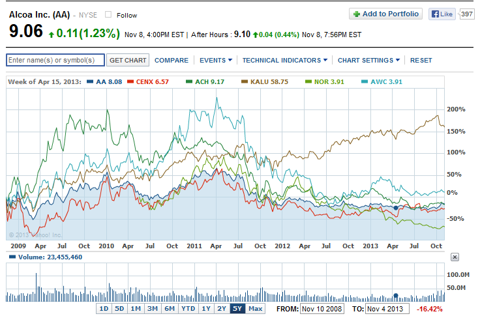 Click to enlarge
Q3 results indicate that pricing pressure persists
Profitability of aluminum producers is heavily dependent on the underlying commodity price. As such, Alcoa is not that different from Barrick Gold (NYSE:ABX), Goldcorp (NYSE:GG) or Southern Copper (NYSE:SCCO) whose profitability is directly linked to the world price of gold and copper.
Alcoa's third quarter revenues came in at $5,765 million versus $5,833 million last year (a minus of 1.2% y-o-y). Net income for the third quarter 2013 jumped to $24 million compared to a net loss of $143 million in the third quarter 2012 and a net loss of $119 million in the second quarter of 2013. Net income per share came in at $0.02 compared to ($0.13) in Q3 2012 and ($0.11) in Q2 2013. Lower q-o-q restructuring charges ($151 million vs. $244 million) contributed to Alcoa's higher profitability. The realized aluminum price stood at $2,180/mt versus $2,222/mt last year and $2,237/mt last quarter. The pricing environment for aluminum remains soft and the realized price of $2,180/mt in the third quarter is still miles away from an aluminum price of over $3,000/mt in 2007.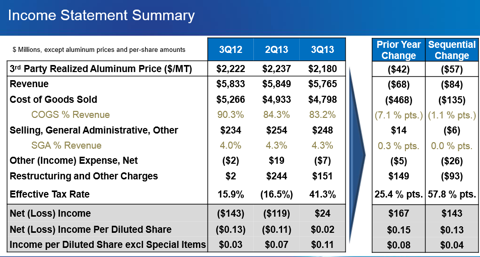 Click to enlarge
Alcoa's share price is highly correlated with the underlying commodity price. More than in other industries, profitability in the aluminum sector depends on highly cyclical industrial demand. Alcoa estimates that the important car- and truck manufacturing-, construction- and aerospace markets post material sales growth y-o-y. The specific growth rates for a variety of end markets are presented below: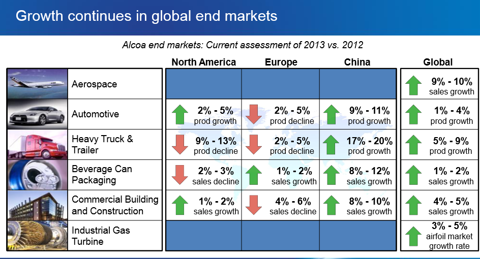 Click to enlarge
Alcoa's product offering is also heavily dependent on the construction- and manufacturing industries in China. As can be seen in the graphic below, China accounts for a massive amount of expected aluminum consumption in 2013 (it accounts for roughly 47% of primary aluminum consumption which by itself is a staggering number). Global aluminum demand is expected to grow 7% this year with China being the dominant demand driver once again.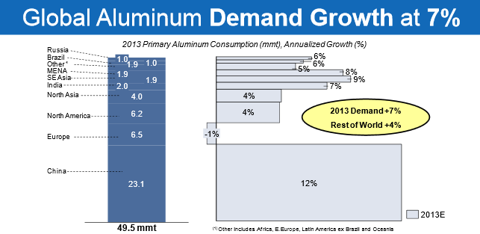 Click to enlarge
Valuation
The soft pricing environment paired with consistent worries about excess supply in the industry have led to an erosion in profitability which in turn led to low or even negative earnings projections for a variety of aluminum producers. The table below provides an overview of the valuation of publicly listed aluminum companies. The peer group P/E ratio stands at 24.34 (only three companies included in the calculation due to the lack of data). The dividend yield of the peer group stands at only 1.46% which makes the aluminum sector not suitable for income seeking investors.

Click to enlarge
Conclusion
Hardcore contrarian investors might want to consider a position in Alcoa. Such investors essentially make an anti-cyclical bet on a rebound in Chinese construction- and manufacturing activity and a recovering aluminum price in return. Alcoa's Q3 results have shown that the aluminum market is still characterized by a soft pricing environment and further declines in the realized aluminum price will immediately trickle down to Alcoa's bottom line. Income investors might want to consider another sector altogether since the dividend yields of both Alcoa and the sector are not very attractive. Investors should expect the company to concentrate on ongoing business restructuring and cost savings programs in order to deliver value for shareholders. If the aluminum price markedly increases, driven by higher demand from the industrial base in China, I expect Alcoa shares to behave like an option and to exhibit high amounts of volatility. Given the absence of meaningful short-term catalysts, Alcoa would only be a suitable BUY candidiate for long-term oriented, contrarian investors who bet on an economic recovery and on an outperformance of EPS estimates in the next few years.
Disclosure: I am long ABX, GG. I wrote this article myself, and it expresses my own opinions. I am not receiving compensation for it (other than from Seeking Alpha). I have no business relationship with any company whose stock is mentioned in this article.