Salix Pharmaceuticals (NASDAQ:SLXP) has just acquired Santarus (NASDAQ:SNTS) for $2.6 billion. The $32 per share all cash transaction represents a 36% premium over Santarus' November 6th closing price of $23.53.
The transaction makes strategic sense to both companies since the acquisition will merge both companies specialist sales forces, combine two complementary gastrointestinal product portfolios, expand Salix's pipeline and diversify its revenue base.
The addition of Santarus experienced specialty sales force will allow Salix to accumulate extra critical mass to compete in a rapidly maturing US gastrointestinal therapeutics market.
Combined Revenue
Salix revenue for the first 9 months of 2013 was $676 million, a 26% increase compared to same period in 2012, and the company expects to generate a total of $920 million in 2013, representing 25% growth over 2012.
Since Santuris revenue guidance for 2013 was $360 million, we can be looking at a combined revenue of approximately $1.3 billion for both companies this year.
Combined Income
Salix net income guidance for 2013 was predicted at approximately $211 million and santuris's was predicted at $100 million (mid-range). Combined, both companies net income estimates for 2013 would have reached a total of $311 million, before transaction costs.
Financial Impact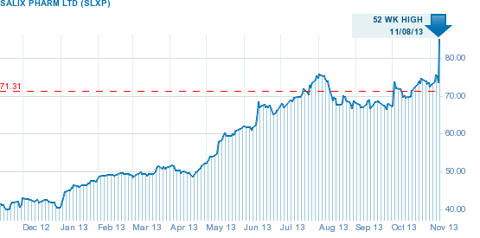 Click to enlarge
Salix had cash and cash equivalents of approximately $852 million as of October 31, 2013. The company intends to finance the transaction with a combination of $800 million cash on hand and $1.95 billion in committed financing from Jefferies Finance LLC.
| Company | Ticker | P/E | P/S | Mrkt Cap |
| --- | --- | --- | --- | --- |
| Salix | SLXP | 69 | 7.1 | $5.2 Billion |
| Santarus | SNTS | 23 | 9.8 | $2.1 Billion |
According to Salix executives, cost of debt for the transaction is between 4% and 5%, which at a P/E of 69 is way below Salix's cost of capital. However, it compares favorably to Santarus current P/E of 23.
From a strategic perspective, the combined company creates opportunities for significant revenue synergies, will increase Salix's presence in the gastroenterology market and adds Santarus's lead ulcerative colitis drug Uceris (budesonide) to its portfolio.
Ucertis, which was forecasted to generate peak sales of $300 million as a result of Santarus marketing efforts, has its peak forecast revised upward to $500 million as a result of the combined marketing power of both companies sales forces.
Santarus' experienced specialty sales would also assist in raising revenue estimates for Salix's existing products sales while continuing to grow Santarus' products' revenue.
Immediate market reaction was favorable with Salix shares closing 18% up on the news. Strategically, I applaud the move. Financially, if I was holding some Salix shares right now, I would cash in for an immediate 18% profit and re-enter the stock sometime in the near future at a more favorable valuation.
Further Reading
Salix's press release offers a very comprehensive overview of the transaction with a complete list of both companies product lines.
Disclosure: I have no positions in any stocks mentioned, and no plans to initiate any positions within the next 72 hours. I wrote this article myself, and it expresses my own opinions. I am not receiving compensation for it (other than from Seeking Alpha). I have no business relationship with any company whose stock is mentioned in this article.