Tesla (NASDAQ:TSLA), the highly covered and talked about electric car maker was taken down a peg or two by the market over the last week, falling from its highs near $180/share to the high $130 region at end of the week. It marks a major bump in the road for Tesla, which has had a meteoric rise over the last 12 months, catalyzed by continued execution of their business plan, turning a profit, and expanding quickly as CEO Elon Musk continues to lead his company through growth at breakneck speeds.
With breakneck growth comes breakneck valuations, and that's what has occurred with Tesla over the last year. Even at Friday's closing price, Tesla is up 355% over the last year alone, yielding astronomical returns for its investors. The market has valued Tesla at $16.8 billion.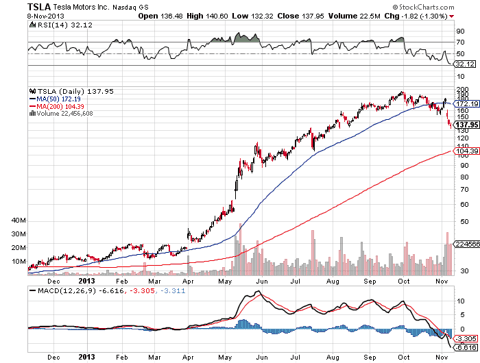 The catalysts for the correction in valuation both came last week, as a one-two punch. Aside from reporting earnings (that I didn't think were as bearish as everyone else thought), the week ended with yet another report of a Tesla battery fire - another item that I don't think is nearly as big of a deal as people are making it out to be.
I believe most of these fire stories to be a farce, but the market seems to be taking them seriously. The first couple of fires, the Teslas were involved in major accidents before catching fire. This time, a guy ran over a tow hitch - a large metal object, at a high speed. He was uninjured. As a reminder, there are about 19,000 Tesla cars on the road worldwide right now - these three fires represent 0.01% of Tesla owners - and all three of those 0.01% struck an object at a high speed. If you don't want your car to catch fire, don't run it into things at high speeds.
And, this happens everywhere else in the world, but no one points it out:
According to the National Fire Protection Association (NFPA), one out of five reported fires is a car fire. In fact, 18 percent of all fires takes place on a highway or other road and involves a motor vehicle.

Also according to the NFPA, 33 car fires are reported every hour across the country, with one person per day dying in a car fire accident in the years between 2002 and 2005.
But, I digress.
Earlier in the week, however, it was earnings that led Tesla's price decline.
Tesla reported earnings last Tuesday that beat on both revenue and EPS, but didn't offer finite guidance until sporadic guidance on the conference call. They also were mired by "production constraints" that left a bad taste in the market's mouth.
CNBC.com reported:
Tesla Motors delivered quarterly earnings and revenue that surpassed analysts' expectations on Tuesday.

The company said it finished the quarter with a record of slightly over 5,500 deliveries, including more than 1,000 deliveries to European customers. Some analysts were looking for a higher number.

For the current quarter, Tesla said it plans to deliver close to 6,000 Model S vehicles.

Tesla reported a net loss of $38.5 million, or 32 cents per share, an improvement from a loss of $110.8 million, or $1.05 per share in the year-ago earlier period.

The company posted third-quarter earnings excluding items of 12 cents per share, up from a loss of 92 cents a share in the year-earlier period.

Revenue increased to $603 million from $50 million a year ago.
Tesla will become an opportunity when it is "priced at a value" for potential investors. One of the biggest complaints I heard going into Tesla's earnings (and one I personally do not subscribe to) was the fact that Tesla's valuation was way too out of whack for people to continue to see it as a prudent investment vehicle. Yes, this is the same market that has priced Netflix (NASDAQ:NFLX), Yelp (NYSE:YELP) and LinkedIn (NYSE:LNKD) with the same astronomical valuations.
But, as I've found out over the years, just because I disagree with the market doesn't make me right. You've got to follow the momentum, and the market's momentum with Tesla right now is scared and bearish.
Tesla, unlike these social media stocks, has the potential to not only dig into a tried and true sector, but revolutionize and establish its own niche within that sector. So, I always gave Tesla's valuation a pass. The market, on the other hand, had other ideas.
As I said in my last article, the long-term Tesla bulls have a ton to look forward to here:
1. Increasing demand in the U.S. and Europe
2. Continued guidance for 21,000 vehicles shipped this year.
3. Addressing of the company's production constraints through Panasonic deal and an eventual "giga factory."
4. Continued dabbling into other overseas markets, like China.
5. Tesla continuing to spearhead the luxury electric automobile segment of the automobile industry.
While I'm bullish on Tesla as a company, I sold my long position in the $150's after earnings fearing an even bigger price walk down. I'm waiting for what other potential long investors in Tesla should be waiting for - the company to correct to a point where it's starting to look like a value to the market. When that occurs, Tesla will naturally continue an upward trend yet again. However, that time isn't now.
Potential investors can do well to wait a bit before averaging down or jumping back into a position with Tesla on the long side.
I'm remaining on the sidelines, as I think the market is going to continue to bring Tesla's price down. When it dips under $110, I'll likely pull the trigger on another long position.
Disclosure: I have no positions in any stocks mentioned, and no plans to initiate any positions within the next 72 hours. I wrote this article myself, and it expresses my own opinions. I am not receiving compensation for it (other than from Seeking Alpha). I have no business relationship with any company whose stock is mentioned in this article.