Speaking during EOG Resources' (NYSE:EOG) third quarter earnings call, the company's outgoing CEO Mark Papa shared his view on North American natural gas fundamentals.
Regarding North American gas prices, I believe the gas prices will stay depressed until the 2018 timeframe.

We continue to have no interest in zero-profit North American gas growth and we will continue the high margin oil focus… We again plan to drill zero North American dry gas wells in 2014 because we see no light at the end of the gas oversupply tunnel until 2018.
Mark Papa also spoke pessimistically regarding the pricing dynamics in the Marcellus/Utica producing region:
The current Marcellus location differential is likely just a harbinger of chronic Appalachian price dislocations that we will see over the next multiple years.
With regard to ethane prices, which have now seen weakness for several years in a row, Mr. Papa did not express much optimism either:
We also expect ethane prices to remain weak until 2018.
Mr. Papa believes that the 2018 timeframe is the earliest when natural gas prices may see some relief driven by the first significant impact of LNG exports via those terminals that are currently being converted from former LNG import orientation:
I think that's when we will really have the first meaningful impact and I think that may have some impact on prices...
Watching recent operating trends in natural gas producing shales, it is difficult to disagree with EOG's pessimism. Almost trivial to say, liquids-rich plays - such as the Wolfcamp, Mississippian, Utica, Marcellus South, just to name a few - have become very significant and rapidly growing sources of natural gas supply. These sources are the new "baseload" in the gas supply hierarchy that will only continue to take share from dry gas shales, as the economic cost of dry gas produced in such plays is typically very low, if not flat out zero. Adding to that is associated gas from oil production that is also contributing noticeable volumes (the Bakken's natural gas production has recently crossed the 1 Bcf/d mark).
It is quite notable that EOG itself is projecting that its dry gas production from oil and liquids-rich plays will more than offset natural declines from the company's vast natural gas portfolio, without a single dry gas well drilled (according to page 1 of the company's latest investor presentation, "associated gas drives flat to modest growth profile" of the company's projected North America gas volumes).
Completing the oversupply picture are the continued improvements in well productivity and declining all-in costs in dry gas plays. While Cabot Oil & Gas (NYSE:COG), with its Marcellus EUR per well in Susquehanna County steadily marching towards 20 Bcf, may be exceptional in terms of well productivity, progress achieved by other producers is also very material and undeniable.
As cost of supply continues to drift lower across the majority of plays, the expectation of a quick cyclical recovery in gas prices driven by rapid natural declines in marginally economic shales (such as the Haynesville, Barnett, and Pinedale) is increasingly proving to be an "old paradigm" thinking. Such declines are slowing every year both in absolute and percent-of-base terms and become an increasingly scarce mechanism for balancing out growing supply from other sources.
If those declines at some point become insufficient to offset growth from areas such as the Marcellus, natural gas pricing may see another round of downward volatility similar to was seen in 2012. Economic signals will need to be sent to the industry to reduce production in areas that just recently were considered part of "baseload" supply and for which natural gas prices had very little relevance. Expanding Marcellus basis is one of such economic signals. Indeed, pricing may become very unpredictable for Marcellus and Utica natural gas volumes without firm transportation commitments.
Another important dynamic in the cost of natural gas supply is not to be overlooked: dry gas shales may experience yet another productivity boost from technology transfer from oil shales.
Several years ago, oil shales were major beneficiaries of the stimulation technology initially developed for natural gas production. Whereas producer budgets targeting natural gas shales have seen massive reductions in the past few years, the oil shale business has been firing on all cylinders. The industry has been working particularly hard at perfecting stimulation technologies for oil shales. EOG commented that it is currently developing its "third generation" completion design that has potential to take the productivity of the company's shale oil wells another step higher from their already very impressive levels.
It is just a matter of time before these technological advancements find their way back into the dry gas sector and lead to even higher recovery rates in the most productive sweet spots in dry gas shales.
Just one final comment is in order. "Depressed" natural gas prices is a relative term - relative to the cost to produce for each specific operator in each specific area. Looking at three natural gas volume graphs below, one would find it difficult to conclude that current gas prices (or even the severely depressed prices of 2012, for that matter) are anywhere close to being "depressed." In fact, those graphs would suggest that at least for some producers a $4.00/MMBtu price environment equates to a powerful economic stimulus to grow.
Cabot Oil & Gas Projected Production Growth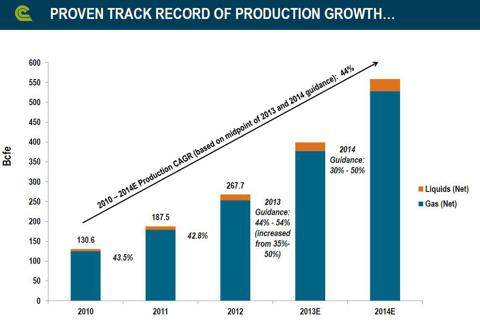 (Source: Cabot Oil & Gas, November 2013)
EQT Corporation (NYSE:EQT) Projected Production Growth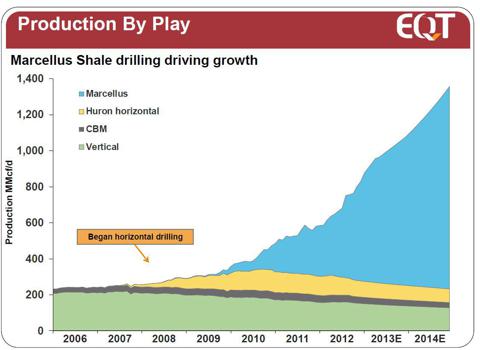 Click to enlarge
(Source: EQT Corporation, October 2013)
Southwestern Energy (SWN) Marcellus Production Growth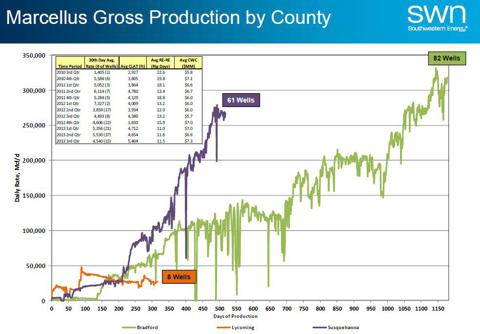 Click to enlarge
(Source: Southwestern Energy, November 2013)
Disclaimer: Opinions expressed in this article by the author are not an investment recommendation and are not meant to be relied upon in investment decisions. The author is not acting in an investment advisor capacity. The author's opinions expressed herein address only select aspects of potential investment in SM Energy securities and cannot be a substitute for comprehensive investment analysis. Any analysis presented herein is illustrative in nature, limited in scope, based on an incomplete set of information, and has limitations to its accuracy. The author recommends that potential and existing investors conduct thorough investment research of their own, including detailed review of the company's SEC filings, and consult a qualified investment advisor. The information upon which this material is based was obtained from sources believed to be reliable, but has not been independently verified. Therefore, the author cannot guarantee its accuracy. Any opinions or estimates constitute the author's best judgment as of the date of publication, and are subject to change without notice.
Disclosure: I have no positions in any stocks mentioned, and no plans to initiate any positions within the next 72 hours. I wrote this article myself, and it expresses my own opinions. I am not receiving compensation for it (other than from Seeking Alpha). I have no business relationship with any company whose stock is mentioned in this article.