An Expensive Stock:
Twitter (NYSE:TWTR) opened for trading up enormously on the company's debut to the markets. It is no surprise that articles are popping up that see a shortfall coming for shares in the company due to many problems in the short term. The company is undoubtedly one of the hottest brands around, however, in the meantime the stock is due for a cool-down. Kyle Spencer's excellent article outlines the various shortfalls that the company is facing in the near term. I agree with his analysis, although I wanted to take the time to compare Twitter's opening day to that of its peers - in relation to the long term. Kyle Spencer in his article states the below information - a very articulate and well formulated opinion.
I expect that Twitter will fall into the low $30s in the near term, as the combination $459.2 million in stock-based legacy compensation expenses, negative earnings, divestment by the company's VC partners and a slowly expanding North American user base take a toll on investor sentiment.
Peer Analysis: Opening Day vs. Long Term:
There is no denying it, Twitter priced its IPO perfectly after upping the target 25% from $20 to $25. Twitter's shares surged on the opening day, much like other internet companies in the past.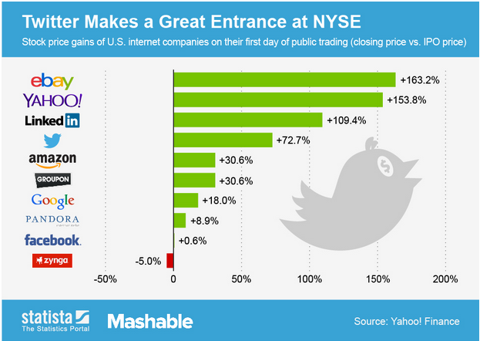 However, one thing is crystal clear - the opening day of many much-anticipated internet companies are not indicative of their long term prospects. This is due to the fact that although being fourth on the list of opening day gainers, Amazon goes against the theme of a strong first day leading to long-term gains. This is due to the fact that Amazon did not have the best opening day, yet it has performed the best over the long term. Moreover, Facebook is worth nearly 27% more than an initial $1000 investment in the company. On the other hand, if you held off buying on the first day of trading and waited for the lows of $18-$20, you would be up 300% on the $18 entry point. Although that would have been perfect execution, the main point being that waiting for the dip could be worth a lot more than buying on the opening day.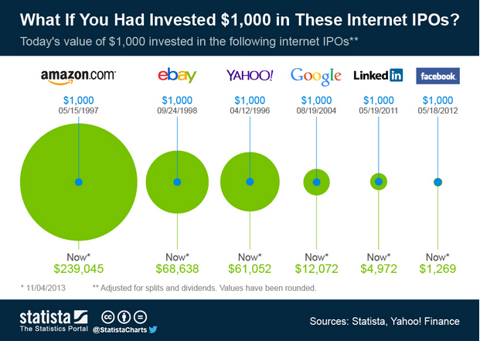 The events of the opening days for these internet companies is mainly inconclusive for its long-term gains. All of these examples are positive in the long term, but one thing is clear - waiting for the dip in Facebook (NASDAQ:FB) would have yielded a 300% return (with perfect execution, so give or take a few dollars on the entry point) for the trader.
Forward Looking Analysis:
With a price to book of 29.91 and a price to sales of 45.76, it is not hard to see why some see Twitter as overvalued. Twitter also does not have a price to earnings ratio since the company is not currently profitable. A look into the future reveals that the company expects 2015 revenue of $1.24 billion and EBITDA of $200 million. At a market cap of $22.69 billion, that values Twitter at 18.3x and 113.45x projected revenue and EBITDA in 2015, respectively. As I feel with Tesla, I feel as though shares of Twitter are trading emotionally and on news rather than fundamentals. And as such I would not buy Twitter anytime soon, or Tesla as stated in that article. When the bottom is in with Twitter, we will know when to buy, as there will be numerous articles at that time proclaiming the end of Twitter.
For example, this article came out on April 30, 2012 stating that Facebook could disappear and Facebook set its low of $18.058 the very next day - an excellent buying opportunity in hindsight. A point that backs the opinion that Twitter will trade on the news moving forward, not technicals or fundamentals - so keep a close eye but do not pull the trigger anytime soon.
Conclusion:
One of the main differences with Facebook and Twitter is the former's turbulent opening and mispricing - a fate that Twitter has not shared, yet! I am waiting to buy shares of Twitter on the dip - below $30. Facebook fell from $45 to $18 three months after their IPO and Groupon fell from $30 to $4 a year after its IPO - an event that I feel will also be in Twitter's fate - on a timescale closer to Facebook than Groupon. Even birds can hear the off pitch nature of this tweet, as investors should heed the call to stay away as well.
Disclosure: I have no positions in any stocks mentioned, and no plans to initiate any positions within the next 72 hours. I wrote this article myself, and it expresses my own opinions. I am not receiving compensation for it (other than from Seeking Alpha). I have no business relationship with any company whose stock is mentioned in this article.
Additional disclosure: Always contact a financial professional before executing any trades. This article is in my personal opinion and is informational in nature.