On Oct 16, SA published an article by Bob Johnson on National Grid (NYSE:NGG). I have followed NGG for many years and characterize it as an interesting international gas and electric utility. Mr. Johnson outlines the guts of the businesses quite well and there is little need to duplicate his efforts. As an additional list of comments, investors should read his article.
National Grid is a gas and electric transmission and distribution company with assets in both the UK and the Northeast US. Investors do not have substantial exposure to power generation, and most of the UK activity is gas and electric midstream transportation. In the US, NGG operates as a local gas distribution and an electric transmission firm. Mr. Johnson offers great service maps and business structure charts from company presentations. The midstream and distribution assets tend to insulate investors from some of the variables currently found in the power generation business both in the UK and in the US.
A good thumbnail description of NGG is from S&P:
In its U.K. operations, NGG's Electricity Transmission unit comprises the high-voltage electricity system in England and Wales (the National Grid), including 7,200 km of overhead lines and 690 miles of underground cable and the high-pressure gas transmission system in Great Britain (Transco), which consists of 7,600 km of pipeline serving approximately 21 million customers. U.K. Gas Distribution owns four of the U.K.'s eight regional gas distribution networks, delivering gas to around 10.8 million customers through 132,000 km of pipeline.

In U.S. operations, the company's U.S. Electricity Transmission business owns and operates a 13,800 km electricity transmission network. U.S. Gas Distribution delivers gas to 3.5 million customers through 58,000 km of gas pipes. U.S. Electricity Distribution & Generation owns 4.1 GW of generating capacity and a 116,000 km electricity distribution network serving 3.4 million customers and also manages 23,100 km of transmission and distribution lines serving 1.1 million customers on Long Island.
One important aspect of the US and European electrical utility sector is the disruptive impact that natural gas fired and subsidized alternative power is creating in power generating markets. The power markets have been in a multi-year weak pricing decline with medium-term outlooks being more of the same. Exelon (NYSE:EXC) is currently struggling from very weak profit margins in merchant power, especially in the auction-controlled markets in the Northeast/Midwest. Comments from EXC's CEO on the topic can be found here.
In Europe, the electric power grid is being overrun by the variables of wind power. Similar negative pricing events are happening in the US with the growth of installed wind capacity. However, NGG is positioned as the distributor of energy, regardless of source, and has little exposure to the pricing models of power generation. Unlike some power generating firms, NGG offers investors a more stable profit niche in the electric utility business.
In the natural gas sector, NGG also acts as a distributor with major midstream pipeline assets in the UK and services distribution in the US. Much of its US service area incorporates NGG as both the regulated electric and regulated gas utility.
As with NorthEast Utilities (NU), NGG has great exposure to an expansion of natural gas for home heating in New England and Upstate NY. For example, Massachusetts has approximately 48% gas heating market penetration with a national average penetration of 78%. New England states have been passing legislation offering consumer incentives for switching to natural gas and in neighboring Connecticut, these incentives are expected to double annual heating conversions to 17,000 a year.
NGG has exposure to the electric transmission business in the Northeast. As increasing wind farms are placed in rural NE areas, such as Longfellow, Maine, the need to move this power to urban areas will require higher investment in transmission assets, a strength of NGG. In addition, if the fracking issue is resolved in New York and as local gas production increases, marginally profitable coal-fired generating facilities on the coast could be replaced by new natural gas-fired plants in interior NY, adding to the need for a wider grid network.
As with all regulated utilities, investors need to have an appreciation of the regulatory environment. Below is a chart from NGG's most recent presentation (pdf). As shown, over the past few years, the trend for allowed returns on equity has been trending down slightly, with the US utilities allowed 10.3% in 2009 and 9.9% in 2012. More importantly, NGG has achieved increasing levels of ROE from 6.9% in 2009 to 9.2% in 2012. In the UK, NGG has achieved stable returns over the past few years.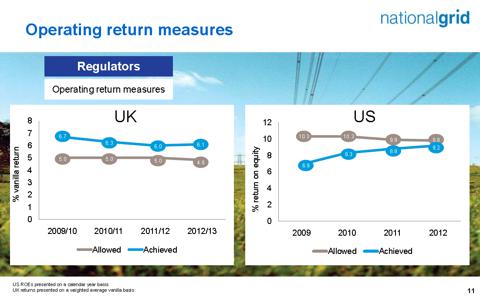 Going forward, NGG's regulatory environment is a bit more complicated for US investors due to including UK regulators as well as US states. In the UK, the regulatory bodies recently approved a rate cycle going out to 2017. Based on this, NGG announced a large capital expenditure budget of GBP 20 billion ($32 billion) for additions to their gas and electric infrastructure. The new RIIO structure allows for a 4.4% ROE on transmission and distribution assets, down from 4.75% in 2012-2013 and 5.05% in 2007-2011. In addition, NGG can earn incentive returns of upwards of an additional 3%, and NGG has historically done so. However, some UK political groups are advocating a freezing of all utility rates, but is not expected to gain much traction in popularity. Overall, the regulatory environment in the UK should be considered supportive of NGG earning stable returns on its rate-based assets.
In the US, NGG operates in Massachusetts, New York, and Rhode Island. Massachusetts is considered a "Credit Supportive" regulator-friendly environment in a 2008 ranking by S&P credit service, with NY and RI being "Less Credit Supportive". Credit Supportive would be considered average and Less Credit Supportive considered below average. Overall, it would seem NGG operates in a relatively friendly regulatory environment, while not as friendly as some southern US states. NGG rates an A- by S&P Credit and BBB+ by Morningstar Credit. A- is an above average credit rating, while BBB+ is about average for the utilities sector.
National Grid has done a suburb job of creating shareholder value based on all assets at its disposal. Below is a 15-year graph of return on invested capital ROIC as presented by fastgraph.com.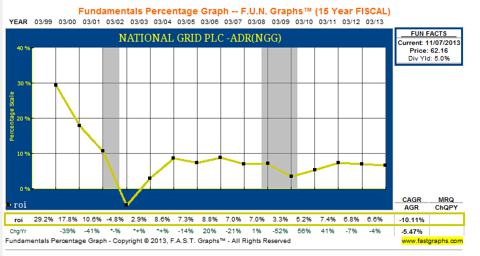 Management has generated a 15-yr average ROIC of 8.26% and a 5-yr ROIC of 5.86%. This performance far outshines many US utilities, such as Duke Energy (NYSE:DUK), which has generated a 15-year average ROIC of 4.15% but a 5-year average of just 3.2%. Other popular utilities have generated relatively comparable returns: 15-yr average for American Electric Power (NYSE:AEP) of 4.1%, and 5-yr average of 5.9%; Southern Co (NYSE:SO) 5.8% and 4.6%; PPL Corp (NYSE:PPL) 5.9% and 5.2%; and Exelon 7.6% and 9.0%, respectively. Overall, NGG should be considered among one of the best in the sector for generating ROIC.
This is an important matrix, because many believe that long-term earnings growth cannot be sustained above management's ability to generate ROIC.
There is much confusion among websites concerning National Grid's dividend. However, it is fairly straightforward. NGG is a British company and reports earnings along with paying dividends in GBP, or British pounds. Most US investors own the ADR (American Deposit Receipt) traded on the NYSE, and each ADR represents five ordinary shares that trade on the London Exchange. Similar to many European companies, NGG pays a dividend twice a year, and the dividend fluctuates based on earnings. The dividend is paid in GBP. For example, the Fiscal Year March 2013 NGG dividend was reported at 40.85 pence per share, up from 39.28 pence in 2012 and 36.37 pence in 2011. With one ADR = five shares, the dividend per ADR would be 2.04 GBP, 1.96 GBP, and 1.82 GBP respectively.
However, US ADR holders have to calculate the exchange rate for the GBP to USD to realize their actual payout. As the GBP:USD exchange rate fluctuates, so does the amount of the dividend paid to US investors.
With the fiscal year ending in March, NGG pays their dividends in the late spring and then again in the early winter of each year. For example, the FY2013 dividend was paid in May 2012 and Nov 2012 while the FY 2012 dividend was paid in June 2011 and Nov 2011. Below is the USD dividends paid per ADR according to yahoo.com.
| | |
| --- | --- |
| Date | Dividends |
| 6/5/2013 | 2.009 |
| 11/28/2012 | 1.15 |
| 5/30/2012 | 2.017 |
| 11/30/2011 | 1.097 |
| 6/1/2011 | 1.901 |
| 12/1/2010 | 1.024 |
As stated, the exchange rate varies over time. Below is a 5-yr chart of USD per 1 GBP from xe.com: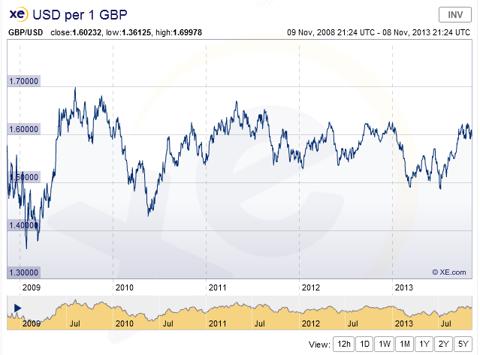 Inverted, the chart would look like this for the exchange rate of GBP per 1 USD and would range from 0.59 to 0.73: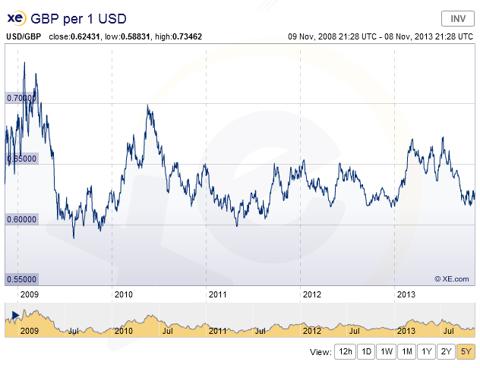 ADR holders need to appreciate that their dividend will depend on both the underlying dividend growth as reported by National Grid and the exchange rate. For example, the 5-yr range for the exchange rate is 1.70 to 1.39. Based on this range, the same 2.04 GBP dividend paid by NGG in FY2013 could have fluctuated from $3.47 at a 1.70 conversion to $2.84 at a 1.39 conversion. Over the past several years, NGG has raised its dividend, masking the exchange variable issue. However, as dividend increases slow down, ADR investors may find a higher impact from exchange rates influencing their dividend. In general, a declining USD improves the conversion rate in favor of US dividend holders. Since mid-2011, the range of the exchange rate has fluctuated by about 8%.
Unlike many European dividends, NGG is not subject to back-up foreign withholding taxes. This is a big advantage for ADR investors who want to hold NGG in an IRA.
Using the most recent dividend information and exchange rates, the trailing twelve month yield for NGG is 5.2%. This is based on a 1.60 conversion rate, 2.04 GBP dividends and a $62 ADR price.
Management has announced their goal of increasing the dividend greater than the inflation rate (of the UK presumably). While the average dividend increase from 2005 to 2012 was about 9.0%, increases going forward will be substantially less than this average. Below is a table of the most recent consumer price index inflation numbers for Great Britain, from global-rates.com: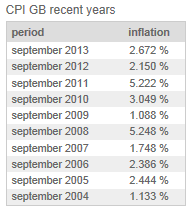 The 10-yr inflation average for GB is 2.76%. Investors should expect a minimum of this amount as the potential annual dividend increase going forward. Even though management is targeting a 6% growth in regulated assets through 2018, earnings per share are expected to grow by around 4.5% to 5.0%. Dividend increases could be in the 2.7% to 5.0% range for the foreseeable future.
With about 40% of NGG's profits generated in the US and a growing asset base in both the US and UK, investors should review the stable yield of National Grid's dividend. For investors willing to take on the added flavor of buying a utility ADR, NGG would be a good selection. Investors could be handsomely rewarded if the USD begins a multi-year declining trend against the GBP, goosing up the dividends received.
Author's Note: Please review important disclaimer in author's profile.
Disclosure: I am long AEP, EXC, SO. I wrote this article myself, and it expresses my own opinions. I am not receiving compensation for it (other than from Seeking Alpha). I have no business relationship with any company whose stock is mentioned in this article.