The Rating Outlook for U.S. equity REITs remains Negative this year, while the outlook for European Property Investment Companies (PICs) remains Stable.
Despite improved liquidity profiles and access to the unsecured debt market, weak property operating fundamentals and the uncertainty as to when a full economic recovery will take place remain areas of concern for U.S. equity Real Estate Investment Trusts in 2010, Fitch Ratings says in its latest REIT Report Quarterly.
Fitch said it may revise the Outlook to Stable if expectations regarding property-level fundamentals, liquidity, and access to capital hold true in 2010. (Click to enlarge)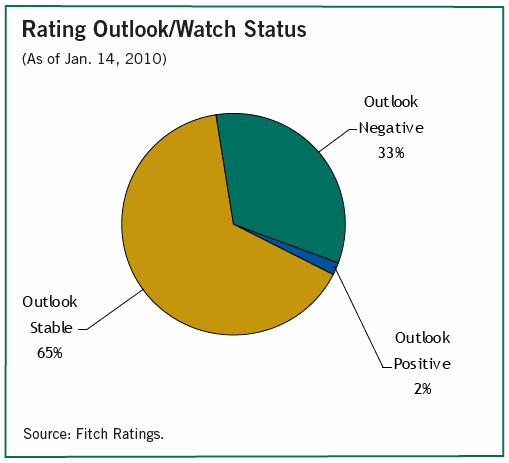 The 2010 Rating Outlook for European Property Investment Companies (PICs) remains Stable, reflecting one-off improvements in UK PIC capital structures – share issues and asset disposals – during first-half 2009, limited market rent and occupancy declines for the next 12-18 months, and the strong liquidity profiles of PICs.
During this past quarter, Fitch assigned first-time ratings for two new issuers (each with Stable Outlooks), five security-specific ratings, affirmed seven Issuer Default Ratings (IDRs), and upgraded one IDR among its rated equity real estate investment trusts (REITs). Fitch also affirmed seven IDRs and their respective Outlooks. Additionally, Fitch upgraded one REIT and removed it from Rating Watch Negative (Outlook now Stable). No issuers were downgraded this past quarter.