To date, the initial rollout of the website to sign up for new health insurance coverage under the Affordable Care Act (ACA) has been mired in technological glitches that has been debated all the way to Capitol Hill. The problems have slowed access to persons wanting to increase their ability to have health insurance. Still, the government is targeting the beginning of 2014 as the transition for millions of people now having new health insurance. According to the Urban Institute, nearly a third of the 96 million people who will qualify for either Medicaid or Exchange subsidies will change eligibility from one year to the next.
While the debate still rages about the end result of Obamacare, there are a number of health insurers that will benefit from providing the insurance and services to this population. One of these small insurers that investors need to watch is Centene Corporation (NYSE:CNC).
Centene has been very strong in landing new contracts with states offering health insurance plans under the ACA that are growing sales and net income at a rapid rate. Centene has a strong financial position with reasonable debt levels and the stock performance has been solid in the past year. More impressively is the stock's earnings are projected to propel the stock price up 50% in the next two years.
Centene Corporation is a multi-line healthcare enterprise, which provides programs and services to the number of under-insured and uninsured individuals. The Company provides member-focused services through locally based staff by assisting in accessing care, coordinating referrals to related health and social services and addressing member concerns and questions. It also provides education and outreach programs to inform and assist members in accessing appropriate healthcare services.
Centene is Landing New State Contracts
There is no shortage of problems with the healthcare.gov website, the one set up to enroll millions of Americans in health insurance plans as required by the Affordable Care Act. The issue has slowed the number of persons signing up for health insurance that will be effective January 1 2014.
Under the ACA, small insurers including Centene, are expecting to benefit from offering health insurance on exchanges in states such as Mississippi, which large insurers do not wish to enter. Centene has confirmed that glitches stopped consumers from accessing its plans, which are currently listed on federal exchanges in Arkansas, Florida, Georgia, Indiana, Mississippi, Ohio and Texas.
"... some of the expectations about a bumpy October became more widespread, we certainly adjusted our expectations that October was going to be more of a slow ramp as opposed to a big bang in terms of enrollment," Executive Vice President Rone Baldwin said on a post-earnings conference call with analysts.
Baldwin said the company was having a better experience in the state-based exchanges of Massachusetts and Washington. Still, Centene has been awarded a number of Medicaid contracts that will dramatically increase sales and insurance premiums in the next few years.
In late September, Centene announced that the Florida Agency for Health Care Administration posted its notice of intent to award a contract for the Managed Medical Assistance (MMA) program to Centene's
Florida subsidiary Sunshine State Health Plan (Sunshine Health). After challenge and contract readiness periods are completed, enrollment is expected to begin in the second quarter of 2014 and should be completed by October 2014.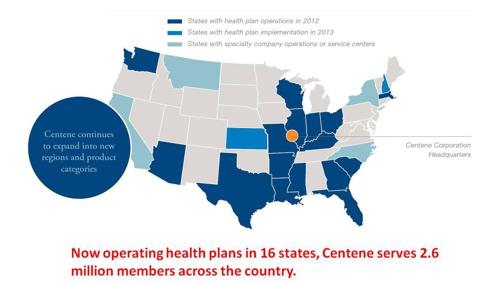 Under the intended MMA contract, Sunshine Health will serve members in 9 of the 11 regions covered under the Statewide Medicaid Managed Care program. In addition, Sunshine Health was the only plan recommended for a contract award for the Child Welfare (Foster Care) Specialty Plan. Sunshine Health is currently the largest HMO provider under the Long Term Care portion of the Statewide Medicaid Managed Care program with a contract to serve members in 10 of Florida's 11 regions.
On October 18 2013, Centene announced that its subsidiary, Centurion of Minnesota, has executed an agreement with the Minnesota Department of Corrections (NYSE:DOC) to provide managed healthcare services to offenders in the state's correctional facilities. Centurion is a joint venture between Centene and MHM Services Inc., a national leader in providing behavioral and other healthcare services to correctional systems.
Centene's 2014 revenue could get a further boost if states expanded their Medicaid coverage next year. States have an option to expand their Medicaid programs for the poor and disabled under the ACA. Twenty-five states and the District of Columbia have agreed to expand their programs.
There is talk that some states might expand Medicaid towards the middle of next year, and if that were to happen, that would be an additional boost to Centene's sales not currently reflected in their earnings forecast.
Centene Corporation was notified on November 4 by the South Carolina Department of Health and Human Services (SCDHHS) that Absolute Total Care, its South Carolina subsidiary, has been selected to serve dual-eligible members as part of the state's pilot program to provide integrated and coordinated care for individuals who are eligible for both Medicare and Medicaid.
The program is expected to serve approximately 53,600 of the dual-eligible beneficiaries in the state. Beneficiaries can begin selecting a plan July 1, 2014, and those who do not choose a plan will be automatically assigned to a plan on January 1, 2015. Absolute Total Care currently serves 90,000 Medicaid health plan members throughout the state.
Centene has a Strong Financial Position
Centene raised its revenue growth forecast for 2014 following the Medicaid contract win in Florida and expansion of others. The company raised its revenue growth forecast to 20% from 15% even though it was too early to draw conclusions from the enrollment numbers at healthcare exchanges created under the Affordable Care Act.
The Company raised its full-year premium and services revenue forecast to $10.6 billion-$10.8 billion, from $10.3 billion-$10.6 billion it forecast in July. The insurer issues forecasts for premium and services, which account for about 98% of its revenue.
Premium and services revenue rose 24% to $2.73 billion in the third quarter. Net earnings attributable to Centene rose to $49.4 million, or $0.88 per share, from $3.8 million, or $0.7 per share a year earlier. Total revenue rose 14% to $2.80 billion, above analysts' estimates of $2.68 billion.
The net income growth from the same quarter one year ago has significantly exceeded that of the S&P 500 and the Health Care Providers & Services industry. The net income increased by 1192.8% when compared to the same quarter one year prior, rising from $3.82 million to $49.37 million.
Powered by its strong earnings growth of 1142.85% and other important driving factors, this stock has surged by 54% over the past year, outperforming the rise in the S&P 500 Index during the same period. The Company is comfortably off its 52 week high of $67.84 on October 22. This pullback was warranted as the stock price was ahead of earnings.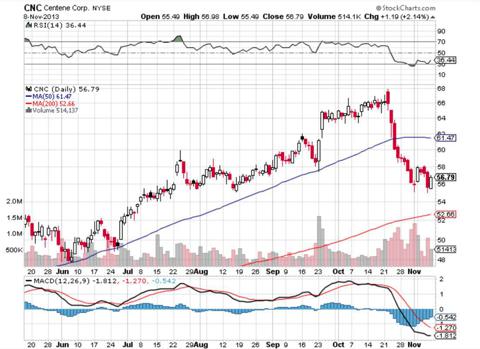 The current debt-to-equity ratio, 0.44, is low and is below the industry average, implying that there has been successful management of debt levels. Although the company had a strong debt-to-equity ratio, its quick ratio of 0.88 is somewhat weak and could be cause for future problems.
Centene is projected to have earnings per share of $2.83 in 2013 which is 48% higher than the $1.90 earned in 2012. This growth is expected to continue in the next few years. For 2014, EPS is projected to increase 27% to $3.62. Earnings are projected to be $4.25 in 2015 which is an increase of 20% from 2014.
Based on 2013 EPS of $2.83 and a reasonable price earnings of 20, Centene, trading near $57 per share, is fairly priced with an estimated price of $56.6. However, looking at the EPS increasing to $3.62 in 2014 will increase the estimated stock price to $72.4 which is an increase of 27.5%. It gets even better in 2015 as Centene has an estimated stock price of $85 ($4.25 times 20). This is an increase of nearly 50% from the current stock price giving investors an average of nearly 25% return per year in the next two years.
Disclosure: I have no positions in any stocks mentioned, and no plans to initiate any positions within the next 72 hours. I wrote this article myself, and it expresses my own opinions. I am not receiving compensation for it (other than from Seeking Alpha). I have no business relationship with any company whose stock is mentioned in this article.