Professional social networking giant LinkedIn (NYSE:LNKD) posted another strong quarter. Revenue exceeded consensus estimates as it soared 56% year-over-year to $393 million. The bottom line followed suit, as non-GAAP earnings per share jumped 77% year-over-year to $0.39. LinkedIn also revealed decent free cash flow, which stands at $133 million year-to-date, equal to 12% of total revenue. However, Mr. Market was none too pleased with LinkedIn's guidance, but we'll get into that later.
Engagement Remains Strong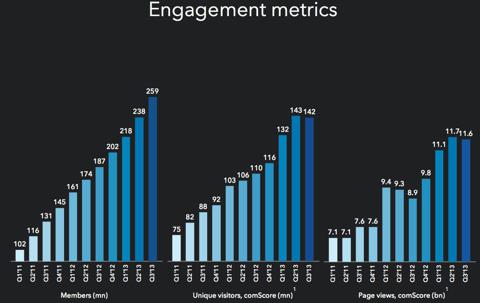 Image Source: LNKD 3Q13 Slides
Though down slightly sequentially, LinkedIn continues to take steps with respect to engagement. According to comScore (shown above), LinkedIn had 142 million unique visitors during its third quarter, an increase of 29% on a year-over-year basis. Membership growth also remains strong, up 39% year-over-year to 259 million members. LinkedIn's growing network further cements itself as the premier place for prospective employees and employers to meet, making it incredibly difficult for new competitors to arise.
Network Effect Driving the Talent Solutions Business
Because of the enormous membership growth LinkedIn has demonstrated during the past several years, corporate human resources departments continue to shift their budgets toward LinkedIn over traditional talent recruitment sources. Consequently, sales of LinkedIn's Talent Solutions products surged 62% year-over-year to $225 million.
LinkedIn is quickly becoming the primary source for potential employees to seek employment, which will allow LinkedIn to charge high prices to corporate recruiters. LinkedIn's focus on building a powerful mobile platform also sets it apart from competitors. The Talent Solutions business remains the primary revenue growth driver at LinkedIn and its most valuable asset.
Lagging Ad Growth Isn't Negative for Facebook or Twitter
Marketing Solutions, otherwise known as LinkedIn's advertising business, posted 38% year-over-year revenue growth to $88 million. It may be a bit of an exaggeration to declare 38% revenue growth in any segment "weak," but we do think the figure is disappointing.
We don't see the company taking advertising dollars away from other social networks such as Twitter (NYSE:TWTR) or Facebook (NASDAQ:FB). The user experience isn't necessarily bad and the company has added some interesting features like posts from influential thought leaders, but we think LinkedIn's professional nature prevents users from spending as much time on the site as they do on Facebook and Twitter. LinkedIn has notably lower engagement between users, likely because they do not feel comfortable sharing information on LinkedIn as they do in less formal settings.
Therefore, we do not believe LinkedIn's failure to grow advertising revenue at a faster rate is negative for Facebook or Twitter. LinkedIn simply fills a different role in people's online life, one that may not translate as well to driving advertising spending.
Operating Expenses and Guidance
Similar to many technology companies in their infancy, LinkedIn is spending a high percentage of revenue on internal investment. Product development costs jumped 46% year-over-year to $106 million, while sales and marketing spend climbed 60% year-over-year to $133 million. Some of this money is being well spent, but with sales and marketing costs exceeding revenue growth, it is clear that not all capital is being allocated efficiently.
We also didn't like LinkedIn's revenue guidance in the fourth quarter, which was below consensus estimates at $415-$420 million (consensus was $438 million). LinkedIn's guidance wasn't necessarily poor-it implies top-line growth of 36-38%. However, it is a material deceleration from the pace of the third quarter, and it could imply that the days of LinkedIn's 50%+ revenue growth are nearing the end. With the stock trading above our fair value estimate and at a forward earnings multiple in excess of 100 times, slowing revenue expansion could be a powerful downward catalyst.
Still, management guided to revenue of $367-$373 million during the third quarter when it reported second-quarter results. That was well below the actual figure, so we also acknowledge the likelihood that LinkedIn may be sandbagging earnings to set itself up for a big fourth-quarter "beat."
Valuentum's Take
Shares of LinkedIn continue to be absurdly overvalued. Though we think LinkedIn is a wonderful company with a great business model and tremendous long-term earnings potential, the price is still too far ahead of the underlying fundamentals. LinkedIn remains a put-option candidate in the portfolio of our Best Ideas Newsletter, as we think further downside is possible, particularly if management isn't sandbagging fourth quarter guidance.
Disclosure: I have no positions in any stocks mentioned, and no plans to initiate any positions within the next 72 hours. I wrote this article myself, and it expresses my own opinions. I am not receiving compensation for it (other than from Seeking Alpha). I have no business relationship with any company whose stock is mentioned in this article.