After shooting up quickly from under $400 a share in late June to over $500 a share in late October, Apple (NASDAQ:AAPL) shares have been stuck in a range of ~$500 to $525 a share since then. I think this is temporary pause in the stock and is nothing more than a healthy consolidation before the next leg up.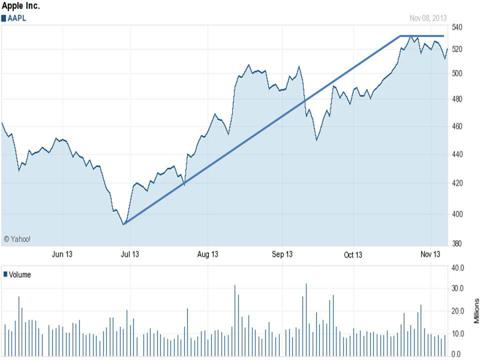 Click to enlarge
(Click to enlarge)
One of the more interesting things about Apple is has how quick sentiment has changed over the last few months after a year of negative commentary. From the decline from over $700 a share in Mid-October to its bottom in late June, there was a rash of negative stories on Apple.
These stories had some similar themes. Among these were tomes written about "Has Apple lost its mojo?", "Why Apple misses Steve Jobs" and "Is Tim Cook the right man to lead Apple?". I never put much stock in these treads. Instead I was very focused on stories around Apple's declining margins that in my opinion were the main driver of the stock's decline.
One of the key contributors of these declining margins was where Apple was in its product cycle, which escaped a lot of analysis. Once Apple began a new "refresh" cycle and launched its new versions of its iPhone on September 10th the company began a new refresh cycle that arrested its profit margin decline. The stock has mainly rallied in anticipation of this launch and then has continued to go up once the launch was more successful than anticipated.
The company is early in this refresh cycle which bodes very well for continued earnings & revenue growth as well additional capital appreciation of the stock. It is important to remember that only a few weeks of iPhone sales were included in Apple's last reported quarter. The next couple of earnings reports will contain full quarters of sales. It is encouraging that iPhones continued to sell well after a blowout launch weekend.
In addition, Apple just launched the new version of its iPad, the market leader in the tablet space. Initial reports (I, II, III) seem to confirm this launch is also going better than expected. According to AllThingsD, the new iPads should also have higher margins that its predecessor.
The upside from this start of the refresh cycle for Apple can be seen in the earnings estimates over the last ninety days. During the last three months, the consensus EPS for FY2014 has consistently and significantly been raised from $43.32 a share to a current $47.80 a share. Look for these estimates to continue to be taken up through the next earnings report.
Despite the recent rise, Apple is still cheap at under 8x forward earnings after subtracting the company's huge cash hoard. In addition, a deal with China Mobile (NYSE:CHL) is likely to be consummated soon which should add at least 10mm additional iPhone sales in 2014. Finally, the shares pay a 2.3% dividend yield and the company has over $30B left in a stock repurchase program (Which could go up substantially if Carl Icahn gets his way).
There are very few large cap tech stocks that offer this valuation with this kind of improving earnings prospects. To put in perspective, IBM Corporation (NYSE:IBM), which has not been able raised revenues in five years is selling at 10x forward earnings.
The time to worry about the downside on Apple was when it trading at over $700 a share in September 2012 when it was ending a product cycle. Given where the company is in its current cycle, Apple shareholders should have at least a couple of quarters of significantly increasing earnings & revenues. The time to worry again about Apple is when it gets to the end of this cycle in front of the launch of the iPhone6. BUY
Disclosure: I am long AAPL. I wrote this article myself, and it expresses my own opinions. I am not receiving compensation for it (other than from Seeking Alpha). I have no business relationship with any company whose stock is mentioned in this article.