In the world of REITs (not mREITs) there are a handful of really solid companies that offer consistent and strong dividends. Omega Healthcare Investments, Inc. (NYSE:OHI) is one that I have been waiting to buy. I had owned it once before but felt it had gotten ahead of itself. Now that the share price has pulled back, and the dividend yield is over 6%, I will begin accumulating shares in bite sized pieces.
Omega Healthcare is engaged in the real estate business that has a focus on senior facilities, mainly long term care; assisted living and nursing home facilities. It is no secret that Americans are aging, with the baby boom era now reaching senior citizen status. As we age we will need a place to go, especially if we can afford it and/or have insurance to defray the costs.
These senior residences are popping up all over the country and are becoming more popular than ever before. In this respect, even though OHI and REITs in general have been under pressure of late, the future appears quite bright for the sector, and OHI is one of the best.
The Numbers Speak For Themselves
With the recent earnings report, Omega Healthcare turned in a very solid performance. In comparison to other companies in this sector, OHI holds up very nicely from almost any metric.
Courtesy of Fidelity Investments, lets take a look at the facts.
GROWTH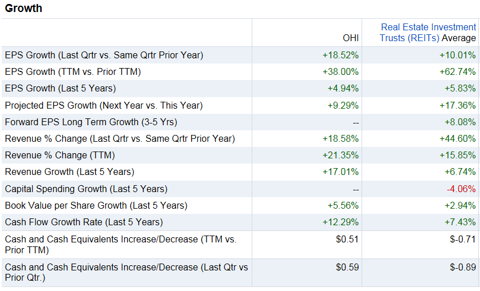 Click to enlarge
As I said, the numbers speak for themselves. Year over year this quarter, every metric was ahead of last year, and quite comparable to other REITs. EPS is higher, revenue growth is higher, book value increase is higher, as is cash flow. In my opinion this reflects well on the solid business model that OHI has employed.
PROFITS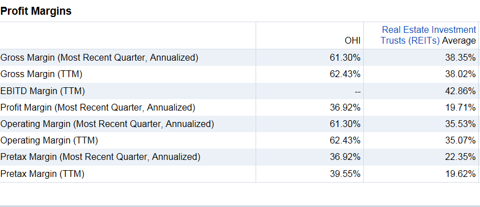 Click to enlarge
All profit metrics are very impressive, even compared to other REITs. Since profits are the source of shareholders dividend income from OHI, it should come as no surprise that the company continues to raise dividends even though the share price has fallen.
FUNDS FROM OPERATIONS (or FFO)
Third-quarter FFO, increased to $70.3 million or $0.59 per share from $56.7 million or $0.52 per share year over year for the same quarter last year. Quite compelling as far as I am concerned, and another indication of obvious growth.
Adjusted FFO for the quarter was $74.2 million or $0.63 per share. On average, eight analysts polled by Thomson Reuters expected the company to report FFO of $0.62 per share for the quarter. This number is a solid "beat".
Net income available to common stockholders increased to $38.1 million or $0.32 per share from $30.1 million or $0.27 per share last year. Operating revenues totaled $103.3 million, up from $87.1 million last year. Analysts expected revenues of $94.12 million, so in my book this metric blew away estimates.
For the fiscal year 2013, the company has affirmed its adjusted FFO guidance range of $2.48 to $2.51 per share.
DIVIDENDS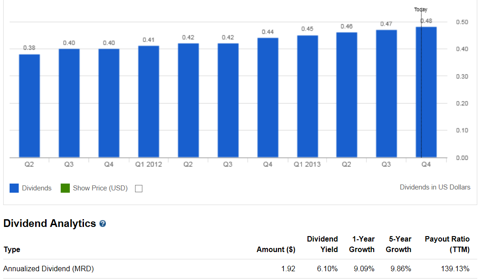 Click to enlarge
Since OHI has increased profits, it has also delivered solid dividends and dividend growth to shareholders. In mid 2011 the dividend was $.38/share for the quarter, and for this quarter, it has been increased once again, to $.48/share. That is more than a 20% increase in just about 2 years. I feel that this is a dividend growth stock to own, especially in a sector that is bound to grow.
Why I Will Begin Accumulating Shares Now
I usually do not get into technical analysis and I will not get very exotic here either. That being said, let me toss up this pricing chart:
Click to enlarge
This chart from 2008 shows quite clearly that each noticeable drop in the share price of OHI was followed by a stronger uptrend. The one little square I made (yes I cannot draw circles or squares very well) is the one time a drop was quickly followed by another drop. That was very short lived however.
Now I am not predicting any share price for the stock, but I will note that if I begin accumulating now, and the stock drops again, it will offer an opportunity to add shares to eventually complete my position. From a historical perspective I can count on the stock going back up.
Being that the dividend yield is now 6.1%, with a reasonable payout ratio for a REIT (noted above), I believe I am making the right decision.
The Bottom Line
There is another REIT that always impresses me, no matter what the share price is on any given day: Realty Income (NYSE:O). It has a remarkable dividend payout record, and I will probably own that stock forever at this point. Now that I feel good about my decision with Omega Healthcare, I think this stock will become another one in the hold forever category.
The total position I will eventually hold is 300 shares, to be purchased for the Team Alpha Retirement Portfolio, as well as the new Team Alpha Growth And Income Portfolio.
Who knows? I might wind up in a facility that OHI owns and I can use the dividends to help pay some costs!
Disclaimer: The opinions of this author is not a recommendation to either buy or sell any security. Please remember to do your own research prior to making any investment decisions.
Disclosure: I am long O. I wrote this article myself, and it expresses my own opinions. I am not receiving compensation for it (other than from Seeking Alpha). I have no business relationship with any company whose stock is mentioned in this article.
Additional disclosure: I will begin buying shares of OHI 11/11/2013