Synergy (NYSEMKT:SYRG) is one of my top stock picks of 2013, and so far this year it hasn't disappointed. That is until 3Q earnings, where it beat on the top line but missed on the bottom. This could provide an excellent buying opportunity, as Synergy ramps up horizontal production. As seen below, it has an interesting acreage position. Wattenberg Field is its best leasehold and thought to be one of the best areas in the country. This stacked play has low costs and several very good intervals. The northeast extension is also quite good, but has more de-risking to do. It is in two additional plays to the east, one in Colorado and the other in Nebraska. Its Nebraska acreage could turn out to be a good low-cost vertical play.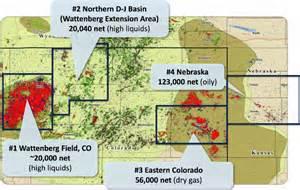 Synergy reported revenues of $14.7 million which beat analyst estimates by $.44 million. It reported an EPS of $.01, missing estimates by $.05. Revenues increased 117% for the quarter and 85% for the full year. This was due to a combination of increased production and higher realized prices. Operating income is up 95% in the quarter and up 66% for the full year. In Q3, its oil and natural gas production increased 95%. Realized oil prices for the quarter were $92.32/Bbl. This compares to $83.98/Bbl. in the prior quarter. The realized natural gas price also improved over the same time frame to $5.06 from $4.76 per Mcf. It averaged 2,479 Boe/d versus 1,270 Boe/d in the year ago quarter. For the full year it brought 27 operated vertical wells on line. Synergy participated in 21 non-operated horizontal wells.
In addition to the 27 operated vertical wells, it also brought 5 horizontals on line this year. Of those five wells, 3 targeted the Niobrara B and 2 the Codell interval. These operated Horizontal were part of its Renfroe pad. The Renfroe pad produced well. Its two Codell wells had a 30-day IP of 518 Boe/d. The Codell wells had an average production of 75% oil. The three Niobrara B wells had a 30-day IP of 440 Boe/d, with 70% of the resource mix being oil. More importantly, the average cost per well is under $4 million. This is a half million less than originally estimated. It is currently working its Leffler pad. This is a six well pad, 5 Niobrara B and 1 Codell. Synergy then moves to the Phelps pad to drill six additional horizontals. These were in the final stages of completion in the beginning of this quarter. Of the 21 non-operated horizontals it participated in, 11 came on line. This totaled 2.36 net wells of working interest. Currently, Synergy has 202 net operated and 22 net non-operated wells.
Synergy has provided very good results not only for the year but in Q3 as well. The very good top line number does not correspond with the bottom line miss, but there are good reasons for this difference. Full year revenues grew to $46 million. Operating income also increased to $19 million. Net income and earnings were decreased for the year for non-cash charges for the unrealized loss on commodity derivatives and deferred taxes. This was further impacted by the additional shares offered from its equity offering in Q3. It is important to note Synergy has adequate liquidity through 2014. This is not to say Synergy will not make any new acquisitions because there is a good possibility it will continue to add acreage. I do not expect any major acquisitions as this management is conservative. I would guess any acquisitions would be thought of as positive.
Going forward there are several catalysts for Synergy. The Leffler pad will begin completions in late November. Synergy plans to announce initial production rates for those wells at that time. It will also have 90-day IP rates from the Renfroe pad. Synergy's rig is now moving to the southern aspect of its acreage to begin drilling its Phelps pad. Due to lower well costs, Synergy will now be able to drill and complete four additional wells this year. The mid-October opening of the O'Connor gas plant has added take away and processing capacity.
I thought Synergy's 30-Day IP rates were quite good from its Renfroe Pad. This was Synergy's first horizontal pad, and results should improve going forward. Also keep in mind the Niobrara and Codell intervals are very shallow. Shallow wells have lower pressures, and do not produce the explosive type IP rates of the Bakken, and other deep plays. When compared to other results in the area, we find these are decent numbers. Synergy did some of these wells with 16, 17 or 18 stages, and this area has proved at least a 20 stage frac. Synergy did state it was looking to use at least this many stages going forward, because the results were much better. The Leffler pad should prove this, as four well have 20 stage fracs and two had 21 stages. It is also now focusing on a lateral length between 4,200 and 4,300 feet. It is working on decreasing stage length to 150 feet. Wells in the Phelps pad could see as many as 25 to 28 total stages. These wells have a lower GOR which also leads to lower well pressures, so Synergy is working on plunger lifts systems and gas lift. Synergy's test of the Niobrara C is also important, and will be the first well on the Phelps pad. It also plans to increase the ratio of Codell wells per pad going forward. It continues to outperform the Niobrara wells and should continue to as it is a deeper interval. It is shooting for 50% Codell wells going forward. Given Whiting's (NYSE:WLL) excellent results in Red Tail using plug and perf, it is possible Synergy and other operators may shift to this. It is very early and Whiting is the only one using this sand heavy design in the area that I highlighted here and here. It a possibility EOG Resources (NYSE:EOG) has used this in its acreage north of Wattenberg.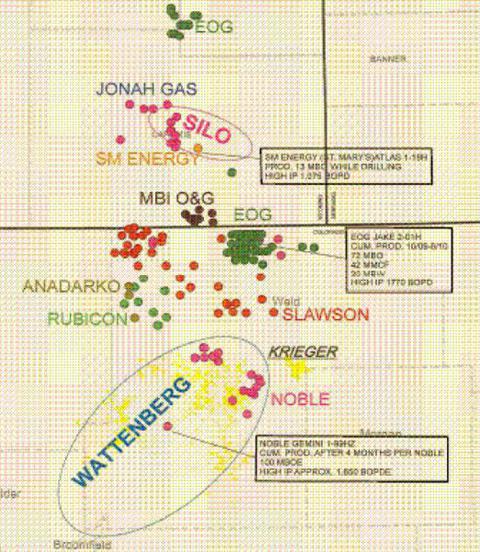 Synergy admits it is either going to continue to increase the number of stages using sliding sleeves or go with Whiting's 30 stage plug and perf.
Synergy's initial well results have been good. In order to get a better handle on the area, I have provided the results of other operators. Noble (NYSE:NBL) is a leader in the play and has completed a significant number of wells. Below I have provided a table that summarizes its results.
| | | | | |
| --- | --- | --- | --- | --- |
| | Wattenberg Gas Window | Wattenberg Oil Window | NE Extension | Wattenberg Oil Window Extended Reach |
| EUR (MBoe) | 435 | 335 | 345 | 750 |
| % Liquids | 45% | 65% | 85% | 65% |
| Well Cost ($MM) | $4.5 | $4.5 | $4.9 | $8.3 |
| Lateral Length (Feet) | 4000 | 4000 | 4000 | 9100 |
As you can see, Synergy's well costs are in line with one of the field's most active operators. I included both short and long laterals in Wattenberg Field's oil window and how it affects economics. It would seem long or extended reach laterals work well in the Niobrara. These are difficult to compare to the Renfroe pad given the difference in lateral length. It does show that Synergy's short laterals perform in line with a very good operator. EnCana (NYSE:ECA) is also active in Wattenberg Field. Its short laterals have EURs of 325 MBoe to 425 MBoe. Its well costs are higher than Synergy's at $4.5 to $5.5 million. Anadarko (NYSE:APC) currently has EURs of 350MBoe and a well cost of $4.3 million. Keep in mind these estimates cover the operator's full acreage, so it may not be as precise as what Noble provides.
The above comparisons are generalized over a large area. In order to compare directly by specific locations I have compiled the table below. This data is of just wells near Synergies.
| | | | |
| --- | --- | --- | --- |
| Well | Operator | Interval | IP 30 (Boe/d) |
| Leffler Pad | (NASDAQ:PDCE) | Niobrara B | 402 |
| Leffler Pad | PDCE | Niobrara B | 381 |
| 16 Well Avg. | ECA | Multiple | 641 |
| Wake | NBL | Niobrara B | 521 |
| N/A | (NYSE:BCEI) | Codell | 370 |
| N/A | BCEI | Niobrara C | 444 |
| Siebring Pad | (NYSE:BBG) | Niobrara B | 481 |
| Siebring Pad | BBG | Niobrara C | 460 |
The above wells show how good Synergy's first pad was. Although some wells performed better, it is important to note Synergy is making adjustments to well design. We should see a marked improvement going forward.
Although it is not planning any wells in Nebraska, the Pennsylvanian could be a very good vertical play. Almost all of the current operators are private which clouds economics. The Pennsylvanian interval is the current target with the possibility of the Mississippi Limb as a secondary. Currently it has no plans to drill here through 2014.
In summary, Synergy's bottom line miss had little to do with its inability to control costs. An unrealized loss on commodity derivatives and deferred taxes were the main reason. It had a good quarter, but was punished as most of the oil and gas names were on that day. For those who bought the dip found a very good trade. As for the upcoming quarters there are several reasons to be bullish Synergy. It has several pads coming on line and with one under its belt, we should see even better results. Its well costs are some of the lowest in the area, as it feels comfortable using $4 million per well even with a better well design going forward. High line pressures have eased as the O'Connor plant is now on line. All of this is why Synergy's prospects only look better in Q4.
Disclosure: I am long SYRG, BCEI, PDCE. I wrote this article myself, and it expresses my own opinions. I am not receiving compensation for it (other than from Seeking Alpha). I have no business relationship with any company whose stock is mentioned in this article.
Additional disclosure: This is not a buy recommendation. The projections or other information regarding the likelihood of various investment outcomes are hypothetical in nature, are not guaranteed for accuracy or completeness, do not reflect actual investment results, do not take into consideration commissions, margin interest and other costs, and are not guarantees of future results. All investments involve risk, losses may exceed the principal invested, and the past performance of a security, industry, sector, market or financial product does not guarantee future results or returns. For more articles like this check out our website at shaleexperts.com. Fracwater Solutions L.L.C. engages in industrial water solutions for oil and gas companies in North Dakota. This includes constructing water depots, pipelines and disposal wells. It also provides contracting services for all types of construction at well sites. Other services include soil remediation. Please contact me via email if you are interested in working with us. For more of my articles and other pertinent information on the oil and gas sector, go to shaleexperts.com.