Commodity markets are mixed in early trading, but this is to be expected with the upheaval we have had recently. We are still waiting for a bottoming in the price of oil, and hope that as refiners switch over production that we will see it. Gasoline prices remain weak, but that is good for the U.S. consumer and we suspect that gasoline prices will only tick higher once the oil price has moved to the upside.
We still are not big fans of the precious metals right now, but think that the trade of being short the equities and long the physical commodity is the way to go, especially if economic data remains strong.
Stock to Watch:
Today we want to focus on Transocean (NYSE:RIG) which gave Carl Icahn another win. The company agreed to cut the number of members on its board down to eleven while also agreeing to give two board seats to Mr. Icahn's team. Transocean will also seek to pay a one-time dividend of $3/share. The $20 billion market capitalization company reached the deal to end a proxy fight with Mr. Icahn and we have to admit that we were a bit surprised by the deal. The company already pays a significant dividend which yields 4.7% and the yield was still high when the shares traded higher. Our guess is that investors might see the company move to make larger annual dividends now that nearly 20% of the board will be seeking to increase returns to shareholders.
Chart of the Day:
We are now seeing oil trade back into the $95/barrel level it traded at prior to its big run. The question investors are now faced with is whether this is a new level that will represent the lows and we will set up in a trading range of $95-100/barrel or if we are moving back to the norm which saw oil in the $90-95/barrel range. Our guess is that we head into the low $90s which would not be a bad thing.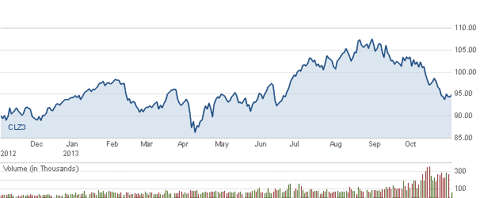 Click to enlarge
(Click to enlarge)
Source: CNBC
Commodity prices this morning are as follows:
Gold: $1282.90/ounce, down by $1.70/ounce
Silver: $21.365/ounce, up by $0.048/ounce
Oil: $94.40/barrel, down by $0.20/barrel
RBOB Gas: $2.5603/gallon, up by $0.0069/gallon
Natural Gas: $3.565/MMbtu, up by $0.006/MMbtu
Copper: $3.2525/pound, down by $0.0015/pound
Platinum: $1433.60/ounce, down by $9.30/ounce
Commentary
With Transocean having proven such an easy target for activist investors, we would not be surprised to see activist investors make moves on other companies of similar size and with similar businesses. The oilfield services sector could be an interesting area to see activists get involved in as we are in the midst of a huge boom here in the United States with onshore drilling and offshore drilling is taking off around the world as very large deposits are being discovered in the waters off of South America, Africa and the North Sea.
Transocean shares have made a big move lately, but the real question is whether the investors buying on the short-term news will hang around for the long-term. That will be what decides whether this is a good move or bad move for the company.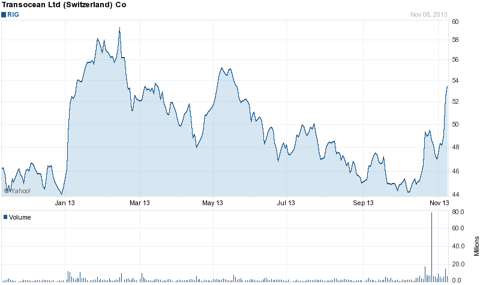 Click to enlarge
(Click to enlarge)
Source: Yahoo Finance
When you look at the oilfield services business obviously Schlumberger (NYSE:SLB) is a behemoth with a $125 billion market capitalization, but both Halliburton (NYSE:HAL) at $48 billion and Baker Hughes (NYSE:BHI) at $26 billion would both be candidates for an activist to come in. These companies pay relatively low dividends and based on their payout ratios they could afford to pay more. Another interesting fact, Mr. Icahn does target companies that are in the same industries sometimes and his recent activity does allude to this. It is a long shot, but with Transocean now paying out more after having come under scrutiny we think it reasonable to suspect that these other names might be increasing their dividends some more in the near term.
Disclosure: I have no positions in any stocks mentioned, and no plans to initiate any positions within the next 72 hours. I wrote this article myself, and it expresses my own opinions. I am not receiving compensation for it (other than from Seeking Alpha). I have no business relationship with any company whose stock is mentioned in this article.