Visual computing company, Nvidia (NASDAQ:NVDA), has its graphics technologies in PCs, smartphones, tablets, and cars. The company is known for its GPUs which are used for high-quality gaming graphics. GPUs are also used to create visual effects in movies, to design various products, and for applications such as weather forecasting, global oil exploration, and simulations of viruses at the molecular level. Nvidia's Tegra processors are used in smartphones, tablets, televisions, set-top boxes and more. As an investment, Nvidia looks promising for the long-term.
The company reported earnings per share of $0.20 for Q3 2013, which was in-line with estimates. Revenue of $1.05 billion, although down 12.5% year-over-year, was in-line with estimates. Nvidia exceeded its earnings expectations in the previous three quarters. The company is expecting fourth quarter revenue of $1.05 billion, which is below the consensus of $1.08 billion. The longer-term view looks positive with an expected annual earnings growth of 12% for the next five years.
Valuation
Currently, the stock looks fairly valued with a trailing PE of 17, a forward PE of 20, and a PEG of 1.7. The price to book ratio of 2.02 brings the valuation more down to earth. Another attractive valuation metric is the EV/EBITDA of 6.56. As a comparison, competitor Qualcomm (NASDAQ:QCOM) is trading with a lower forward PE of 12.4 and a PEG of 0.80. However, Qualcomm's price to book of 3.13 and EV/EBITDA of 11.97 is higher than Nvidia's. Qualcomm's PEG is more attractive due to its higher expected annual earnings growth of 16.7% for the next five years.
Other Business Highlights
Nvidia pays a 2% dividend with a 25% payout ratio. With $905 million in operating cash flow for the past twelve months, the company should be able to maintain and/or increase the payments in the future. Nvidia did increase the payment by 13%, which is effective in Q4. Although the dividend is not large percentage wise, it should be viewed as a bonus on top of the company's above average earnings growth. I say this because Nvidia's above average earnings growth should allow the stock to beat the market over the long-term. Therefore, the potential price appreciation is the bigger draw over the dividend yield.
The company has repurchased 59.5 million shares so far this year. Nvidia has authorized an additional $1 billion in share repurchases. This brings the total authorization to $1.286 billion to be used through FY2016. These buybacks should provide a boost to earnings, which should allow for further stock price appreciation.
Nvidia's launching of the GeForce GTX 780 Ti in the third quarter has brought the company's fastest ever gaming GPU to market. This product satisfies consumer's demands for smooth visual gaming performance. The company also launched GeForce ShadowPlay, which allows gamers to record and share their best gaming moments. Mobile GPU gaming revenues have doubled in the past two years. Record revenues are being hit for the Quadro and Tesla products. Tegra revenue more than doubled in Q3 as it was used in various mobile devices by Xiaomi, Hewlett-Packard (NYSE:HPQ), Microsoft (NASDAQ:MSFT), Android, and others. So, Nvidia has some momentum going and plans to capitalize on it through continuous innovation based on consumer demand.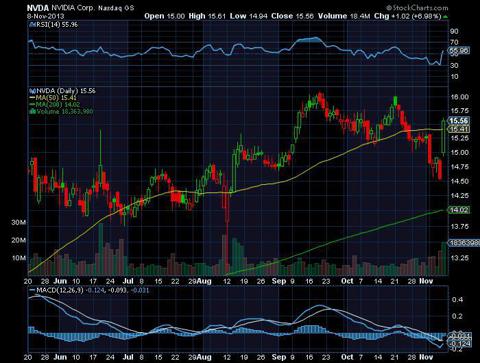 Conclusion
If the company can continue to keep pace with technological innovation by developing new products as it has been doing, then I think that Nvidia will be a solid long-term investment. The 2% dividend and above average price appreciation should be sustainable if the company continues to execute well. Overall, the company looks like an attractive investment for the long-term.
Disclosure: I have no positions in any stocks mentioned, and no plans to initiate any positions within the next 72 hours. I wrote this article myself, and it expresses my own opinions. I am not receiving compensation for it (other than from Seeking Alpha). I have no business relationship with any company whose stock is mentioned in this article.