We continue to hear from government and Federal Reserve sources that things are getting better. I have listened closely and no one seems to be saying the economy is expanding.
January 2010 issue of the Fed's Beige Book, even though subjectively generated, usually presents a fairly accurate coincident picture of our economy. The Fed's view of our economy:
Reports from the twelve Federal Reserve Districts indicated that while economic activity remains at a low level, conditions have improved modestly MoM.

Consumer spending in the recent 2009 holiday season was slightly greater than in 2008, but still far below 2007 levels. Retail inventory levels remain very lean. Auto sales held steady or increased slightly.

Reports on tourism were mostly flat or weak, but for two Districts whose ski resorts enjoyed early season snowstorms.

Nonfinancial services activity generally improved MoM in Districts that reported on this sector.

Of five Districts reporting transportation services, volumes were slightly up or mixed.

[This runs contrary to coincident indicators I review and I specifically reject this opinion].

Manufacturing activity has increased or held steady MoM. Near-term expectations for manufacturing were optimistic, but spending plans remain cautious.

Home prices appeared to have changed little, and residential construction remained at low levels.

Commercial real estate was still weak with rising vacancy rates and falling rents. Loan demand continued to decline or remained weak, while credit quality continued to deteriorate.

Cold weather at the end of the year adversely affected some late crops and stressed livestock, but above-average yields for early crops were reported.

Altho

ugh some hiring was reported in a few Federal Reserve Districts, labor market

conditions remained generally weak with modest wage increases appearing in just a few Districts.

Price pressures remained subdued in nearly all Districts, though increases in metals prices were reported and agricultural prices have been mixed.
The Fed did not specifically say the economy was expanding – they said conditions are improving. I agree "conditions" are improving.
Corporate profits should continue to grow, but this growth is on the back of cost cutting, access to cheap money and benefits from rationalization – and not on real economic growth at this stage.
The economy is definitely healing and getting stronger. I cannot find any coincident data pointing to an economic stall. But the economy has no real growth, and I call bullcrap to anyone suggesting otherwise. There are pockets of growth like exports and auto production - but these are too small of sectors to lift the whole economy as we are talking only moderate growth.
Having spent my career interfacing with the shipping sector, I know that an improving economy has increasing rail traffic. Yes, traffic is seasonal (and we are in the low season). I ask, does the following graph (hat tip to Railfax) convey an improving economy?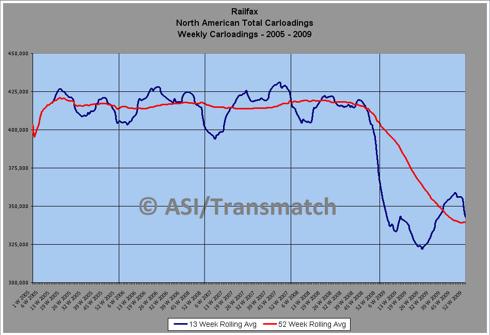 Most of the economic data this week came from the manufacturing sector. In summary, the good news is that the bottoming process may be or is close to being complete – the bad news is that this sector is not growing yet.
Welcome to the New Normal.
Jobs
The weekly unemployment claims continued their downward path for the week ending 09 January 2010.

If you look at initial claims not seasonally adjusted (NSA), over 800,000 people filed for unemployment claims. Last year, for the same week ending it was over 956,000. Below are the seasonal adjustments for the last five years during the December thru January periods.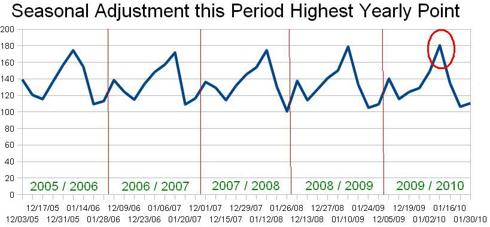 Reviewing the past data indicates that the seasonal adjustment factors have correctly adjusted the data for the seasonal effects.
Manufacturing and Business
The New York Fed's January 2010 statement on their subjective survey of manufacturer's in their region:
The Empire State Manufacturing Survey indicates that conditions for New York manufacturers improved for the sixth consecutive month in January. The general business conditions index climbed 11 points, to 15.9. The new orders and shipments indexes posted similar increases, and the unfilled orders index rose above zero. Both the prices paid index and the prices received index rose significantly, with the latter moving above zero for the first time in more than a year. Employment indexes advanced into positive territory. Future indexes were highly optimistic; activity and employment were widely expected to improve over the next six months. Prices, however, were expected to continue to climb in the months ahead.
As I am such a big supporter of quantifying subjective data (sarcasm), this statement leaves me weak. My take in reviewing the unadjusted raw data is that new orders do appear to be gaining strength, while the backlog of unfilled orders is now starting to bottom. This is indicative that we are near or at a real bottom in manufacturing in this New York region.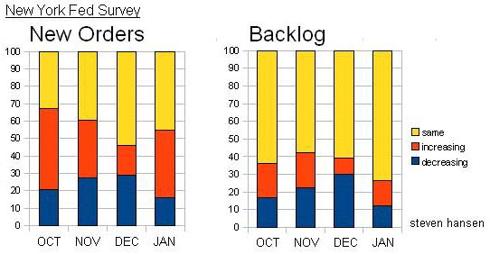 The Federal Reserves December 2009 G.19 Industrial Production & Capacity statement:
Industrial production increased 0.6% in December. The gain primarily resulted from an increase of 5.9% in electric and gas utilities due to unseasonably cold weather. Manufacturing production edged down 0.1 percent, while the output of mines rose 0.2 percent. The change in the overall index was revised up in October, but it was revised down in November; for the fourth quarter as a whole, total industrial production increased at an annual rate of 7.0%. At 100.3% of its 2002 average, output in December was 2.0% below its year-earlier level. Capacity utilization for total industry edged up to 72.0% in December, a rate 8.9 percentage points below its average for the period from 1972 to 2008.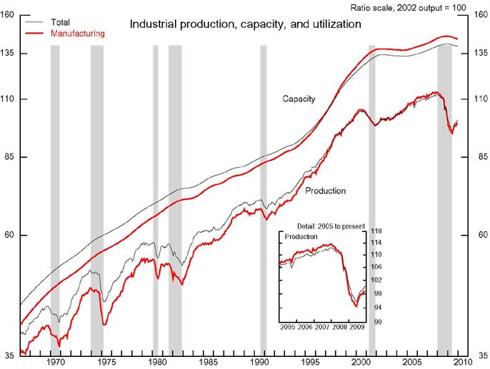 Basically, gentle reader – there was no real expansion occurring in December in manufacturing.
The government statement on November 2009 international trade (based on adjusted data):
The U.S. Census Bureau and the U.S. Bureau of Economic Analysis, through the Department of Commerce, announced today that total November exports of $138.2 billion and imports of $174.6 billion resulted in a goods and services deficit of $36.4 billion, up from $33.2 billion in October, revised. November exports were $1.2 billion more than October exports of $137.0 billion. November imports were $4.4 billion more than October imports of $170.2 billion.
My take using unadjusted data is that the strengthening export trend - although still obvious - has weakened. Staring at the chart using YoY comparisons, I do not agree that the data shows an export improvement in November. Exports were down both YoY and MoM.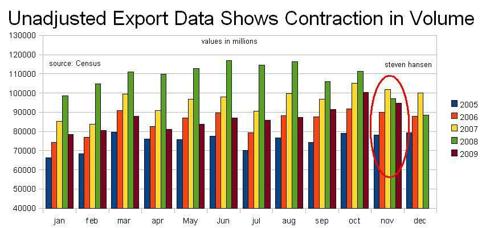 Prior to 2008, the unadjusted data had a barely perceivable negative bias between October and November. In 2009, the decrease between October and November is more pronounced. On the other hand, exports – while down in quantity – appear less bad than what normally occurs between October and November.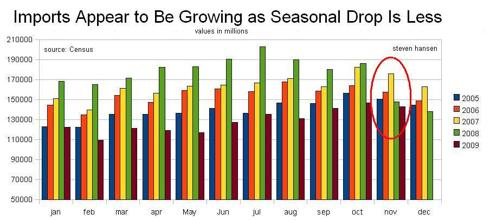 Overall, for sure the trade gap is growing again. Analysts are pointing out the good news is that this is evidence the economy is growing again. My take is that we are growing the world economy faster than our own.
The government's November 2009 Manufacturing and Trade Inventories statement:
The U.S. Census Bureau announced today that the combined value of distributive trade sales and manufacturers' shipments for November, adjusted for seasonal and trading-day differences but not for price changes, was estimated at $1,027.4 billion, up 2.0 percent (±0.3%) from October 2009, but down 0.4 percent (±0.5%)* from November 2008.

Manufacturers' and trade inventories, adjusted for seasonal variations but not for price changes, were estimated at an end-of-month level of $1,313.2 billion, up 0.4 percent (±0.1%) from October 2009, but down 11.1 percent (±0.3%) from November 2008.

The total business inventories/sales ratio based on seasonally adjusted data at the end of November was 1.28. The November 2008 ratio was 1.43.
The unadjusted sales data tells us there is no expansion if we remove the volatile 2008 data. There was an expansion of inventory levels but I suspect this was caused by a drop in sales – no matter how I spin the data, an increase in inventory with a drop in sales is not good news.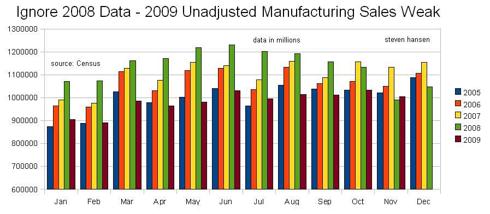 The government's advance December 2009 retail sales data statement:
The U.S. Census Bureau announced today that advance estimates of U.S. retail and food services sales for December, adjusted for seasonal variation and holiday and trading-day differences, but not for price changes, were $353.0 billion, a decrease of 0.3% (±0.5%) from the previous month, but 5.4% (±0.5%) above December 2008.
Stepping back using unadjusted data, what you get is a feeling that the 2005 and 2009 sales are roughly paralleling each other for the whole calendar year. There is little you can point at showing that retail sales are expanding..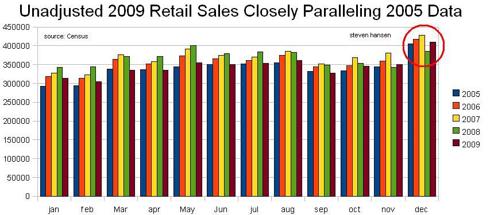 National Federation of Independent Business (NFIB) Index of Small Business Optimism was marginally lower in December 2009. Their statement from Chief Economist William Dunkelberg:
2009 was a very difficult year for small business. Continued weak sales and threatening domestic policies from Washington, have left small business owners with little to be optimistic about in the coming year.

While the trend for increased employment is going in the right direction. There is no indication that job growth will be strong enough to dramatically reduce the unemployment rate.

Capital spending is on the sidelines. Spending on capital projects remained at historic low levels, as did the demand for credit to finance such projects.

Small business owners continued to liquidate inventories and weak sales trends gave little reason to order new stocks,

The weak economy continued to put downward pressure on prices. Widespread price cutting contributed to the reports of lower nominal sales.

Twenty-four months of recession have sapped the financial strength of many small firms.
Small business is our growth engine.
Additional Economic Data this Week
The weekly Mortgage Bankers Association new mortgage application data for the week ending 08 Jan 2010 improved marginally but remains below half of the level of earlier this year using seasonally adjusted data. The 30 year fixed mortgage rate remained relatively unchanged at 5.13%.
Part of the government's statement for the December 2009 (pdf) consumer price index (CPI):
….All Urban Consumers (CPI-U) rose 0.1%....... Over the last 12 months, the index increased 2.7% before seasonal adjustment. The seasonally adjusted increase in the all items index was broad based, with the indexes for food, energy, and all items less food and energy all posting modest increases. Within the latter group, a sharp rise in the index for used cars and trucks was the largest contributor to the 0.1 percent increase, while the indexes for airline fares, apparel, and lodging away from home rose as well. In contrast, the indexes for rent and owners' equivalent rent were unchanged and the index for new vehicles declined.

Grocery store food indexes showed broad-based increases, leading to the food index rising 0.2%, its largest one-month advance in over a year. The energy index also rose 0.2%; this was its smallest increase in five months. The indexes for fuel oil and gasoline rose, but the electricity index was unchanged and the natural gas index declined.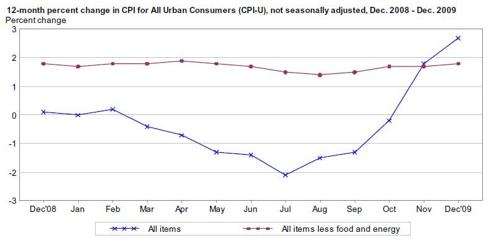 As few people live without food and energy, there is an obvious price creep. The CPI-U index assumes a consumer with the following spending pattern:
Food 15.7%

Housing 43.4%

Transport 15.3%

Medical 6.4%

Recreation 5.7%

Education 6.3%

Tobacco & personal care 3.4%
I can confirm my spending pattern looks nothing like this average consumer.
Bankruptcies this week: Haights Cross Communications, Haemacure, Protective Products of America
December 2009 monthly treasury statement shows we are well on our way to exceed physical year 2009's $1.415 trillion operating deficit. The increase in growth of the deficit in the first three months of this physical year exceeds 17% of last year. Our elected officials remain oblivious to the dangers of the increase in the rate of growth of the deficit we must finance.

Economic Forecasts Published this Past Week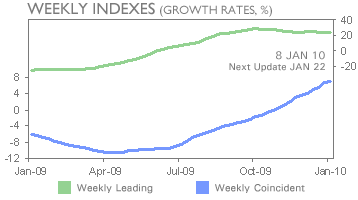 The Economic Cycle Research Institute (ECRI) released their Weekly Leading Index which its yearly growth rate slipped slightly – but the WLI is still setting new highs. Lakshman Achuthan, Managing Director at ECRI added:
The ongoing recovery in U.S. economic activity is poised to continue in the months ahead. The index's steady growth points to improvement in economic activity and the jobs market in the near future.
The Federal Reserve Bank of Chicago published the results of the Economic Outlook Symposium in December 2009 (pdf) with the opinion of more than 120 economists and analysts from business, academia, and government.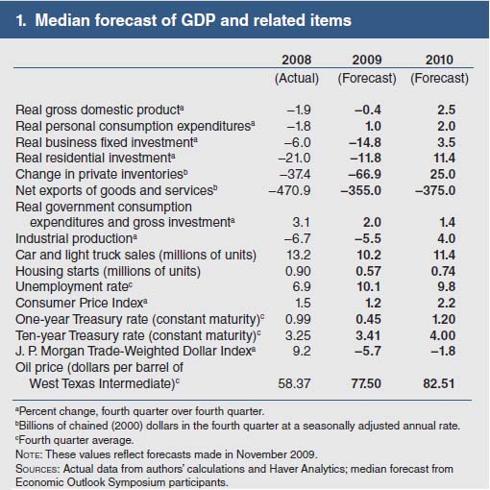 Disclosure: GLD, XPH, XLB, XLV, FTR, IOO, HYG, KSWS, PIN, XHB, WMT, GDX, Physical Gold - as well as numerous puts and calls which comprise less than 3% of my portfolio