Sabina Gold and Silver (OTCPK:SGSVF) has generated a lot of enthusiasm on Seeking Alpha in recent months spurred by its low valuation ($150 million) relative to the projected value of its assets and its $94 million in cash and equivalents.
I agree that on a quantitative basis the company's shares offer good value. However I think management needs to reconsider its strategy and corporate vision in order to bring out the value of its assets.
The company's corporate vision statement says that management wants this to be a mid-tier gold producer, which is a term that typically refers to a gold mining company that has roughly 1 to 3 operating gold mines that produce between 150,000 - 500,000 ounces annually (these are not parameters that are set in stone). This is a goal that the company is capable of achieving given that its Back River project is projected to produce roughly 300,000 ounces annually. However, achieving this goal will be a daunting task--the project requires an estimated $600 million in initial capex. This exceeds my estimated value of the property, and it greatly exceeds the market valuation of the company, which means that it will be very difficult for management to find funding without issuing shares, selling a royalty or stream, or finding a JV partner.
Furthermore, the company's vision relegates the company's silver royalty on the Hackett River Project, when in fact this asset is extremely valuable from a long-term perspective: since the project is expected to yield a minimum of 2.7 million ounces of silver annually for 16 years (a figure based on an old study that will likely be increased in the next couple years), the company is entitled to over 600,000 ounces of silver annually, or nearly 10 million ounces total for the life of the mine, for a total of $220 million in cash flow at $22/ounce silver. While Back River will generate much more cash, the Hackett River royalty requires no additional capital, as further exploration and development will be funded by Glencore Xstrata (OTCPK:GLCNF), a large mining conglomerate that has ample resources to bring this zinc-silver mine into production.
From my preliminary description of Sabina's two primary assets (additionally it has two minor exploration properties), and from my more detailed summaries below, it is evident that the shares offer enormous value. However I would hold back on investing until management provides a straightforward plan that addresses the following. First, what is the plan for Back River? Sure, there is a nice looking chart that can be found on the company's presentation that shows a timeline to production in 2016, but there is no concrete plan for raising capital.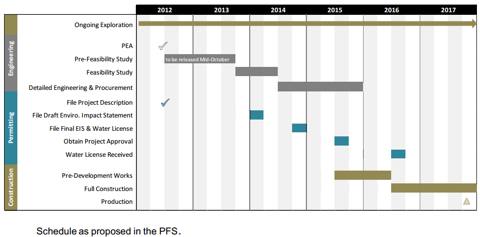 There are several possibilities:
Management can issue stock and dilute shareholders.
They can find a creditor.
They can sell a royalty or a stream.
They can find a JV partner or sell the property outright.
They can sit on the property and wait for higher gold prices in order to act on one of the previous options so that they generate more value for shareholders.
Second, how does the Hackett River royalty fit into the picture? Clearly it doesn't fit into the portfolio of a mid-tier gold producer. Since a sale of this asset makes little sense with the price of silver so depressed relative to the cost of production, and relative to the metal's 2011 highs, it would follow that management should abandon the mid-tier producer model, at least for now.
Once management addresses these concerns I think Sabina could be a far more compelling investment.
Back River
The Back River Gold Project in the Nunavut Territory is Sabina's flagship property. It will operate both as an open pit and as an underground mine, but most of the resources are underground. The latest estimates show the project having 4.6 million ounces of measure and indicated resources at 6 grams per tonne and 1.9 million ounces of inferred resources at 8 grams per tonne.

As previously stated the project will cost roughly $600 million to bring into production, which is scheduled to begin in 2016. Once production commences the mine should generate about 300,000 ounces of gold annually for about 12 years at cash costs of $680/ounce. The company estimates that the project has a post-tax NPV of $177 million at $1,250/ounce gold using a 5% discount rate with an IRR of 12%. The latter figure is low (a 30% IRR is usually considered to be compelling from an investment standpoint) but keep in mind that this property belongs to a company with a $56 million valuation with the cash and equivalents backed out.
As an investor I prefer to make conservative estimates regarding project valuations. Using an 8% discount rate the project's value falls to just $23 million. This is not a lot but the project offers tremendous leverage to the gold price--for instance using company's base case of $1,350/ounce gold the project's value jumps to $113 million, and at $1,550/ounce the NPV is $290 million.
In addition to this value the Back River project has substantial exploration potential. Sabina has drilled aggressively: the company spend over $25 million on exploration in the second quarter of 2013 alone, which ranks it among much larger companies in terms of exploration spending. Furthermore, this figure is up in the last year from $22 million at a time when many mining companies are attempting to preserve capital.
Sabina's exploration efforts haven't been squandered--the company has increased Back River's resource base three-fold since acquiring it in 2009.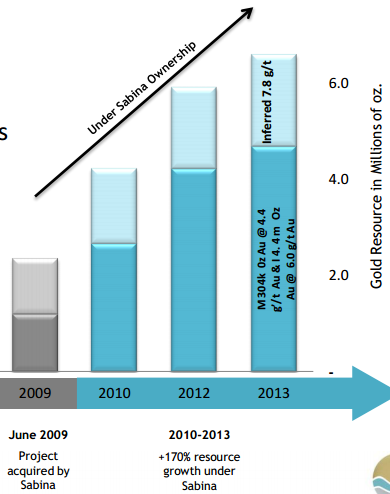 Of course this success is a double edged sword insofar as it has made it very difficult for the company to fund the development of such a large mine. It also begs the question--should the company focus its efforts on exploration and leave the mine development up to another company? I will discuss this in my concluding remarks.
Hackett River
Hackett River is a silver and zinc mine located near Back River. Sabina sold its Hackett River project to Glencore Xstrata in exchange for cash and a royalty on the silver mined. According to the royalty agreement Sabina gets 22.5% of the silver mined at Hackett River on the first 190 million ounces mined, and 12.5% on the silver mined thereafter. According to the preliminary economic assessment produced back in 2009 when Sabina owned the property the mine should produce about 2.7 million ounces of silver annually for 16 years. This would entitle Sabina to about 600,000 ounces of silver annually for the duration of the mine's life, and the 190 million ounce figure wouldn't come into play. However, Glencore Xstrata has been expanding the resource, and while it hasn't released annual production figures, the company did expand the resource to 105 million ounces of indicated silver resources and 184 million ounces of inferred resources, which means that the royalty is almost certainly going to generate a lot more silver for Sabina than the 2009 PEA would indicate, and that the 190 million ounce threshold will come into play. But as for specifics regarding production figures we will have to wait and see.
Even if we assume the 600,000 ounces for 16 years the Hackett River royalty is very valuable, and it is worth estimating this value for the sake of determining at the very least a valuation floor. The following table estimates the NPV of Sabina's Hackett River royalty at various silver prices. Since the asset is a royalty and has fixed costs ($0/ounce) it is reasonable to use a very low discount rate of 3%. I calculate the figures twice. In the first I assume, with Glencore Xstrata that mining will commence in 2018. In the second I am more conservative and assume that mining will commence in 2020.
| | | |
| --- | --- | --- |
| Silver Price | 2018 Production | 2020 Production |
| $20/ounce | $134 million | $126 million |
| $25/ounce | $167 million | $157 million |
| $30/ounce | $200 million | $189 million |
| $40/ounce | $268 million | $253 million |
| $50/ounce | $335 million | $316 million |
As the table demonstrates the Hackett River royalty is extremely valuable to Sabina given the company's current valuation and its cash and cash equivalent position. In fact these figures justify buying the shares aggressively just based on the value found here if it weren't for the possibility that the company will dilute shareholders in order to develop the Back River property: this possibility adds risks that complicate the risk/reward dynamic of Sabina shares.
Conclusion
From a quantitative standpoint there is little doubt that Sabina shares offer tremendous value and explosive upside potential to gold and silver bulls. But until we learn more precisely how management intends to fund the development of the Back River project I am hesitant to buy the shares--I just don't want to see my holdings diluted only to learn that permits will be more difficult to obtain or that construction will cost an extra $200 million, or anything else that can go wrong with the development of a large mining project located in the middle of nowhere.
That being said not only do I want to see more clarity from management regarding its plans for Back River, but I honestly don't think that it should be developing this mine, at least not by itself. In fact, given the company's exploration success, and given that it already has a royalty agreement it would makes sense that the company assumes the royalty-exploration model that I discuss here. The model calls for an emphasis on exploration, and a sale of resources in the late stages of exploration to companies for development and production in exchange for cash and royalties. This will enable the company to focus its efforts on exploration without concerning itself with the burden of raising enormous sums of capital. In fact, given its valuation it will be a company with a lot of capital in a position to continue to aggressively explore and to accumulate exploration properties in an incredibly depressed market. Furthermore, it will give the company greater exposure to the royalty model, which the market has rewarded with a higher valuations than traditional mining companies.
This is just one possibility, and the one I would advocate, but I think that ultimately investors will garner enthusiasm for Sabina shares if it comes out with any plan for Back River that doesn't entail raising $500-$600 million through a stock offering.
Disclosure: I have no positions in any stocks mentioned, and no plans to initiate any positions within the next 72 hours. I wrote this article myself, and it expresses my own opinions. I am not receiving compensation for it (other than from Seeking Alpha). I have no business relationship with any company whose stock is mentioned in this article.