Royal Dutch Shell (NYSE:RDS.A) is a group of companies that operates in 70+ countries around the world and employs over 87,000 people. The company has been in existence since 1907 when it was given birth through the consolidation of Royal Dutch Petroleum Company and the Shell Transport and Trading Company. The company has generated revenues of $467B (2nd after Exxon Mobil (NYSE:XOM) only) and Net Income of $27B in 2012. The company's stock, after delivering returns in excess of S&P 500's from 2003 to 2012, has traded flat for the past 4 years and yielded a negative alpha in 2013: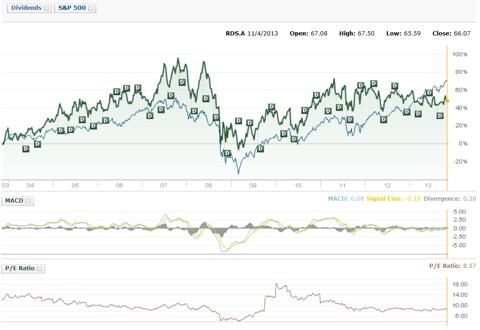 (Data courtesy of TD Waterhouse)
Royal Dutch Shell has underperformed its major competitors over the past several years, especially, if BP's lasting litigation is eliminated from the equation: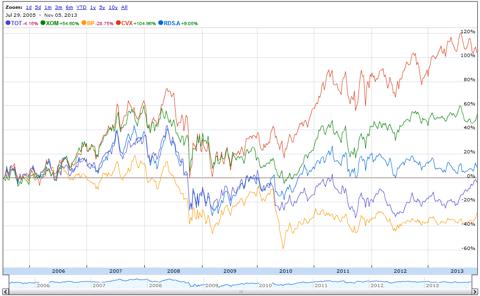 (Charts and Data Obtained from Google Finance)
However, this price stagnation has enabled Royal Dutch Shell to become a solid dividend stock yielding more that 5%, the 2nd highest score after BP, although, a more safer one when one thinks about risks the #1 company on the list has been facing for three years. In terms of P/E ratio, Royal Dutch Shell is second-lowest on the list among its peers: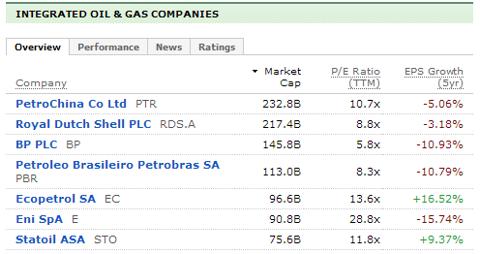 (Data courtesy of TD Waterhouse)
Historically, the company is valued approximately on the average of the last 5-year multiples:

(Obtained from StockRover)
Overall, the analysis of multiples and dividend yield shows that Royal Dutch Shell is quite undervalued compared to its major competitors and floats on the middle of the range of most relevant historical multiples.
Profitability-Related Catalysts
I tend to use Free Cash Flow analysis quite a lot when valuing mature businesses such as Royal Dutch Shell. It helps determine the business's cash flow generating abilities and analyze sustainability of dividends. I used data from the last five years to calculate Royal Dutch Shell's Free Cash Flow: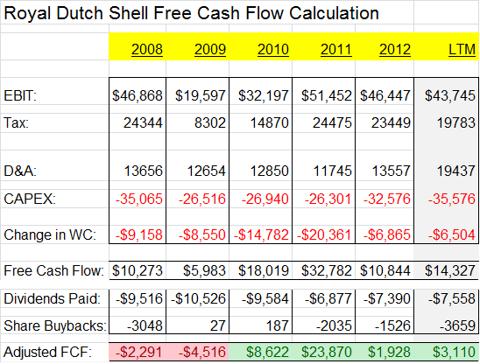 One can see that the company generated positive free cash flows in 3.5 years out of the last five and a half. The main reason for the red numbers in 2008 is a fairly high capital expenditure figure. Royal Dutch Shell has been increasing dividends steadily since 2011 when a major decline in payments occurred. Another shareholder-friendly feature is the increasing share buybacks.
Valuation
Fundamentally, I will be using EPS estimates' produced by analysts from major financial institutions and applying reasonable P/E ratios to arrive to a fair price estimate. The following table was obtained through TD Waterhouse trading platform: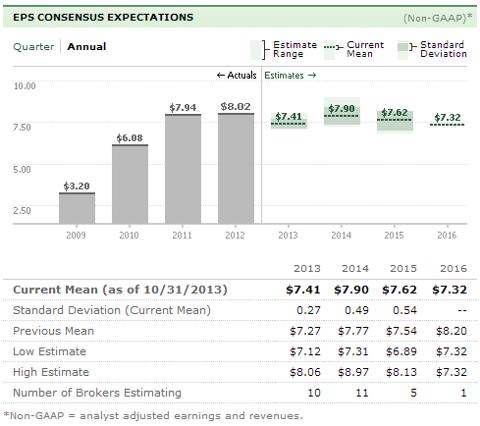 (Data courtesy of TD Waterhouse)
For more accuracy I will use forward P/E ratios estimated by First Call research firm: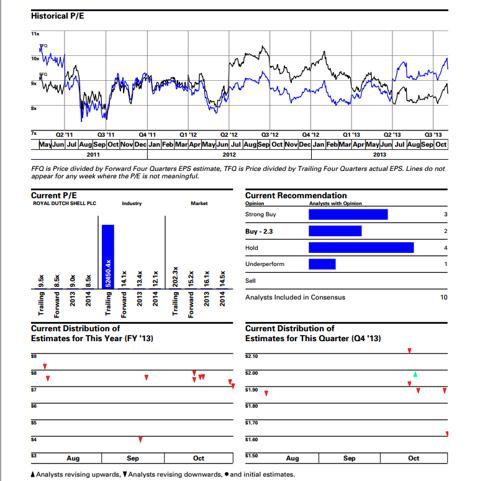 (Data courtesy of First Call)
The output matrix was produced in Excel and transformed into a chart (estimates discounted by WACC):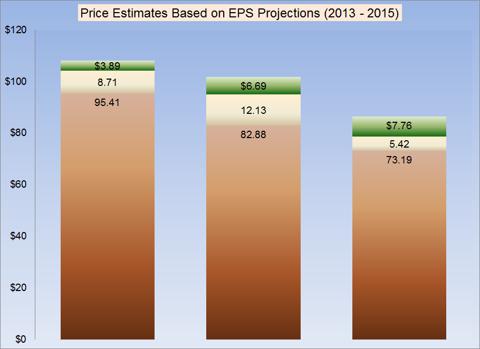 It is evident that the stock is worth at least $73 and at most almost $100. The Graham number, using BV per share of ~$59 and LTM EPS of $7.56, stands at $101 per share. In my experience, only about two more companies across my collection of articles were valued below this metric. I made sure I mentioned this here, even though I always calculate this figure for all companies I do research on. It is always included in the workbook calculations.
Technical Analysis
This type of analysis focuses on price movements, technical figure formations, various indicators, and other. Analysts from Recognia Inc. have detected a lot of bullish signals in the medium-term: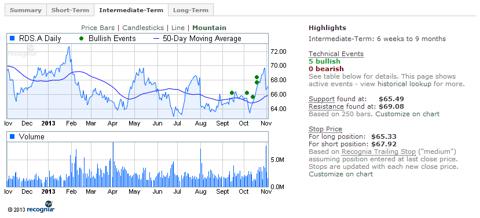 (Data courtesy of Recognia Inc.)
Essentially, if the stock breaks above $69 per share, one can decide with a certain level of risk that there is an uptrend developing. On the other hand, if the stock falls below $65, there may be an indication that a further sell-off will follow. This, of course, may attract dividend yield-seeking investors.
Summary
Royal Dutch Shell is a solid company from a financial standpoint and offers a rewarding dividend yield to its shareholders. Total financial debt in relation to assets remains at a mark of ~10% with cash on balance being able to cover at least a third of this amount. Free Cash Flows generate a solid cushion for risk management purposes and also offer extra room for future increases in dividends.
Conclusion
I issue a "BUY" recommendation on Royal Dutch Shell's equity with a price target range of $85-$95 per share.
Analyst Recommendations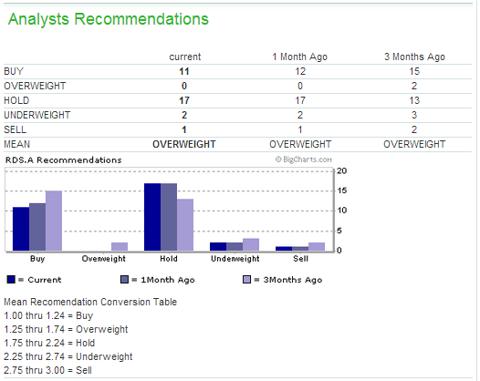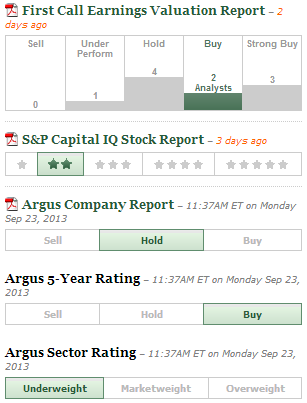 Disclosure: I have no positions in any stocks mentioned, but may initiate a long position in RDS.A over the next 72 hours. I wrote this article myself, and it expresses my own opinions. I am not receiving compensation for it (other than from Seeking Alpha). I have no business relationship with any company whose stock is mentioned in this article.