Social media stocks are booming. Twitter (NYSE:TWTR) went public last Thursday after the company raised its initial offering to $26 a share. Twitter shares opened at $45.10, which value the company at $24 billion. Short after opening shares surged to $50.09 before the share price started to fall and closed $41.65 a share on Friday. Twitter is still worth a stunning $22.7 billion. Other social media stocks have even higher market capitalizations, namely Facebook (FB) at $115.5 and LinkedIn (LNKD) at $25.7 billion. Many articles have been written about over- and undervaluation of social media stocks. This article focuses more on the sustainability of their earnings, apart from their current valuation. This will answer the question: Which social media stock is most attractive for long-term investors?
The fact that we live in a world of increasing technological capabilities and innovation made me as a long-term investor cautious regarding social media stocks. It is hard to predict for how long current social media hype will last and what the next technological trend will be. Today's outperforming stars like Twitter, Facebook and LinkedIn could be tomorrow's dogs. This is interesting, because current valuations are mostly based on potential and future revenue capacity. Stable results and sustainable growth in revenue and earnings per share are key factors in my investment decisions. This made me curious about the sustainability of the three major social media stocks, providing investors a (theoretical) long-term perspective.
Twitter
First question to be answered is: What is sustainability when it comes to social media stocks? A sustainable business model is in my opinion
about diversification. Let's take Twitter as an example. A Twitter subscription does not require any membership fee. Twitter's business model is all about increasing active users and generates traffic to sell advertisements. Most members use the company's mobile platform. Therefore, revenue depends heavily on mobile advertisements. During the third quarter more than 70 percent of advertisement revenue came from mobile devices, compared with 65 percent in the second quarter according to this Bloomberg article. In this example revenue is not diversified and depends too much on one pillar, revenue from mobile advertisement. For me, Twitter's current business model is not sustainable long term.
Facebook
So, Twitter's revenue depends too much on mobile advertisements. Will Facebook show a more sustainable picture? Twitter's and Facebook's business model are somewhat similar when it comes to free membership and generating as much as traffic as possible. Facebook earned $2 billion in revenue over the third quarter according to its third quarter earnings report. Almost $1.8 billion of revenue came from advertisements. Mobile advertisement revenue represented 49 percent of total advertisement revenue. Facebook also received $0.2 billion in additional fees. Facebook's picture looks a bit brighter compared to Twitter. Advertisement revenue is split between regular platform advertisements and mobile advertisements. Still, 90 percent of total revenue came from advertisements and 10 percent was earned in additional fees. Also Facebook's business model is not sustainable at this moment, depending on advertisements from regular and mobile platforms.
LinkedIn
Last but not least: LinkedIn. The company's business model looks promising. LinkedIn generates revenue from three pillars: talent solutions, marketing solutions and premium subscriptions. Talent solutions provides services for recruiters and staffing companies to find the best available candidates. Marketing solutions generates revenue from advertisements, like Twitter and Facebook. Different from Twitter and Facebook, LinkedIn offers members premium subscription advantages. This generates a fixed monthly revenue from premium members, regardless the amount of traffic these members generate. I find the LinkedIn business model very interesting in a long-term perspective. The company earns revenue in three different ways, where Twitter and Facebook revenue heavily depend on traffic and advertisements.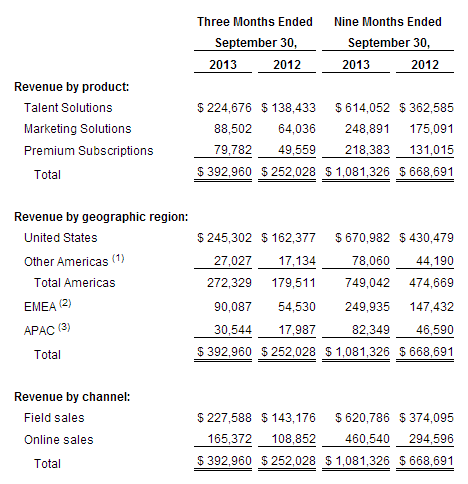 Source: investors.linkedin.com
Next question is: how is revenue from LinkedIn's promising business model divided over the three pillars (see graph above). The majority of revenue is earned by talent solutions, $225 million or 58 percent of total revenue. Marketing solutions contribute $88.5 million or 22 percent of total revenue and premium subscriptions earned $80 million or 20 percent of total revenue. Despite not being equally divided, LinkedIn revenue is far more diversified compared to its peers Twitter and Facebook. This makes LinkedIn at this moment the most sustainable social media company of the three.
Content related revenue
Social media companies are interesting because of member's data (or: content). The companies have a lot of information, which is interesting for other companies. Investors anticipate social media companies will earn much content-related revenue in the future. Currently LinkedIn is the first social media company to market members data and earn content related revenue on a large scale. Twitter and Facebook lack strong content related revenue. In fact, LinkedIn is becoming more and more a non-traditional social media company, earning 58 percent of its revenue from talent solutions. Twitter and Facebook still have a lot of potential regarding content related revenue. However, these two companies have not found a solution to adopt content-related revenue into their business models.
Conclusion
Twitter and Facebook currently depend strongly on generated traffic and (mobile) advertisement revenue. Not a sustainable situation for long-term investors in my opinion. LinkedIn though shows a more diversified stream of revenue. Most revenue (58 percent) comes from Talent Solutions. The revenue from Talent Solutions is more content related than traffic related. Remaining revenue (42 percent) comes from online advertisement and premium subscriptions. Twitter and Facebook both have high potential for content related revenue, but have not found a way to market their content in a sustainable way. Should they manage to do so, these companies will become more interesting for me. In my opinion LinkedIn currently is the winning social media stock for long-term investors.
Disclosure: I have no positions in any stocks mentioned, and no plans to initiate any positions within the next 72 hours. I wrote this article myself, and it expresses my own opinions. I am not receiving compensation for it (other than from Seeking Alpha). I have no business relationship with any company whose stock is mentioned in this article.