The stock rally that began last March might slow down this year because the market isn't cheap anymore. I went through all 147 iShares ETFs with net assets over $100 million and found that most of them have a P/E over 20. There are only 7 iShares ETFs that have a P/E of less than 16, as shown below:
| | |
| --- | --- |
| | |
| MSCI Turkey Investable Market Index Fund (TUR) | |
| Dow Jones U.S. Aerospace & Defense Index (ITA) | |
| MSCI Spain Index Fund (EWP) | |
| S&P Global Utilities Sector Index Fund (JXI) | |
| Dow Jones U.S. Utilities Sector Index Fund (IDU) | |
| S&P Global Telecommunications Sector Index (IXP) | |
| Dow Jones U.S. Healthcare Providers Index (IHF) | |
The stock market might have a much rockier ride in the coming years. If the bull market begins to slow, it will pay to own sectors that are paying generous yields. PIMCO, the world's biggest bond fund, saw assets under management exceed $1 trillion for the first time last week, underscoring investors' appetite for yield. However, yields on bonds are insufficient for income investors. Utilities and telecom stocks might be a better place to get higher payouts.
The Dow Jones U.S. Utilities Sector Index Fund (IDU) has net assets over $500 million and yielding 3.6%. Below are its main holdings:
Top 15 Holdings inside IDU
Lower wholesale power prices and slower demand pressured earnings in recent quarters for utilities. However, there might be a recovery in power demand and the long-term power outlook looks bright, once the recovery continues.
Exelon Corp (
EXC
) is a Chicago-based company that operates electric utilities in Illinois and Pennsylvania. The regulated traditional utility business accounts for only a third of the company's operating profits. The remaining two-thirds are generated from unregulated areas, which sell power to other utilities. Its debt to free cash flow is 6, one of the best in the industry. In other words, it could pay out its debt in 6 years. Currently its yield is 4.2% with a payout ratio of less than 50%.
Southern Company (
SO
) has paid dividends to its shareholders for 249 consecutive quarters – dating back to 1948.
Top 7 Utility ETFs
Following are 7 utility ETFs with net assets over $100 million. The biggest one is the Utilities Select Sector SPDR (
XLU
).
| | |
| --- | --- |
| | |
| | Claymore S&P Global Water (CGW) |
| | iShares Dow Jones US Utilities (IDU) |
| | iShares S&P Global Infrastructure Index (IGF) |
| | iShares S&P Global Utilities (JXI) |
| | |
| | Utilities Select Sector SPDR (XLU) |
| | Vanguard Utilities ETF (VPU) |
Most ETFs in the same sector are me-too products. The chart below shows the last 5 years of performance for XL U and IDU: they were almost identical.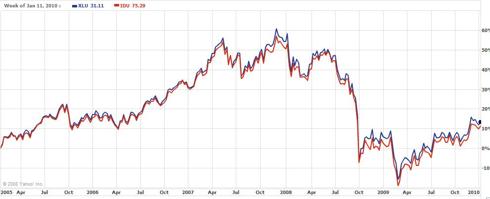 Conclusion
When things are going well, we tend to get overconfident and move more money into risky assets, making us vulnerable to downturns. Today we have more modern systems, but we also have unprecedented risks that were nonexistent in the Great Depression. This recovery might take much longer than we thought because of the severity of the decline and the fact that financial companies were at the center of the problem.
High-yielding stocks might suffer when interest rates rise. That's because in a rising rate environment, bond yields are more attractive than stock dividends. The other drawback for the utilities sector is that it tends to have a heavy debt load and negative free cash flow. PG&E, then California's largest utility, once declared bankruptcy in April 2001.
Even though the utilities are not a safe haven, investors can still use it as a downside buffer.
With a forward P/E of 12 and higher than 10-year Treasury yield, this sector is still attractive.
Disclosure: I have long position on EXC. Data are from iShares and Yahoo Finance as of January 15, 2010.