Company Overview:
AgFeed Industries (FEED) has two primary businesses, animal nutrition in premixed feed and hog production. The company has over 2,000 employees with 30 hog farms and 5 feed production facilities. Think Smithfield Foods and Cargill in one company. 2009 was a transition year for FEED because they implemented a western style of hog production and have concentrated on improving their genetic programs through a partnership with Hypor. They are part of the "Green Certified Pork" standard set forth by the China government.
The animal feed segment of their business is growing rapidly. They did $17.1 million in revenue in that segment in the 3rd quarter and expect to triple revenue in that segment of their business by 2011. AgFeed has the largest distribution footprint in the China animal nutrition market.
The plan to continue to expand their hog production facilities and have the financing in place to move forward with their expansion.
Revenue forecast for:
2010: $220/$230 million
2011: $310/$320 million
Gross margins should improve in 2010 back to historical levels of 22/23%.
Their balance sheet is strong with $36.5 million in cash in the third quarter, up $5.6 million from the second quarter.
FEED has 30 million shares floating. 27% of the float is held by mutual funds and institutions. There is a very healthy short interest here too of 6 million shares, or 23% of the float. I believe this is due to the fact that 2009 was a transition year for FEED.
The China Market Opportunity:
The animal feed industry in China is a $35 billion dollar/year industry. Pork is the primary source of protein in China, accounting for 63% of all consumed meat, and is expected to grow 22% from 2009 to 2013.
Estimates for the China Fresh Pork Market in RMBm:
2009: 244,220
2010: 255,603
2011: 269,007
2012: 284,379
2013: 298,738
In June 2009, China implemented the Food Safety law to increase food safety and standardization. The China government strongly supports domestic production and has invested heavily in trade protection policies. Meat demand will continue to increase in China as the middle class there is a huge and growing segment of their population.
Jim Rogers sees agriculture as the best place to be for the next 20 years.
A Technical View:
Here's a view of FEED's daily chart. It's broken out of the downtrend line and is back testing. A small cup has formed and breakout here puts this back to the $7 range in the short-term. The high short interest in this stock could also make this stock really get some momentum to the upside. Many other ag related China stocks have done very well, including SEED, CGA, CAGC and HOGS. I believe it's only a matter of time before the money rotates to FEED.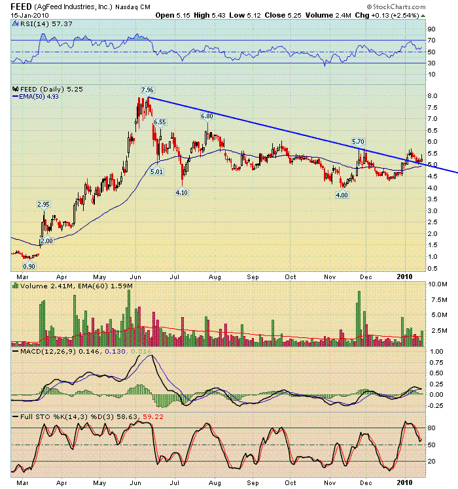 On a longer term view, FEED will need to get above the $8 area to see $10-$12; above $15 and the old highs of $21 will easily be in reach.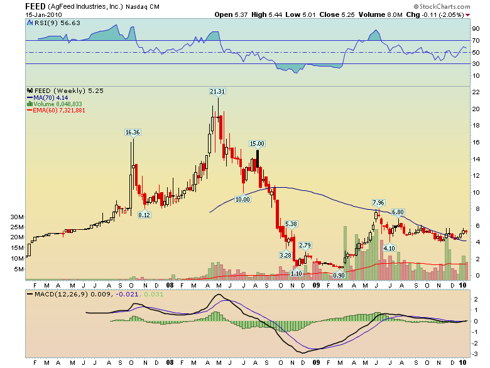 Disclosure: Author holds a long position in FEED