Facebook (NASDAQ:FB) has been struggling to gain investors' confidence in their potential growth prospects since the company launched its IPO. However, in the last few months the company has managed to convince its investors to have faith in potential mobile growth opportunities. This is the reason why the company's price has increased 26.78% in the last three months to an all-time high of $54.22 on October 18, 2013. The company reported outstanding earnings that bested analyst expectations. Analysts expected Facebook to generate $1.91 billion in revenue with earnings of 18 to 19 cents per share. Instead the company generated $2.02 billion in revenues of 25 cents a share. The stock was up 8% in after-hours trading.
Earnings Preview

The company showed serious growth in its top line. During the third quarter of 2013 Facebook generated revenues of $2.02 billion; this is a 59.8% increase from the year before. Revenues came in far ahead of consensus estimates of $1.91 billion. The company reported non-GAAP earnings of $621 million which is nearly double the amount reported last year. The primary drivers of growth in advertising revenue were both the increase in the number of and the strong performance of News Feed ads and an increase in the number of companies using Facebook for marketing purposes. In the third quarter of 2013, overall ad impressions were up 16% and the average price per ad was up 42%, compared to last year, due to the stronger penetration of mobile advertising.
The company continued to show strong growth in its advertising business, especially in its mobile advertising division. During the third quarter total ad revenues increased 66% year-over-year to $1.8 billion. The company achieved this remarkable milestone in such a short time because it started its News Feed ads service just last year.
Similar to last quarter, the company's performance was very broad-based with strong growth across all geographies and types of marketers. At the same time, the company's overall user engagement metrics remained strong.

Presently, 49% of the company's revenue comes from its mobile advertising. Nearly 48% of the people using Facebook on any given day are accessing it from a mobile device. That's almost half of Facebook users accessing the site from their phones. This is a pretty incredible sign of how Facebook has evolved over the last year. There has been an extraordinary growth in active users.
Key Drivers of Growth
The key driver of the company's development is the continued growth of mobile engagement around the world. In 2013 people spent more time with digital media than watching TV. According to Emarketer estimates, people spent more than 5.09 hours a day using digital media; this is an increase from 4.31 hours last year.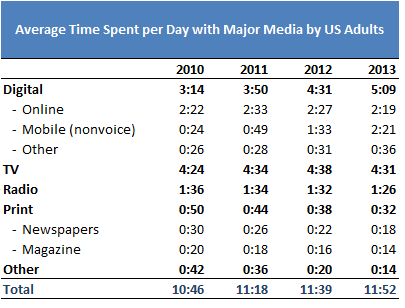 Success of Instagram
Another key driver of the company's growth is the success of Instagram. According to the company's third quarter earnings reports Instagram has 150 million monthly active users (MAUs).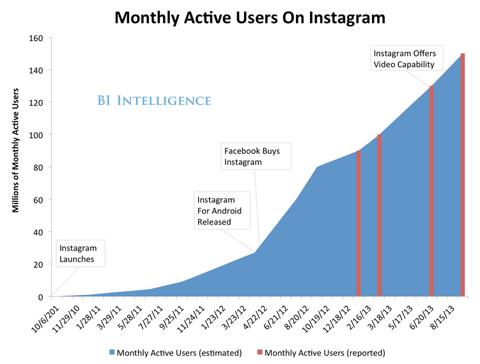 Source: Business Insider
When Facebook bought Instagram, it had less than 40 million users and now according to the latest figure it has reached 150 million active users in just 17 months which reflects the company's strength. Currently, more than 60% of Instagram users are from outside the U.S. around 55 million photos are uploaded per day. So far, 16 billion photos have been shared on Instagram generating around 1.2 billion "likes". The company has introduced a new video feature on Instagram that has helped to attract more people and advertisers to the social media site.
Huge Platform for Advertisers
Many small and medium businesses do not have enough resources to develop fancy television and media ads to promote their products and services. Many platforms like Facebook provide opportunities for companies with a limited budget to promote their products and services.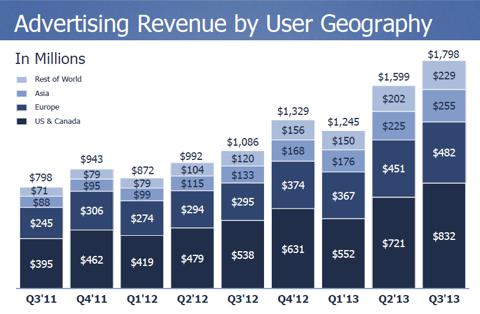 This is the reason why the company is building better services for their customers with higher quality ads, more efficient leads with better targeting, better analytics and using enriched formats. The company is also improving the quality of its ads rather than simply increasing the quantity. The company is then able to deliver better content and grow the businesses of its customers which is reflected in the company's recent quarterly performance.
Investment in Future
During the third quarter of 2013, Facebook took an important step towards increasing global internet access. The company launched internet.org, a global partnership with technology leaders Samsung (OTC:SSNLF), Ericsson (NASDAQ:ERIC) and Qualcomm (NASDAQ:QCOM) in order to make affordable internet access available to everyone in the world.
Currently, one third of the world's population is online and the number of internet users is growing at less than 9% a year. Facebook's effort to increase the number of internet users will create huge benefits for the company in terms of growth in active users and ad revenues.
Closing Arguments
Facebook's success continues to depend on user engagement, average revenues per user and the success of its mobile advertising campaigns. Though the overall growth in engagement is deteriorating due to the higher number of mobile users, the average revenue per user and mobile advertisement has increased. Facebook always keeps an eye out for future growth. So far, the projects it has invested in, such as Instagram and its News Feed, became huge successes for the company.
As people shift their entertainment focus, marketers and trend-watchers will follow and Facebook will continue to successfully provide a platform for advertising to reach end consumers. The company's quarterly results showed that it is benefiting from this shift to mobile interfaces and I believe that this shift will continue in the future as well. The increasing amount of money spent on Facebook marketing is the sign of trust that marketers place in the company. I believe that the company has the potential, sufficient resources and a visionary leader to continue the growth of the company.
Disclosure: I have no positions in any stocks mentioned, and no plans to initiate any positions within the next 72 hours.
Business relationship disclosure: The article has been written by a Blackstone Equity Research research analyst. Blackstone Equity Research is not receiving compensation for it (other than from Seeking Alpha). Blackstone Equity Research has no business relationship with any company whose stock is mentioned in this article.