Netflix (NASDAQ:NFLX) is a subscription based media company that delivers movies to its subscribers either in the form of DVDs or online streaming. A closer look at delivery costs shows that it is much cheaper to deliver a movie online compared to offline. However, while the majority of Netlfix subscribers still prefer to watch films on DVD rather than online, a noticeable shift in preference is happening.
6 cents to deliver a film online
The bit encoding rate that Netflix uses for streaming video is around 2.2 Mbps and a typical 2 hour long movie will require transfer of approximately 2 GB in total. We estimate the current bandwidth cost for Netflix to be slightly less than 3 cents per GB, which means it costs Netflix less than 6 cents on average to deliver a film online.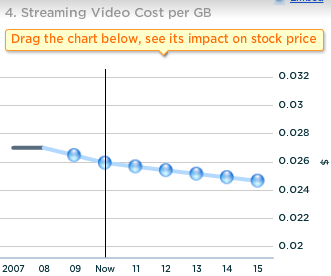 In addition to bandwidth, Netflix incurs costs to store the 17,000+ titles in its online library. Although its online library totals about 39 TB of data, the storage cost per GB is negligible compared to Netflix's bandwidth costs.
65 cents to deliver a film on DVD
We estimate that Netflix spends about 44 cents on postage and packaging for each DVD that it sends. Netflix operates several shipping centers throughout the US in order to deliver DVDs quickly to its customers. We estimate that DVD shipping center costs amount to about 21 cents per DVD. In total, offline delivery of a movie in the form of a DVD costs Netflix 65 cents on average or more than 10 times the cost of delivering a film online.
The meaningful difference in delivery costs for online vs. offline films means that Netflix will be able to realize significant cost savings over time as demand transitions to watching more films online. We forecast that within two years, the average Netflix subscriber will watch more than 2 films online per month and that the number of DVDs mailed to a subscriber each month will decline.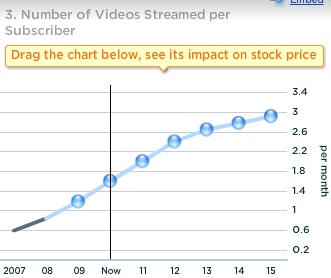 Disclosure: No positions