By Guy Adami


Freeport-McMoRan (NYSE:FCX)

In the last couple of years the market's favorite miner has been FCX, a company we have been watching closely on Advantage Point. Based in Phoenix, Freeport-McMoRan is one of the world's largest producers of gold, but it may be best known for being the world's lowest-cost copper producer.

The company acquired Phelps Dodge in 2007 in one of the greatest deals since the Angels stole Nolan Ryan from the Mets for Jim Fregosi. After flat-lining for most of 2006, FCX was off to the races from the start of 2007 to the summer of 2008. FCX began 2007 trading around the $58 before reaching an all-time high of $127.24 on May 21, 2008.

But like most of the commodity based stocks, Freeport-McMoRan "took the stairs up and the elevator down" in the back half of 2008. After making that May high, the stock traded as low as $15.70 by Dec. 5. That, my friends, is a precipitous drop. Since then, however, the shares have enjoyed a steady rebound. On Jan. 11 of this year, FCX made a new 52-week high of $90.55, which means that the shares have rallied some 476 percent.

If you have been watching Freeport-McMoRan wishing that you owned the stock, must feel as though it has gone straight up. And if you were to look at a long-term chart, it certainly would appear as though the move higher in FCX has been unabated. However, upon further review, FCX has provide us with a number of significant dips along the way. Take a look at this:
• Jan. 6: FCX made an intraday high of $31.44; by Jan. 23 the stock made an intraday low of $21.16, a move lower of 32.6 percent
• May 6: FCX made an intraday high of $52.99; by May 14 the stock made an intraday low of $44.53, a move lower of 15.9 percent.
• June 11: FCX made an intraday high of $61.55; by July 8 the stock made an intraday low of $43.19, a move lower of 29.8 percent
• Aug. 6: FCX made an intraday high of $66.20; Aug. 19 the stock made an intraday low of $58.50, a move lower of 11.6 percent
• Sept. 22: FCX made an intraday high of $73.43; by Oct. 2 the stock made an intraday low of $63.00, a move lower of 14.2 percent
• Oct. 23: FCX made an intraday high of $84.28; by Nov. 3 the stock made an intraday low of $72.36, a move lower of 14.1 percent
• Nov. 25: FCX made an intraday high of $87.35; by Dec. 18 the stock made an intraday low of $75.48, a move lower of 13.5 percent
Now technicians will look at this and see a series of higher highs and higher lows, a very bullish formation. I highlight the pullbacks to illustrate clearly how FCX has provided you with meaningful opportunities to get long the shares. Thursday, Canaccord Adams raised its price target on FCX to $104 from $87 after raising its 2010 copper price forecast to $3.25 per pound from $2.75.
Copper is clearly a huge commodity for Freeport-McMoRan, but few people know that the company is the world's largest producer of molybdenum. Not the easiest word to pronounce but a vital component to the steel industry.
Molybdic oxide, which is derived from molybdenum, is used in the steel industry for corrosion and heat resistance and for strengthening. An estimated 80 percent of molybdenum demand comes from the worldwide steel industry.
FCX is scheduled to release its fourth-quarter earnings at the end of this month. Wall Street is looking for earnings of $1.61 per share on revenues of $4.10 billion. If those numbers come in as expected, FCX will earn about $5.12 per share this year with consensus EPS for 2010 coming in at $7.33.
That is earnings growth of some 43 percent, which makes its forward P/E of 11.60 seem very reasonable. However, beware of buying on valuation alone. Instead, wait for another pullback to get into the name and think about buying put protection just in case.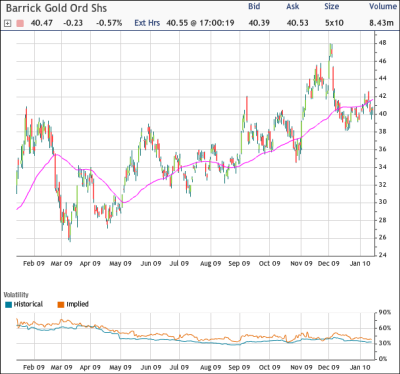 Barrick Gold (NYSE:ABX)
For those looking for a pure gold play in the mining sector, you need look no further than Barrick. With headquarters in Toronto, ABX is one of the leading companies in the gold industry with 26 operating mines and projects in five continents. Currently it has the gold industry's largest production, reserves, and market capitalization.
Barrick recently made headlines after announcing that it would buy back its gold hedges. On Sept. 10 the Wall Street Journal reported that ABX was getting rid of the hedges to gain more exposure to the price of gold. On Dec. 1 Barrick announced that it had completed the elimination of all of its gold hedges. With that, ABX had (and continues to have) full leverage to the gold price on its production and reserves.
Of course, this buyback of their hedge book was not without cost. The hedges Barrick put on were no doubt at significantly lower price levels and, infact, the company took a charge of multiple billions of dollars. Still, if you believe that the price of gold will continue to rise, then ABX becomes a great leveraged play. But keep in mind that, just as ABX will outperform the underlying commodity on the way up, it will underperform the commodity if gold breaks down.
As an illustration of this, ABX made a 52-week high of $48.02 on Dec. 2 just as gold was hitting a new high above $1,200. However, the precious metal reversed lower and, by Dec. 18, ABX was trading down some 20.5 percent, making an intraday low of $38.13.
And remember this: The people who are buying back their hedge book with gold north of $1,000 per ounce are pretty much the same folks who were hedging their production south of $500 per ounce. Food for thought.
I would be remiss if I did not point out Gregory Wilkins, executive vice chairman of the company, recently passed away at the age of 52 after a long battle with cancer. Although I have not always agreed with the decisions of ABX, I had the pleasure to meet Mr. Wilkins on a few occasions, and he was truly a visionary in the industry. He will be missed.
So there you have it--two leading names in the mining industry and a pretty decent movie to boot!
Disclosures: I do not have positions in any of the stocks mentioned.

(Charts courtesy of tradeMONSTER)