Everyone has to eat. That's what makes Kroger (NYSE:KR) a great stock. And yet, the grocery industry is one of low margins, meaning, it's tough to make any real money. And by real money, I'm talking the kind of money that other products company, Apple (NASDAQ:AAPL), generates. Kroger generates a 1.6% operating margin, compare this to the 21.6% that Apple is generating.
Thus, it's easy to see why many people would rather trade out a grocer for a tech company. However, it isn't all bad news over at Kroger. The company has a proven commitment to buy back shares and is looking to get active on the growth front with its Harris Teeter acquisition (more on this later).
Behind only Wal-Mart, Kroger is the nation's second largest grocery store operator with over 2,400 stores in 31 states. Yet, Kroger has grossly underperformed (when it comes to stock price movement) major organic and natural foods grocer Whole Foods Market (NASDAQ:WFM).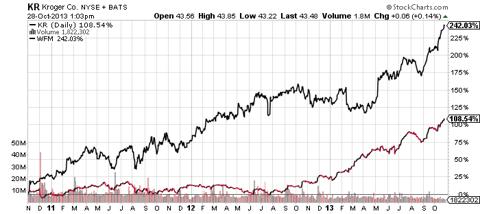 Sure Whole Foods is a great, and yet, very expensive (to shop at) grocery store. But the major bright spot in Kroger's attempt to combat market share losses from the likes of organic and natural foods grocers is not really an attempt at all. If you supply it, they will come. And that's precisely what's happening. The amount of shelf space dedicated to organics is increasing at the likes of the conventional grocers.
Beyond that, the other key aspect for grocers is that they are at the top of the consumer stable chain, supplying the must needed life source that is food. Kroger also generates revenues from generic drugs, coupled with labor and transport cost reductions, which should lead to margin expansion.
Back in July, Kroger snatched up Harris Teeter (NYSE:HTSI), which is a 200 grocery store operator in the Southeastern U.S. Kroger notes that the Harris acquisition will add between 6 cents and 9 cents per share in earnings appreciation. As well, the company believes Harris can save them $40 million to $50 million over a three to five year period. The Harris Teeter move will also help strengthen Kroger's market share in the Southeast.
And that's where the value's at. That's what Mr. Market and all his infinite wisdom is missing. The potential that Harris brings to add.
Analysts have fiscal 2015 EPS coming in at $3.12. However, even after the Harris acquisition, analysts have been reluctant to up its EPS expectations. Thus, the market is setting the company up for the opportunity to beat EPS estimates. Kroger has set a long-term growth rate target of between 8% and 11% for earnings, which is well above analysts. Wall Street analysts believe the company will grow EPS at 8.6% per annum over the next five years. If we assume Harris drives EPS growth at the high end of its expectations, 11%, Kroger's PEG is just over 1.2, which makes the company very compelling.
Beyond that, there's hidden value
Something that's commonly forgot, is that Kroger is a very 'shareholder friendly' company. And that, has the potential to gas pedal earnings and lead to a higher share price in and of itself. Kroger manages to throw off a large portion of its free cash flow to shareholders, while still modestly expanding its store base.
As far as dividends go, Kroger recently upped its quarterly dividend by 30%, now paying a dividend yielding 1.5%. Over the last four quarters, Kroger returned over $920 million to shareholders via dividends and share repurchases. Notice that shares outstanding have been rapidly declining over the last decade.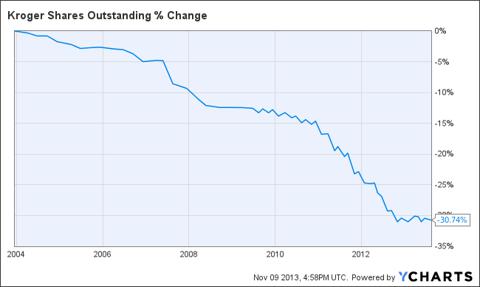 All in all, what investors should really be excited about is that Kroger expects to generate shareholder returns of 10% to 13.5% over the long run. Considering its 6.8% weighted average cost of capital, that 10% to 13.5% is very appealing. Yet, albeit low compared to the likes of Apple, Kroger's margins are actually near half decade highs. Its operating margin is at 2.9% and net profit margin at 1.6%. The company has a lot going for it.
Bottom line
Kroger has a stronghold on market share, and what the market is missing is the 'shareholder friendly' aspects. Again, a 10% to 13.5% return driven by dividends and buybacks isn't too shabby. Kroger also trades at a 14x earnings, which is well below the 18x industry average. And the market underestimating the benefits (dare I say synergies) of Harris Teeter. However, Kroger is at multi year highs, so prudent investors that already own the stock should consider making a few extra bucks by selling covered calls (which is an income oriented strategy).
Disclosure: I have no positions in any stocks mentioned, and no plans to initiate any positions within the next 72 hours. I wrote this article myself, and it expresses my own opinions. I am not receiving compensation for it (other than from Seeking Alpha). I have no business relationship with any company whose stock is mentioned in this article.