By Hesham A. Shaaban, CFA

Twitter's (NYSE:TWTR) growth strategy has a limited runway, and is likely to disappoint the street. Current valuation is beyond reason.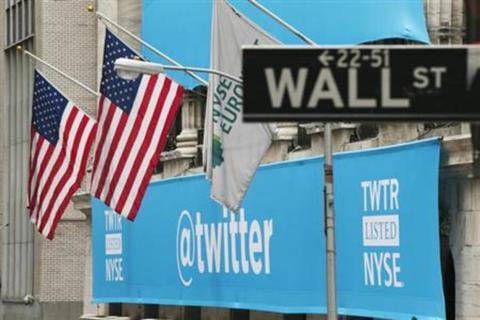 Thesis Summary
Holes in the business model: TWTR's current business model has a limited runway for growth given headwinds we're seeing across the main levers in its business model
Consensus estimates are ambitious: Our concern is mostly on 2H14 and 2015, which is when we expect revenue growth to slow precipitously.
How Twitter Makes Money
TWTR's revenues are sourced primarily from advertising, which is predominately US (~75%), and "substantially all" of those revenues are derived from ads that users engage with. Those ad engagements, and resulting revenues, are driven by a combination User and Advertiser Engagement.
User Engagement: driven by the number of users on their platform, their level of activity on the site, and the rate at which they engage in ads.
Advertiser Engagement: this is simply a function of the number of advertisers & size of their ad budgets, and the price & supply of ad inventory.
Below we weigh TWTR's growth prospects against its stated growth priorities and the headwinds/tailwinds facing its business model.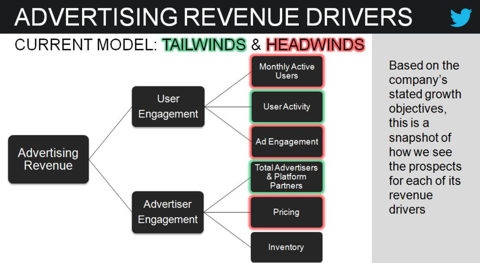 Holes In The Business Model
In the diagram above, we highlight where we see emerging headwinds/tailwinds in TWTR's business model; most of which comes on the side of user engagement, which is where we will focus below. In short, slowing US user growth combined with stagnant-to-slowing ad engagement is a recipe for a marked slowdown in revenue growth through 2015 (see our Blackbook for more detail). Summary bullets below:
User Engagement: Headwinds/Tailwinds
Monthly Active Users: TWTR's US growth has been slowing, and management expects this to continue. The runway for US user growth may be limited here given that Twitter's total user penetration levels (including inactive users) may be much higher than its monthly active user metrics suggest. The main issue is that US users are far more lucrative than international users (almost 10x higher in terms of ARPU), meaning domestic user growth trends will have a disproportionate impact on revenues.
User Activity: Anecdotally, we see this as a tailwind in terms of management's efforts to drive more content on its platform. However, we are not sure it will be enough to drive meaningful growth in total user activity, especially in light of slowing US User growth
Ad Engagement: A deeper dive into TWTR's financials suggests that the company is barely monetizing its desktop users (especially in relation to FB), which we believe is due to a poorly designed user interface (more detail in our Blackbook). We believe its recent surge in ad engagements has been driven primarily by increasing supply, which we suspect was due mostly to extending its desktop ad products to its mobile application. That said, TWTR's only option for driving supply growth on mobile is to introduce new products, which could push users away at the same time. So as ad inventory growth slows, TWTR's revenue growth will slow with it.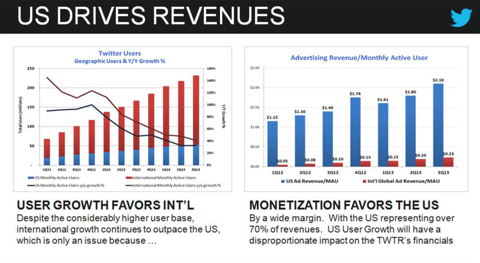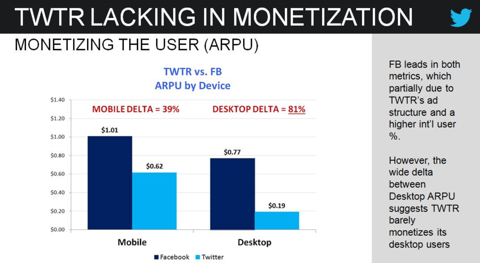 Consensus Estimates Are Ambitious
Consensus is expecting revenue growth of 80% and 59% in 2014 and 2015, respectively. Our concern is mostly on 2H14 and 2015, which is when we expect revenue growth to slow precipitously. Reason being that the tailwind from increasingly mobile ad supply will likely be fully annualized by that point, which means that the company's revenue growth will be tied to new advertising products, which we expect to have a limited impact, and US user growth, which we expect to wane unless TWTR takes a more active approach to recruitment.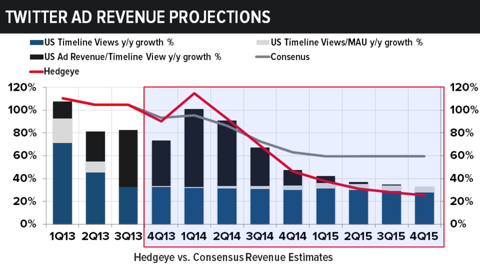 TWTR Priced Beyond Perfection
At $43, TWTR is now trading at close to $30 billion market cap on a fully-diluted basis. That puts TWTR's valuation on a P/S basis well in excess of both the current and peak P/S multiples for either FB and LNKD.
It's important to note that the trajectory of its share price and multiple expansion will be tied to its forward growth expectations, which are currently seen as lofty into 2015. We believe that TWTR could trade as low as $25.00, which is 11x our 2015 Revenue Estimate of $1.57 billion.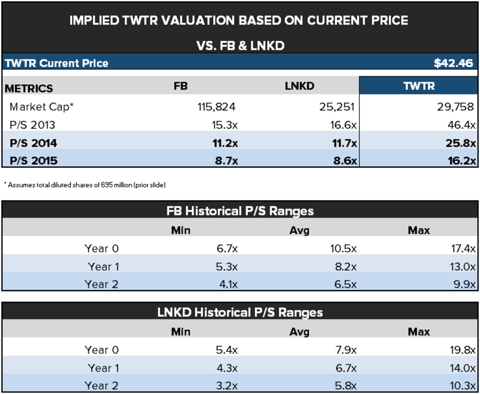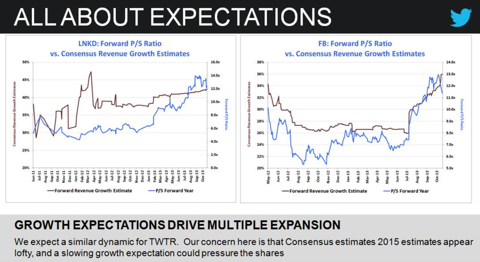 Once again, this is the summary version of our thesis, and there is much more supporting data behind this analysis than what is shown above. If you would like to run through the analysis in more detail, please let us know.
Note: This a summary of our current thoughts on TWTR. We go into far more detail in our Blackbook. Click here to watch the "Why We're Bears on Twitter" video with Hedgeye CEO Keith McCullough.
Disclosure: I have no positions in any stocks mentioned, and no plans to initiate any positions within the next 72 hours. I wrote this article myself, and it expresses my own opinions. I am not receiving compensation for it. I have no business relationship with any company whose stock is mentioned in this article.