Pandora (NYSE:P) reports earnings on Nov 21st after the close. Pandora reports monthly figures of its listening metrics, which makes it easier to analyze their expected growth for the quarter, and I hope to present an expectation from those numbers for this quarter.
Pandora has continued to grow in spite of ongoing and new competition from online services. Here is a chart of their growth from numbers presented in their monthly reports:
From these charts, we see that Pandora has easily recovered from its mid-year dip and is back to growth. Compared to Sirius XM (NASDAQ:SIRI), Pandora has shown spectacular revenue growth: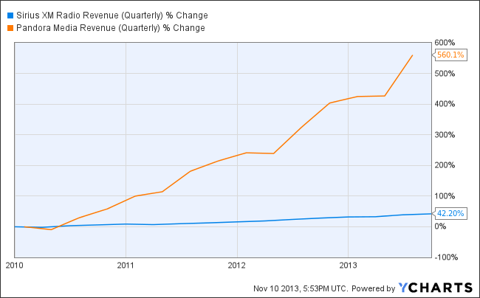 Here is Pandora's revenue growth from the last five quarters:
From past quarterly results we can calculate Pandora's revenue per billion listener hours and use that metric to calculate 3Q 14 revenues.
If Pandora continues to obtain the same revenues per listener hours as last quarter, this quarter revenues will be $174 million. If Pandora just gets the average of the last 5 quarters, Pandora would have revenues of $140 million. My guess is Pandora will continue to grow its revenue per hours listened because of increasing paid subscribers as seen by the growth in paid subscriber revenue.
Also, as subscription revenue grows to be a larger percent of Pandora's total revenue, margins will improve longer term with lower reliance on ads for revenue.
One of the main drivers of Pandora's losses is the comparatively high royalty rate paid by Pandora for music. But a recent court ruling will provide Pandora some relief. I don't expect Pandora to be profitable really soon but the numbers look promising long term.
Pandora already makes nearly 20% as much revenue as Sirius XM and is growing revenues a lot faster and as more cars add built in Pandora streaming (over 100 models currently offer it), Pandora will be as ubiquitous as Sirius in cars. And the beauty of Pandora is that it is free or if you do pay, it covers both your online listening and your car listening. Sirius charges you an extra $3.50/month (comparable to Pandora) for online listening in addition to their regular monthly fee starting at $14.49/month. Pandora savings will easily cover any extra data costs.
For listening to radio, online is the future and Pandora leads the pack. Of course there is Apple's (NASDAQ:AAPL) iTunes Radio as a major competition but considering most of Pandora's listening is on mobile devices and iTunes is only on Apple devices, long term the effect of iTunes Radio might not be as severe as made out to be.
Disclosure: I am long AAPL. I wrote this article myself, and it expresses my own opinions. I am not receiving compensation for it (other than from Seeking Alpha). I have no business relationship with any company whose stock is mentioned in this article.