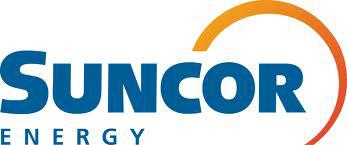 Suncor Energy (NYSE:SU) recently announced plans to proceed with the Fort Hills oil sands project. The mine will be designed for a capacity of 180,000 bpd. SU will be the operator with a 40.8% stake. Other partners include Total (NYSE:TOT) with a 39.2% interest and Teck (TCK) with 20%. The resource will provide stable cash flows for the next 50 years and will be ramped up to 90% of capacity by 2018. The long-life project improves Suncor's outlook as a decades long dividend growth story. As the area below the blue line (see diagram below), the cash flow profile is enormous and will lead to rising long-term returns for SU shareholders.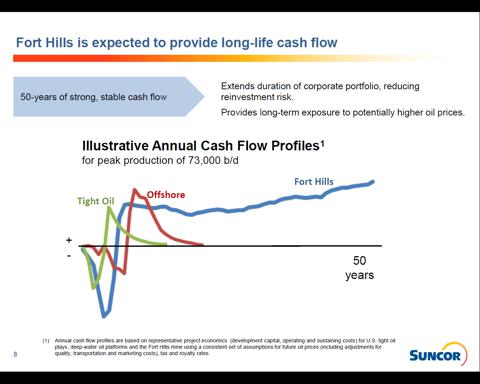 In a webcast presentation, Suncor says Fort Hills is estimated to be a 3.3 billion barrel contingent resource (1.3 billion net to SU). The mineable asset is high quality and is estimated to have an 11.4% average ore grade.
On the Q3 conference call, President and CEO Steve Williams had this to say:
Yesterday Suncor together with our partners voted unanimously to proceed with the Fort Hills mining project. And Fort Hills is the best undeveloped oil sand mining asset in the Athabasca region. The project will benefit from our debt of mining experience and our well established infrastructure in the region. We expect it will provide us with a long-term source of cash flow and contribute to strong returns for our shareholders for decades to come.
Project Economics
The project has strong economics and is an effective option on higher long-term oil prices. Projected capital expenditures (net to Suncor) are estimated to be $5.5 billion, or roughly 15% of the company's total cap-ex plans and are already included in the company's $7-8 billion 2014 cap-ex plan.
Returns are expected to be above the cost of capital with bitumen prices as low as $50-60/bbl. Suncor's going forward IRR estimate is ~13%. That is based on a long-term Brent price of $100 and bitumen prices 60% of Brent.
The project is a key component of SU's plans to raise oil sands production by over 250,000 bbs by 2020 over 2012's production level.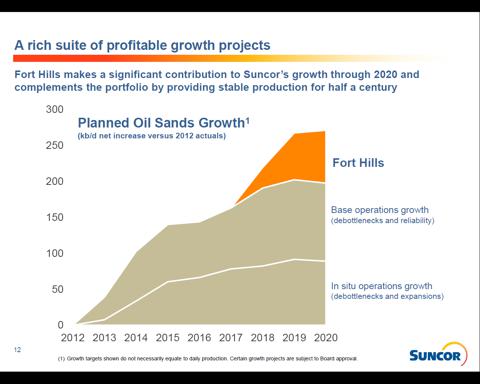 Enbridge (NYSE:ENB), in conjunction with the Fort Hills partners, plans to build a $1.6 billion Wood Buffalo pipeline extension to transport crude oil production under long-term commitments to Enbridge's main hub at Hardisty, Alberta. The extension will transport volumes from the Fort Hills oil sands project in addition to growth from Suncor's existing oil sands operations. Enbridge will transport as much as 490,000 bpd of diluted bitumen produced at the Fort Hills Partners' project and Suncor's oil sands production in the Athabasca region. It is targeted to come online in Q2 of 2017.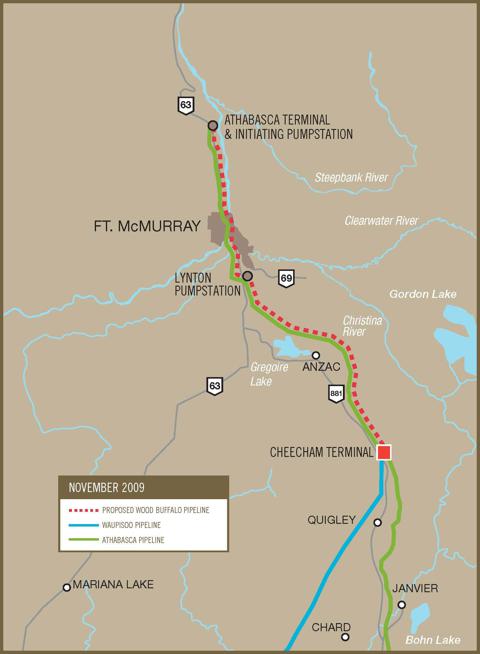 The Wood Buffalo (Line 18 Extension) Pipeline Project includes:
Approximately 59-mile pipeline with a diameter of 30 inches to transport a diluted bitumen/synthetic heavy crude blend from the Athabasca Terminal to the Cheecham Terminal. From Cheecham, it will directly connect with the existing Line 18 (Waupisoo Pipeline), which extends from the Cheecham Terminal to the Edmonton Terminal.
One pump station at the pipeline initiation point at the Athabasca Terminal. Includes three 5,750 horsepower pump units, two new booster pumps and replacement of two other booster pumps with larger capacity units.
One pump station at the pipeline mid-point, located in the Lynton area. Includes two, 5,750 hp pump units.
Summary And Conclusions
The new Fort Hills project is a major long-term catalyst for Suncor since it will provide a stable source of long-term cash flow which can be used to increase shareholder returns and to fund growth projects going forward.
Meantime, Suncor recently announced October's oil sands production was 375,000 bpd. That was up 14% over 2012's 330,000 bpd despite a temporary shutdown of TransCanada's (NYSE:TRP) regional natural gas pipeline. I am expecting November's results to approach August's record of 433,000 bpd.
I rate Suncor as an Accumulate on Weakness.
I will end with an overview of the company's current valuation metrics:
Mkt Cap: $52.4 billion
EPS ("ttm") = $1.97
P/E = 17.9
Div (Yield) = $0.76 (2.2%)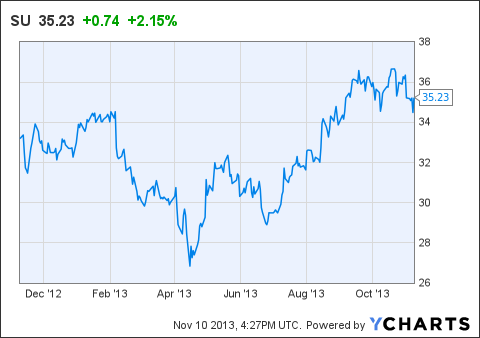 Disclosure: I am long SU. I wrote this article myself, and it expresses my own opinions. I am not receiving compensation for it (other than from Seeking Alpha). I have no business relationship with any company whose stock is mentioned in this article.
Additional disclosure: I am an engineer, not a CFA. The information and data presented in this article was obtained from company documents and/or sources believed to be reliable, but has not been independently verified. Therefore, the author cannot guarantee its accuracy. Please do your own research and contact a qualified investment advisor. I am not responsible for investment decisions you make. Thanks for reading and good luck!