The Financial Select Sector SPDR (NYSEARCA:XLF) fund rallied by 2.33% on Friday. This steep of a gain across a basket of financial stocks usually never happens. Well, it does not happen often!
For now, the catalyst for financial stocks has been the better than expected unemployment figure. While the unemployment figure isn't the most amazing, it beat expectations. Markets automatically readjust to factor in changes in information. The change in expectation is the deciding factor. Of course, if you miss expectations as Joe Rogan from the UFC often says, "it is all OVER!" Thankfully the American economy is on track, which is largely in-line with my expectations.
Quick overview of the unemployment rate
The unemployment rate came at a better than expected 204,000 job additions. Many contemplated the data as the job gains were partially seasonal. However, I'm more than happy to accept seasonal gain in employment as it is indicative of the high expectations retailers may have for the current holiday season. The unemployment rate inched up from 7.2% to 7.3%. This is driven by higher labor force participation. People are starting to look for jobs, and this should help to reduce concerns of real unemployment versus the reported figure by the bureau of labor statistics.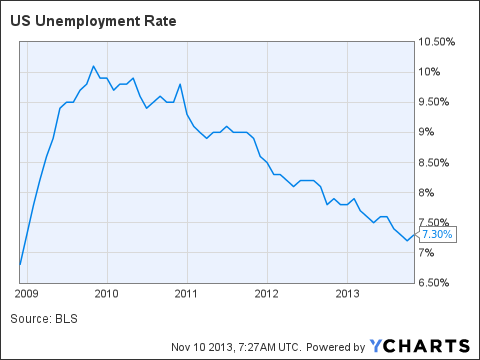 Source: Ycharts
Going forward, falling unemployment is a good signal. Sure we didn't see a huge up-tick in STEM (Science, technology, engineering, mathematics) based labor, but then again, we're struggling to find those kids out of university anyway. The good news is that retail gigs can be occupied by students who are happy to be seasonal labor. After all, seasonal work gives college students real world experience, which leads to skills, and further career advancement. Of course, some people work really hard in school, get their first job, and hold onto it for the rest of their life. However, this is becoming increasingly unlikely for kids in my generation. People in my generation are really picky and complain a lot. I worked in teen retail, and the co-workers can be more annoying than the customers. Hearing kids complain at a job is comparable to hearing Rick Ross rapping about his car collection (blah, blah, I drive a Porsche, blah, blah, I drive a Lamborghini).
Anyhow, banks are really sensitive to unemployment. The more people employed at a job the more likely savings will pile up on a bank's balance sheet. Plus, if labor force participation is sustained, the number of collateralized mortgage obligation originations could substantially increase. After all, you can only lend to someone with income. People with income are those who are gainfully employed. Those who are gainfully employed spend money and save. Therefore, banks earn fees from the spending, and interest from the deposits. Wow, doesn't Adam Smith's invisible hand sound familiar?
Household financial obligations are rising again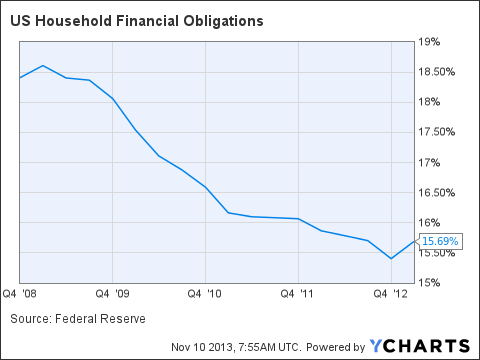 Source: Ycharts
The amount of US household obligations has declined from 18.50% in Q4 2008 to 15.69% in Q4 2012. The 15.69% is a ratio of disposable income in relation to estimated debt payments (mortgages and consumer debt). The total number of household obligations has declined by 281 basis points. The falling household obligation figure largely corresponds to the portfolio run off that has given bank execs some concern (the risk of prepayment of mortgages in a mortgage-backed securities portfolio). However, to offset the decline in household financial obligations, banks have been able to generate a greater percentage of revenue from fees.
In fact, Wells Fargo (NYSE:WFC) generates half of its revenue from fees from its variety of financial services. JPMorgan Chase (NYSE:JPM) offset the decline in portfolio runoff with gains in investment banking, and asset management. Of course, JPMorgan Chase lost billions of dollars due to ineffective oversight over employees. The trading division of the company is rightfully being spun off. Over at Bank of America (NYSE:BAC) generating more efficiency through better management of operating costs remains a huge priority. Citigroup (NYSE:C) also prioritizes cost management and investment banking, so the response to falling debt demand has been… more fees and broader diversity in financial products. International diversification and better cost management are another lever that bank executives have been tackling. In other words, Universal Banks are complicated to analyze. Because they're not based on loan growth, they're based on all sorts of things. This has made it difficult for the average investor to pick up on catalysts and balloon popping signals.
Since, the four banks are extremely comprehensive. Tackling every lever, and talking about the potential direction that investors can go with these banks could be excessively long, and perhaps a pointless endeavor. Instead, I want to focus on portfolio runoff, and total household debt. After all, the falling unemployment figure largely corresponds to the corporate and consumer banking division of these banks. Corporate and consumer banking is just a component of a vast portfolio of businesses that are run by a universal bank. Therefore, investors should not take what CEOs have to say about portfolio runoff or loan growth as a conclusive indication of how banks will perform over the next quarter or year. Rather, it should just be a starting point for further research on the topic of investing into banks.
Jamie Dimon on portfolio runoff
Jamie Dimon mentions Tier One Capital Ratios based on Basel III requirements in his most recent earnings conference call:
So turning to page four, and the details of our balance sheet and capital, first, after allowing for dividends and repurchases, our capital declined in the quarter by approximately $2 billion. As a result, our Basel III tier one common ratio remained flat at 9.3% quarter over quarter with the decline in capital being offset by lower risk-weighted assets, primarily driven by legacy portfolio runoff.

We're targeting 9.5% by the end of this year, and still aiming to run at about a 50 to 100 basis point buffer above this level over time.
Guy Moszkowski an analyst at Autonomous Research asks:
At this year's investor day, you identified in the investment bank a $65 billion runoff portfolio that you gave some targets of reduction for at year end. I've also noticed that in your pillar three disclosures you've got a very high CRM, which I have to assume is associated with correlation book stuff, which I guess that runoff portfolio is. Can you give us a sense for whether that's right, and where you are with that runoff portfolio?
Jamie Dimon replies:
We are going to meet our target for the runoff portfolio, which are of course a couple of things. Part of the CRM was a synthetic credit portfolio, which is I'm going to say a tenth of the size it was a year ago. I just don't remember the exact number. And we're still going to be optimizing across other products. There are certain things in mortgages which use up a lot of capital, etc. So we have more to go in kind of optimizing RWA.
In summary, the portfolio runoff will result in better optimization of risk weighted assets. The analyst asks Jamie how portfolio runoff would impact the company. Jamie mentions that a portfolio of synthetic credits (credit swaps) would diminish significantly in size. However, earlier in the earnings conference call, Jamie Dimon offered guidance that the Basel III tier one capital ratio will only increase by 50 to 100 basis points. The impact from a shrinking synthetic credit portfolio is the primary driver in the increase in capital on the balance sheet. Jamie Dimon is hoping to better optimize assets. In this instance, he's letting synthetic credits run off the portfolio. Thankfully, this has hardly anything to do with household debt. But, there's also no denying that JPMorgan Chase will benefit from a stronger macro environment.
Wells Fargo's loan growth is on track
Joe Morford an analyst from RBC Capital Markets asked a great question on loan growth:
Thanks. Good morning, guys. Excluding acquisitions on the end of period basis, it looked like core loan growth strengthened a bit in the quarter. How do you feel about demand through year-end and how much of these uncertainties around the government shutdown and the debt ceiling are affecting customer sentiment at this point?
Timothy J. Sloan (Senior EVP, CFO of Wells Fargo):
Yes, I would say that it's a little bit too soon to gauge the impact as to what the - how consumers and our commercial customers are going to react to what's going on or not going on in Washington. But the trends that we saw in the third quarter as you said ex the acquisition are continuing. I don't know what the growth is going to be, but I think what we were really excited about in the third quarter was how broad based loan growth was. It wasn't just in one of our portfolios in wholesale, it wasn't just in WBR, it wasn't just in one of the consumer portfolios, so it's broad based. This gets back to John's comments about the recovery. Again setting what's going on in Washington aside, we're in the midst of recovery. It's a little bit uneven, but because of our diversification we're able to pick up wherever the loan growth might be. Again I think it's really a testament to the team that we have out there dealing with customers every day, because we're continuing to grow at a multiple of what the underlying industry is growing at.
Wells Fargo was upbeat on loan growth. The bank is reporting rising loan demand. The CFO wasn't willing to give any specific figures on what loan growth will be. Demand for lending was driven by growth across all of its segments. This has helped investors to better quantify the falling unemployment rate. After all, more people employed will boost the amount of deposits, and increase the demand for loans.
Currently analysts on a consensus basis anticipate Wells Fargo to grow earnings by 3.6% in fiscal year 2014. The bar is set extremely low, and a bit of macro strength could lead to an earnings beat. In other words, investors were buying into Wells Fargo on Friday's session with the expectation that rising employment could result in Wells Fargo beating both top and bottom line.
Brian Moynihan reports on runoff and loan growth
Brian Moynihan (President and CEO of Bank of America) offsets runoff:
Our 248,000 teammates have been fully engaged with our customer clients to drive activity. We are pleased to see another quarter of solid loan growth in our commercial businesses while we continue to see the consumer lending activity stabilize in our card balances and modest growth elsewhere, which has offset the run off in non-core portfolios.
Derek De Vries (Analyst at UBS) asks a very good question:
That's great. Thanks. Then talking more generally, I mean you obviously have a lot of corporate relationships and I guess there was some unease about what's going on in Washington, but assuming we can get through that, do you get the sense that the corporate you're looking has kind of moved from margin preservation to investment or are they just really worried about the macro environment? I'm trying to get a sense of loan growth going forward?
Brian Moynihan (President and CEO of Bank of America) replies:
Yes. I think if you look at our client base which ranges from small businesses through largest companies in the world, I'd say all of them feel very good about their operating position making money. They have done a tremendous job of keeping the cost structure in line. An example with a company that had 200 employees whose sales are going to go up by 25% and they said, we're only going to add five employees. So the American business has gotten very efficient. Meanwhile underneath it you see the core economy continue to push forward even with all things going on around the world.
Brian Moynihan makes a really great point about American businesses. Even with rapid acceleration in revenue growth, certain companies are only willing to increase its labor force by 2.5%. Which is minuscule compared to the actual growth of the company. So rising economic growth may necessitate some hiring, the key question is… whether businesses will hire aggressively? That's something the CEO doesn't really attempt to answer. But he does mention that core economic indicators are indicative of a recovery. Plus, it doesn't hurt that people are willing to borrow money. In Bank of America's instance, the growth primarily came from the corporate lending side of the business (commercial real estate loans).
This doesn't convey as clear of a message as the one we got from Wells Fargo. On the other hand, I'm sure the CEO of Bank of America doesn't want to get too excited. After all, he's more focused on chopping down the head count at Bank of America. Brian Moynihan's main goal is to make the organization more efficient. He's not focused on maximizing revenue growth yet. Maybe when Bank of America has a 37.15% operating margin like Wells Fargo, the bank will start to prioritize loan growth. For now Bank of America has a 12.10%. Hence the mixed results when compared to Wells Fargo.
Conclusion
All the major banks are in different positions. Portfolio runoff losses have largely been mitigated with the exception of Citigroup which reported difficulties in loan origination resulting in a 5% year-over-year decline in revenues. However, Wells Fargo the stalwart of the group generated both loan growth and better management of costs. JPMorgan Chase is busy trying to figure out a way to better manage risk. Bank of America is more concerned with cutting costs than it is in growing the size of its loan portfolio.
Friday's move in financial names was primarily driven by strong macroeconomic data. The executives couldn't arrive at a consensus this past quarter. On one end of the spectrum, you have Wells Fargo expanding margins and growing average loans. On the other end, you have Citigroup experiencing difficulties in generating loan volume, plus cost cuts weren't able to offset the diminishing loan volume. So in summary, falling unemployment rates will help offset the losses of the losers, and further the gains of the winners in the banking space.
Disclosure: I have no positions in any stocks mentioned, and no plans to initiate any positions within the next 72 hours. I wrote this article myself, and it expresses my own opinions. I am not receiving compensation for it (other than from Seeking Alpha). I have no business relationship with any company whose stock is mentioned in this article.