When Warren Buffett's Berkshire Hathaway (BRK.A) (NYSE:BRK.B) adds to its holdings, investors often pay close attention. The large holdings company is notorious for making savvy long-term investments that have provided significant returns. However, one of the company's latest targets has been seeing increasing attention of late. DaVita HealthCare Partners Inc. (DVA) has long carried the support of Berkshire Hathaway's portfolio manager, Ted Weschler. For more than a year, Berkshire Hathaway has been consistently adding to its position in this healthcare company.
DaVita HealthCare Partners provides kidney dialysis services for patients suffering from chronic kidney failure in the United States. In November 2012, DaVita closed on a $4.4 billion purchase of HealthCare Partners, a large medical group which operates medical offices in three states. Combined, the company now serves as the largest managed healthcare company in the nation.
Ongoing Insider Purchases
From November 6 to November 8, Berkshire Hathaway purchased an additional 3,700,294 shares of DaVita. The average price of these transactions was $55.14 per share. This gives the latest transaction a total value of $204 million. Through its many subsidiaries, Berkshire Hathaway has been adding to its growing stake in the healthcare company. A short list of the insider's purchases over the past year can be seen in the chart below.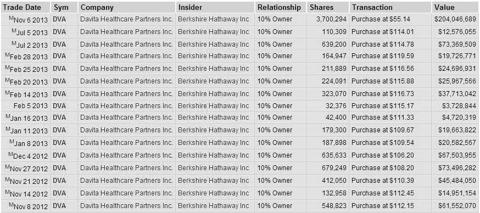 What stands out about this particular transaction is the rather large value attached to it. The $204 million price tag is nearly three times larger than any of Berkshire's previous purchases over the last year. Berkshire's latest transaction represented an 11.66% increase to the insider's position in DaVita. According to the Form 4 found here, the company now owns a total of 35,147,124 shares of DaVita. As of the closing market price of November 8, this values Berkshire's current position at approximately $1.98 billion.
Growing Uncertainty
Despite the large vote of confidence from Berkshire Hathaway, it is expected that 2014 will be a challenging year for DaVita. The company expects that the operating income for HealthCare Partners will be down significantly. The same is to be said about kidney care where operating income is also expected to also fall.
Several factors continue to place pressure on the company's performance. Particularly for kidney care, these factors include Medicare rate cuts, commercial rate pressure, the new exchange policies and the overall uncertainty of the market. Speaking specifically on these factors, CEO Kent Thiry had the following to say on the company's Q3 2013 earnings call:
"The good news is that these dynamics will likely create some attractive opportunities. The bad news is they will also create some negative impacts which could be quite material and could happen before the opportunities manifest it - themselves in any kind of new earnings trajectory. In addition to just dealing with the new dynamics, we'll consume substantial time and capital."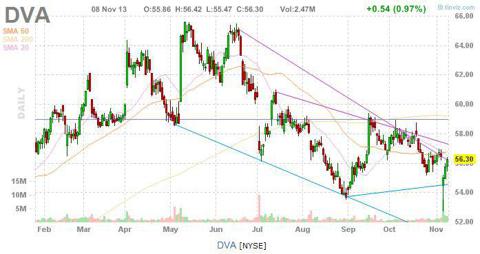 A Look At The Company Now
DaVita now trades with an $11.97 billion market capitalization based on the last price of $56.30 as of November 8. The company carries a forward price-to-earnings ratio of 15.18 based on analyst earnings expectations of $3.71 for 2014. It also carries a moderately high price-to-book ratio of 2.78. DaVita now carries total assets of $16.4 billion. Of this amount, $11.1 billion is allocated to goodwill and intangible assets. The company's total liabilities are $11.7 billion.
For the three months ending in September, DaVita produced net income of $169.8 million based on total revenue of $3 billion. For the nine months ending in September, net cash flow from operating activities increased to $1.42 billion compared to $0.90 billion over the same time period in 2012. The company maintains a current ratio of 1.38.
The company announced its latest earnings results on November 5. Management revised its consolidated operating income guidance for 2013 to the higher end of its prior guidance. Previously, the company expected a range of $1.83 billion to $1.93 billion. It now predicts a range of $1.88 billion to $1.92 billion.
My Final Thoughts:
Berkshire Hathaway's latest purchase remains a persuasive reason for investors to look at the bullish long-term picture forming at DaVita HealthCare Partners. The purchase was made following DaVita's earnings results in which management revised its 2013 guidance higher. But it also came amidst an acknowledgement by the company that uncertainty is increasing throughout its market.
The company continues to expand upon a growing health concern within the United States found in chronic kidney failure. While this places the company directly in the path of changing government policies, the long-term trend also suggests a steadily growing market.
DaVita HealthCare Partners continues to support stable cash flows that should allow for it to sustain the acquisition of HealthCare Partners. However, investors should be aware that much of the company's assets are tied to intangibles which could be subject to write-offs and impairments should the market environment deteriorate. The company appears to be fairly valued at its current levels, but it remains difficult to believe it is a "buy" with a rough 2014 not far ahead.
Disclosure: I have no positions in any stocks mentioned, and no plans to initiate any positions within the next 72 hours. I wrote this article myself, and it expresses my own opinions. I am not receiving compensation for it (other than from Seeking Alpha). I have no business relationship with any company whose stock is mentioned in this article.