Perhaps the most controversial stock of 2013 has been electric car maker Tesla Motors (NASDAQ:TSLA). Debates have raged on as the company's shares rocketed from $35 to $195 in just a matter of months. With the large run in the stock came great expectations. Recently, Tesla reported its third quarter results. While the company beat average analyst estimates, delivery numbers were not as high as hoped and the company failed to give detailed 2014 guidance. This led to a sharp selloff in the stock, closing Friday at levels not seen since early August. With Tesla now 25% off its yearly high, it's time to evaluate this name again and determine if Tesla is a buy. I'll also discuss where Tesla stands in regards to other momentum names that have also seen sharp declines recently.
Third quarter results:
The headline numbers seemed very good. Tesla reported revenues of $603 million, which beat analyst estimates by almost $70 million. Additionally, the company's non-GAAP earnings per share figure of $0.12 beat by a penny. The company delivered 5,500 cars in the quarter, which beat company estimates.
But despite the headline beats, the numbers needed to better. When Tesla traded for $180, I was looking for 5,600 to 5,700 deliveries in Q3. Obviously, they missed that number, and most whisper numbers were in that 5,700 or higher area. But herein lies the key point. With Tesla trading at $175 (or even its $195 high), expectations were high. The company came in at only 5,500, but the stock is no longer trading at $175. Shares are at $145, and hit a low of $132 on Friday. So you have to readjust expectations, and with the stock down 25% from its high, that makes sense.
Looking forward, the company expects to deliver slightly under 6,000 vehicles in Q4, bringing the 2013 total to about 21,500. Tesla did not give an actual number for worldwide 2014 deliveries, but said the company is set to sustain a production run of 20,000 a year in North America. Model S deliveries will expand into Asia and new parts of Europe in 2014. However, the theme during the call was "production constraints," not demand constraints. CEO Elon Musk stated that in today's world, lithium-ion battery production can't keep up with demand.
So how have estimates changed since the report? Well, 2013 revenue estimates have risen from $2.19 billion to $2.31 billion, and 2014 revenue estimates have risen from $3.07 billion to $3.14 billion. However, as you saw above, Tesla's earnings beat of a penny was not as impressive as the revenue beat. As a result, earnings per share estimates have been reduced. Analysts have reduced their non-GAAP earnings per share forecast from $0.61 to $0.58 for 2013 and $1.71 to $1.51 for 2014.
What's t he key takeaway here? Well, overall expectations obviously had to be reduced, as the company's production constraints will hurt. However, you have to keep stock price in perspective. If expectations were down like this but the stock was still at $175 or $195, I would be calling this a tremendous short. But this stock is at $145. While expectations have come down, so has the stock. Does that make this a buy right now? Let's look at some other factors.
Examining the balance sheet:
Tesla's balance sheet did get a little weaker during Q3. The following table shows some key balance sheet metrics since the end of 2011. Dollar values are in thousands, and there's a key discussion to be had about the current quarter's numbers.

Click to enlarge
*Liabilities to assets ratio.
If you just look at some of those numbers, it looks like the company is in short term financial trouble, as both the current ratio and working capital plunged. However, this was a pure accounting decline, and not a business one. In my last Tesla article, linked above, I discussed in detail the company's convertible notes. These convertible notes were shifted from long-term liabilities to current liabilities, and here is the explanation from the 10-Q filing.
During the third quarter of 2013, the closing price of our common stock met or exceeded 130% of the applicable conversion price of our Notes on at least 20 of the last 30 consecutive trading days of the quarter; therefore, holders of the Notes may convert their Notes during the fourth quarter of 2013. As such, we reclassified the $582.5 million carrying value of our Notes to current liabilities and reclassified $77.5 million, representing the difference between the aggregate principal of our Notes of $660.0 million and the carrying value of the Notes, from additional paid-in capital to mezzanine equity on our condensed consolidated balance sheet as of September 30, 2013. Similarly, debt issuance costs previously recorded in other assets were reclassified to other current assets as of September 30, 2013. Should the closing price conditions be met in the fourth quarter of 2013 or a future quarter, the Notes will be convertible at their holders' option during the immediately following quarters.
Shifting the convertible debt from long-term liabilities to current liabilities had a dramatic impact on some of the financial ratios. Had the debt been kept in long-term liabilities, working capital would have been about $632 million and the current ratio would have been 2.08. Those numbers still would represent declines over Q2 values, but the balance sheet would look a lot better.
Obviously, if these notes were converted, the balance sheet would look tremendously better. Assuming the notes are converted completely to stock, you'd see an improvement in working capital, the current ratio, and the debt (liabilities to assets) ratio. I showed above how the ratios would improve if the notes were reclassified as long-term liabilities. Should the notes be all converted, the debt ratio, assuming no other changes, would be around 43.5%. Additionally, since these are interest paying notes, it would reduce some interest expenses for the company.
Analyst comments:
There have been a number of analyst notes out since Tesla's quarterly report, which you would expect. I'm not going to go into full detail on each, so if you want to see a specific analyst's comments, click here. Here's a quick summary of these analyst notes:
Wedbush maintains Outperform rating, but cuts price target from $240 to $205.
Goldman Sachs reiterates Neutral rating, but ups price target from $95 to $104.
Jefferies lowers its estimates, keeps Buy rating and $210 target.
Baird maintains Neutral rating and $187 target.
Deutsche Bank reiterates Buy rating and $200 target.
Dougherty says dip is buy opportunity, maintains Buy rating and $200 target.
Standpoint Research upgrades from Sell to Hold, would begin covering short position.
Most of these analysts are saying the same thing. Q3 numbers were good, but expectations were too high. I couldn't agree more. Tesla did not meet expectations to stay at $175 or $195. Most of these analysts have high price targets on the name, with the average target at $166.33 and the median target at $187.50.
But let's think about some of these ratings. Baird's Neutral rating and $187 price target seemed reasonable for a $175 stock, as you are only looking at about 7% upside. But with a stock at $145, you are talking about 29% upside. Maybe Baird will change their rating this week, especially if the stock drops some more. The $200 and higher price targets also imply a lot more upside now. Even the most bearish on this list, Goldman Sachs, is continuing to raise their target. Remember, Goldman Sachs downgraded Tesla to Neutral on May 8th with a $61 target, and the stock soared from there.
Other momentum names falling too:
Tesla is not the first, and certainly won't be the last, momentum name to come crashing down at one point. That's why these names are called momentum names, because when momentum starts in a certain direction, these stocks move very quickly. Often, these names are heavily shorted, and a huge increase or decrease in short interest can help fuel a sharp move. In this section, I'll talk about some other momentum names that have also recently declined sharply, and why it might hold some hope for Tesla.
Netflix (NASDAQ:NFLX) might be the most comparable momentum name to Tesla this year. The streaming video and DVD giant has seen a massive rise in shares since it nearly hit $50 late in 2012. After a blowout earnings report a few weeks ago, Netflix shares nearly hit $400. However, profit taking set in. After Carl Icahn sold a large chunk of his position (Icahn's investment is one reason for the stock's rise), the stock sold off further. Netflix shares dropped to just $309 in a matter of days, but they quickly rebounded by $35 before coming down a few percent recently. Tesla investors are hoping that Netflix serves as a model for the time being. Shares of Netflix soared, then took a huge fall, and have since rebounded. Tesla shares have seen a rebound from Friday's low. If we get a few more positive analyst comments, a further rebound could be in order.
Another struggling momentum name is coffee giant Green Mountain Coffee Roasters (NASDAQ:GMCR). The name, known for the Keurig system and K-cup, has seen its shares lose a third of their value over the past couple of months. A couple of reasons why include poor K-cup data and an increased David Einhorn short position. Green Mountain shares had gone from $15 to $90 in just over a year, and now they are falling back. Green Mountain might have been the shakiest one of these names, as the company's revenue growth has gone from 95% to the low-teens in just two years. Green Mountain will look to bounce back when it reports on November 20th. The one positive for Green Mountain shareholders is that it generates the most cash of any of the true momentum names. That heavy cash position has allowed the company to have a buyback program, which hopefully it can execute with shares coming down. Tesla is a long way away from being able to buy back shares, and in fact, Tesla shareholders are being diluted a bit each quarter.
The final momentum name I'll discuss today is SodaStream (NASDAQ:SODA), the company that allows you to make your own soda at home. SodaStream has been known for solidly beating revenue and earnings estimates, so it was a shock when they had a revenue miss a few weeks ago. Thanks to the miss, the company did not raise its yearly revenue forecast, and investors are used to raises at almost every quarterly report. Tesla investors were hoping for much more positive guidance as well. SodaStream shares also lost a third of their value before a rebound late last week. That drop doesn't include the pre-market highs this name saw when buyout rumors earlier this year caused a super spike. SodaStream is the smallest of these names, but yet it has been the least volatile of the four. SodaStream shares have started to rebound already, like Netflix, so Tesla investors can hope.
It will be interesting to see the next couple of updates on short interest for Tesla. At the end of October update, there were 21.4 million shares short for Tesla. That short count represents about 27.5% of Tesla's float, according to Yahoo, although the days to cover ratio is very low. Since Tesla is a high volume stock, it would only take a day or two of volume for all shorts to cover. There were a large number of shorts that covered earlier this year, which helped fuel Tesla's rally. The question is will a lot of shorts cover after the latest fall, and we'll get that update in a few weeks.
Technical check:
Tesla shares have broken below a number of key moving averages thanks to the recent fall. Both the 50 and 100 day moving averages have been taken out, as you can see in the chart below.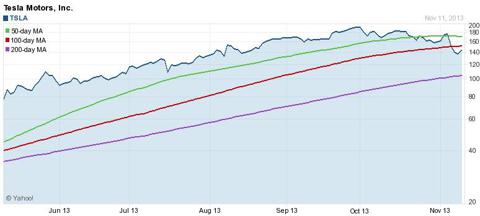 Click to enlarge
(Source: Yahoo! Finance)
Some might argue that Tesla's next level of support would be at the 200-day moving average, currently around $105. That moving average is still rising though, about $3 a week currently. It would take a $40 fall this week to hit the 200-day, which I don't see happening. The 200-day moving average will continue to rise for the time being. I think it would be positive if Tesla shares could at least regain the 100 day moving average, which currently stands around $152. That would take a 5.25% rise in shares.
Final thoughts:
Tesla shares have taken a 25% tumble from their highs, but should investors step right in? Well, if you believe that expectations are now in-line with the stock's price, Tesla might be a good long-term bet, but this is still a very risky stock. Most analysts are positive on the name, with tons of price targets well above where shares are now. For those worried about valuation, Tesla trades for 5.6 times expected 2014 revenues ($3.14 billion). That might seem rich, but Google (NASDAQ:GOOG) trades for 4.9 times its expected revenues next year. As a growth company, Tesla is doing the right things, increasing margins, becoming cash flow positive, etc. Tesla management was cautious on 2014, but due to supply issues, not demand. I'd be much more concerned if the opposite was true. Expectations have certainly come down when it comes to Tesla, but this isn't a $195 stock anymore. Tesla shares were priced for perfection, and Tesla did not deliver. Tesla shares now trade for $145, with more reasonable expectations, and that might provide a buying opportunity for investors.
Disclosure: I have no positions in any stocks mentioned, and no plans to initiate any positions within the next 72 hours. I wrote this article myself, and it expresses my own opinions. I am not receiving compensation for it (other than from Seeking Alpha). I have no business relationship with any company whose stock is mentioned in this article.
Additional disclosure: Investors are always reminded that before making any investment, you should do your own proper due diligence on any name directly or indirectly mentioned in this article. Investors should also consider seeking advice from a broker or financial adviser before making any investment decisions. Any material in this article should be considered general information, and not relied on as a formal investment recommendation.