Best Ideas portfolio holdings Buffalo Wild Wings (NASDAQ:BWLD) and Baidu (NASDAQ:BIDU) reported fantastic third-quarter results. Baidu was added to our Best Ideas portfolio August 1, 2013 at $133.60 per share. A 23% gain in just a couple months isn't too bad, and we're expecting further upside to shares. Buffalo Wild Wings has been a holding in our Best Ideas portfolio for some time, with our cost basis at $65.42 - shares have doubled and then some since that time.
Remember: We run a relatively concentrated portfolio of best ideas, so when we highlight a new idea, it's a big deal. We put our reputation on the line with each and every call we make. Our best ideas are always included in our Best Ideas portfolio, while our best dividend growth ideas are always included in our Dividend Growth portfolio.
Buffalo Wild Wings
The saying "Make everything as simple as possible, but not simpler" was coined by legendary physicist Albert Einstein, and it aptly applies to Buffalo Wild Wings. The firm isn't reinventing the wheel by any means; it simply provides customers reasonably priced wings and beer with dozens of TVs to watch live sports.
Buffalo Wild Wings' business model continues to be tremendously successful with revenue surging 28% year-over-year to $316 million in its third quarter (same-store sales increased 4.8% and 3.9% at company-owned and franchised restaurants). Diluted earnings per share jumped 65% year-over-year to $0.95, thanks in part to lower chicken wing costs. Both figures exceeded consensus estimates.
The firm generated $25.8 million in free cash flow during the period, an impressive number given that it spent nearly $100 million on expanding its store footprint. Buffalo Wild Wings is only in the "fifth inning" of its expansion efforts. With 959 locations, the company sees the opportunity to nearly double its restaurant count to 1,700 units. For 2014, the firm expects to achieve 20% net earnings growth and open its 1,000th store during the year.
Management also noted that its current food to drink mix is 79/21. Alcohol and beverage sales are far more profitable than food sales, so each percentage point shift in the mix in favor of beverages provides Buffalo Wild Wings with even greater earnings power. The company is also adding new products (salads) that appeal to different customers, expanding its consumer profile. Buffalo Wild Wings isn't settling for adequate performance, rather CEO Sally Smith and company, like a great sports organization, are sticking to the plan and striving for excellence.
If you're not yet familiar with Buffalo Wild Wings, its October 1 presentation (pdf) is worth a look.
Baidu
Search has been very, very good to our Best Ideas portfolio. Google (NASDAQ:GOOG), another Best Ideas portfolio holding, posted strong third-quarter earnings October 17 that sent shares north of $1,000 each for the first time in history.
Baidu, often considered the Google of China, followed suit in its third quarter. Top-line expansion was tremendous, with sales soaring 42% year-over-year to $1.5 billion. Earnings per share were about equal to the year-ago period at $1.48, but that figure easily exceeded consensus estimates. The firm remains in expansion mode, akin to Google a few years ago or Facebook (NASDAQ:FB) and Amazon (NASDAQ:AMZN) now. Nevertheless, even as operating expenses grew, the firm generated $575 million in free cash flow during the third quarter, equal to about 40% of total revenue.
Baidu continues to find new online marketing customers, but it also is generating 19% more revenue per online marketing customer than it was a year ago. With hundreds of millions of dollars spent to improve its search algorithm and service, Baidu continues to fend-off competition from the likes of Qihoo 360, controlling more than 60% of all search traffic in China (see image below). We believe this success has been largely aided by the company's decision to plough resources into improving the Baidu algorithm and mobile experience.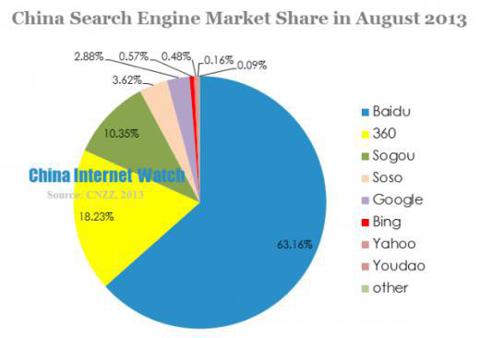 Image Source: China Internet Watch
Without question, the Chinese Internet market represents one of the best secular growth opportunities. Not only does the market already have more than double the amount of users in the US, but it also has roughly half the penetration rate. The company shows no signs of slowing, guiding to fourth-quarter revenue growth of 45.5%-46.9% compared to the prior-year period.
Valuentum's Take
Baidu and (especially) Buffalo Wild Wings have been solid performers in our Best Ideas portfolio. Baidu's shares continue to rapidly converge to our fair value estimate, while Buffalo Wild Wings' shares are starting to get a little pricey. Both portfolio holdings, however, have years of growth ahead of them.
Disclosure: I have no positions in any stocks mentioned, and no plans to initiate any positions within the next 72 hours. I wrote this article myself, and it expresses my own opinions. I am not receiving compensation for it (other than from Seeking Alpha). I have no business relationship with any company whose stock is mentioned in this article.
Additional disclosure: BWLD, BIDU, and GOOG are included in the portfolio of our Best Ideas Newsletter.