Ford Motor (NYSE:F) presented a solid third quarter in October with record profits, strong liquidity and operating cash flows. Ford's results highlighted that the company remains an extremely competitive car manufacturer that still derives the majority of its profits from its core market in the United States. As such, Ford has meaningful potential to develop its market position outside North America with China and South America particularly being attractive markets. Ford now looks back on multiple years of profitability in a challenging macro environment. Its outstanding profitability record has been mirrored in a meteoric rise of its share price over the last five years.
Share performance
Ford shares have been doing extremely well for shareholders over the last five years. Ford has returned nearly 840% for investors who bought in bargain basement territory of $1.80 per share back in early 2009. Over the last year Ford shares have gained 54% in value as the car manufacturer reported quarter after quarter of profitability, revenue growth and rising market shares.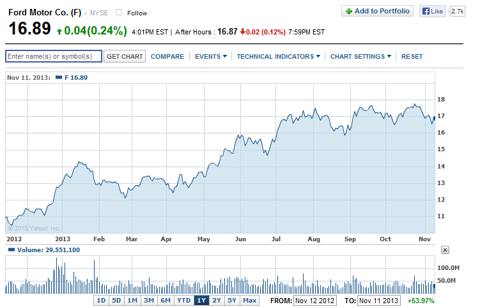 Compared to other large-cap car manufacturers, Ford, however, presents a mediocre share performance. Over the last two years Ford shares are up 52% while General Motors (NYSE:GM) gained 63% and Toyota Motor (NYSE:TM) 98%. Only Honda Motor (NYSE:HMC) returned less than Ford with 34%. Given Ford's solid operating and financial results and a low valuation, this leads me to believe that Ford still has further upside potential.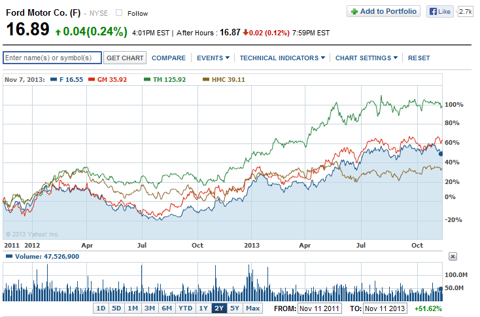 Solid Q3 results
Ford's automotive sector posted revenues of $33.9 billion in Q3 2013 compared to $30.2 billion in Q3 2012 (a plus of 12.3%). Wholesale volumes increased to 1.5 million compared to 1.3 million in the year ago quarter. Pre-tax profit jumped to $2,226 million vs. $1,775 million in Q3 2012 (a plus of 25.4%). The majority of Ford Automotive's profits continue to come from North America: The North American business contributed $2,308 million to pre-tax profit, South America added $159 million, Asia $126 million and Europe lost $228 million. The overall operating margin for Ford's automotive segment stood at 7.0% in Q3 2013 compared to 6.3% in Q3 2012.
Ford's US market share stood at 14.9% in Q3 2013 compared to 14.8% in Q3 2012 and 16.5% in Q2 2013. In Europe Ford's market share increased y-o-y to 8.0% compared to 7.8% in Q3 2012. Decent-sized market shares show that Ford's products are highly competitive and accepted by different consumer segments in a variety of countries. The value proposition Ford offers its customers translates to higher shareholder value for investors: Ford has achieved 17 quarters of consecutive profit and achieved record pre-tax income in the third quarter of 2013.
I see huge potential for Ford's product portfolio in China and South America. Pre-tax profit in South America for instance has rocketed from $9 million in Q3 2012 to $159 million in Q3 2013. Europe, on the other hand, continues to be a challenge for Ford with negative operating margins.
Market valuation
Overall, car manufacturers are cheap. Ford trades at only 9.14 forward earnings and General Motors at 7.84 times forward earnings. Both companies also hold large amounts of cash on their balance sheet. At the end of the third quarter Ford's Automotive unit held about $26.1 billion in gross cash and $10.3 billion in net cash. This equates to roughly $6.37 in gross cash per share and $2.51 in net cash per share. Large cash holdings per share do not only indicate a solid financial position of the company but also signal undervaluation. Ford's market capitalization consists to 38% of gross cash and 15% of net cash which provides investors with a great margin of safety in addition to an already low earnings multiple.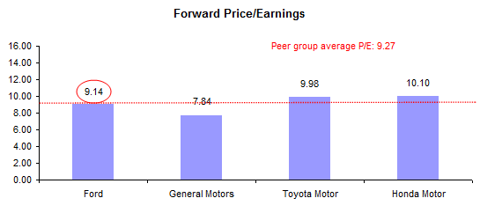 Ford currently pays a dividend of 2.37% which compares against 1.57% for Toyota and 5.03% for Honda. Given the cyclical nature of the automotive industry and its relatively low dividend yields, I do not think that Ford is an attractive investment for income oriented investors. Shareholder value is likely to come from capital appreciation as it did in the past.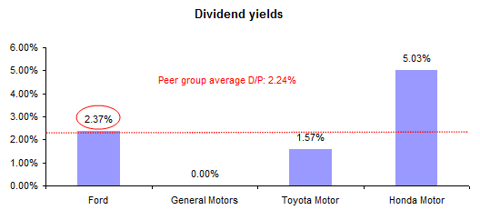 The table below summarizes valuation and dividend metrics as well as premiums/discounts to the peer group average P/E, PEG and dividend ratios.

Conclusion
Ford has done well for shareholders due to solid operational and financial performance over the last couple of years. A good chunk of Ford's historical outsized returns can be traced back to exceptional market disruptions in 2008/2009 which allowed investors to pick Ford up at fire sale prices. However, the company is still relatively cheap at an earnings yield of 11% and remains one of the cheapest in the automotive sector (second only to GM).
Ford has grown profitability and market share in times of extraordinary challenges. If past performance is any indication of future performance, shareholders could get a very decent bargain at 9x forward earnings. In addition, Ford's large cash position allows the company to invest in its product mix, develop new environmentally friendly cars for the future and also provide investors with a substantial margin of safety. Strong long-term BUY on valuation, solid financial position and record profits.
Disclosure: I am long F, GM. I wrote this article myself, and it expresses my own opinions. I am not receiving compensation for it (other than from Seeking Alpha). I have no business relationship with any company whose stock is mentioned in this article.