When most people think of AT&T (NYSE:T), they probably think Internet and smartphones. Both markets seem to be slow and saturated in the U.S., leading to the perception that AT&T is a slow growing, boring company that needs to expand overseas for growth. But is this perception an accurate portrayal of the company going forward?
Raising cash
AT&T has been raising cash this year. In June, the company cashed in on a cool $564 million by decreasing its stake in America Movil (NYSE:AMX). AT&T said in a statement that "We've historically owned about 9 percent of AMX. As a result of AMX's recent share repurchases and our sales, we will again hold an approximate 9 percent interest in AMX." Whatever its intention, the bottom line is that the company raised half a billion in cash overnight.
More recently, AT&T raised even more cash by divesting of some of its towers, this time looking to cash in on a whopping $4.85 billion. The deal will involve AT&T selling or leasing 9,700 of its towers to Crown Castle International (NYSE:CCI), and will double its cash holdings, according to Bloomberg. The added cash will also help take away some of the financial burdens of its massive $14 billion plan to upgrade its network over a three year period.
An international partnership
Even though AT&T trimmed its stake in America Movil, the companies still have a good working relationship, announcing a new collaborative alliance in September. AT&T said that, "The long-standing relationship with the America Movil group of companies is a key pillar of our global strategy. The enhanced regional interconnection will allow us to provide deeper in-country reach in the entire region to match our client's expanding presence in Latin America."
AT&T will now have lucrative access to 15 markets in South America, and will be able to expand its global reach without significantly extending its capital expenditures. It will also be able to provide services internationally by leveraging its access to America Movil's assets (such as its 12 data centers and 91,000 miles of fiber optic network installed throughout the Latin America region).
America Movil also has a growing presence in Europe, which has led some analysts to believe that a collaboration with AT&T across the pond may occur in the future, according to Reuters.
Domestic growth possibilities are less speculative
AT&T's new Digital Life platform is "an all-digital, fully integrated, wireless home management system, giving customers flexibility to manage their home from their smartphone, tablet or PC." This new platform is setting the company up for new revenues as a result of the Internet of Everything.
Digital Life will allow homeowners to view live video feeds of both the inside and outside of their homes remotely, control lighting and appliances for energy efficiency, and even allow authorized people (such as a repair man or pet sitter) into the home remotely with automated door locks. Left the garage door open? DL will alert you and allow you to close it from work. Water leak? No problem, DL will notice it and allow you to shut off the main water source. All of these packages will cost less than an additional $10 a month.
While its hard to quantify the revenues and earnings that will be generated from Digital Life, which is slowly being implemented as of November 8, it appears that it could be a very lucrative source of growth when the IoE takes off. When the "smart home" has Internet-connected appliances, TVs, door locks, thermostats, and just about everything else, AT&T's platform will allow homeowners to control all of these remotely with one integrated security system.
The Industrial Internet will run on AT&T's network
General Electric (NYSE:GE) plans on connecting machines to the Internet and the cloud, in what it is calling the Industrial Internet. Big data is big business, especially industrial data, which is expected to grow at twice the pace of any other big data segment over the next decade. GE is looking to get an early lead in machine-to-machine communications, and has selected AT&T to help it lead.
In October, GE stated that it will be embedding AT&T's global wireless SIMs, or Subscriber Identity Modules, into its industrial products. Machines and devices will then connect and communicate over AT&T's cloud-based network. The companies also plan on collaborating to develop software that enables industrial machines to be controlled remotely.
AT&T has already seen a 38% jump in machine-to-machine customers this past year, but with its new alliance with GE, it should see much more growth going forward. By 2020, the Industrial Internet is projected to be a $514 billion annual market, with a net value of $1.7 trillion. AT&T will capture a good chunk of growth by partnering with the king of industrials that is GE.
Valuations and Fundamentals
AT&T's balance sheet isn't very strong, but by raising cash, it should look a lot better after the CCI deal. New revenue streams from the influx of Internet-connected devices, as well as the massive amounts of data generated from them, will also help boost growth.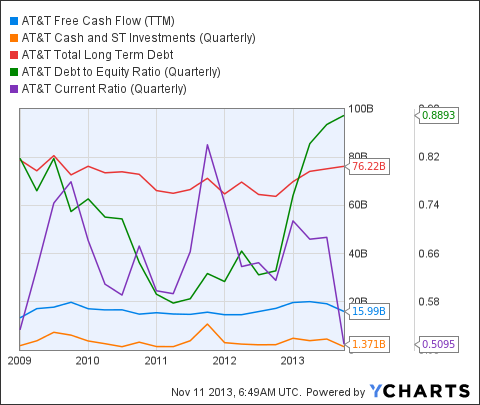 TTM) Chart">
T Free Cash Flow (TTM) data by YCharts
It should also be mentioned that the company still manages to generate ample free cash flow. It also operates in an industry with extremely high barriers of entry that requires intensive spending. Along with competitor Verizon (NYSE:VZ), it basically operates in a duopoly, and both company's have been spending away to upgrade their networks and roll out 4G LTE.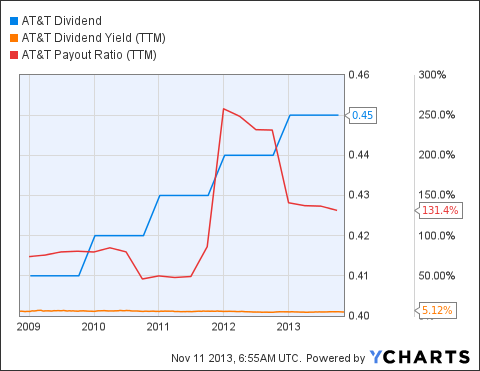 T Dividend data by YCharts
The company's dividend is above average in yield, but below average in growth. This might be attributed to sluggish earnings, which also explains the alarming payout ratio. Looking at a more normalized picture of the company's earnings, however, gives a better representation of where AT&T is going in the future.
Earnings were largely and negatively affected this year because of pension problems and storms. The company reported a record $10 billion Q4 charge, for instance. This is why the payout ratio is so high and why the company appears to be so overvalued from a trailing P/E perspective.
Looking at estimated forward earnings, therefore, may serve as a better, more "normalized" representation of the company's true earnings power. The company is trading at a forward P/E of just 13.12, which is fairly valued, and its forward payout ratio (based on next years EPS estimates of 2.68) is at a much more sustainable 67%.
The bottom line
AT&T expanding into Europe is still uncertain, but the company does have lucrative exposure to fast-growing international markets in Latin America. The company is also raising cash and upgrading its network, positioning itself for the future.
It is also entrenching itself into machine-to-machine communications with GE, and even has a deal with Tesla (NASDAQ:TSLA) to embed its SIM into Tesla automobiles, enabling services such as remote engine diagnostics. AT&T's early adoption of this, as well as its strategic partnership with industry leaders, has future growth written all over it.
That's why AT&T will see good growth here at home even without expanding overseas, largely because of an increase in big data and the Internet of Everything. The IoE is projected to be worth trillions. Capex will also likely be less of a drag on earnings going forward as its 4G LTE network gets closer to completion.
Shares of AT&T look fairly valued, and with a yield over 5%, also provide a solid, stable source of income. Now looks like a good time to start, or even add to, a core position in AT&T.
Disclosure: I am long T, GE. I wrote this article myself, and it expresses my own opinions. I am not receiving compensation for it (other than from Seeking Alpha). I have no business relationship with any company whose stock is mentioned in this article.