The CEO of Public Storage (NYSE:PSA) stated in the 2012 annual report, the four D's were the main contributors to the growth of the company. Here's an excerpt of what he said:
Over the past 40 year, not much has changed in our business (that is good). The key reasons people use self-storage remain the same-the four D's: downsizing, divorce, death and dislocation....
The CEO really meant to say is that constant change, tragedy, and the cyclicals of life (Except for divorce or a breakup which could be a positive thing for a person) are the reasons for the success of the company. I would be hard pressed to argue against the CEO of his own company saying the four D's (maybe three D's) weren't a factor. From a consumer mindset, we've all seen the bright orange signs from the freeway that say "Public Storage," but what is so special about this company that has allowed it to be so successful, in such a fragmented niche industry? I can only think of one thing which all investors should focus on and it's management's actions.
Capital Structure
As I started to read the annual reports and press releases, one of the main differentiators I started to notice versus other publicly traded REITs was the capital structure the company has chosen to use to expand the company. A key-component for REITs is their ability to access capital in order to finance operations and grow. Most REITs issue bonds as their primary source of capital, PSA prefers preferred shares (preferred stock). When thinking about what slice of the capital markets most companies in general raise capital from, it's usually the bond or equity markets, with the preferred market only mentioned in passing.
I know we could argue all day about preferred shares being only debt or only equity. The reality of it is unless you own millions of dollars of senior secured debt or common stock, you really won't get the advantages of the first right of the collateral or voting power in a proxy vote. The advantage for PSA in issuing preferred shares is:
Management doesn't have the stress of bank lenders riding their back about paying back debt otherwise the company's properties will be seized
Access to capital in the preferred market is easy and interest-rates are at historical lows
Issuing preferred shares allows the balance sheet ratios to stay extremely low, allowing the company to access the debt market if necessary
The number of common shares outstanding stays low, which allows the company, structured as a REIT to pay out more in dividends (Of course after the preferred get their share)
Let the Numbers do the Talking
PSA is one of the few companies I follow, which issue preferred shares to raise capital. How has it faired? (Refer to the graph below)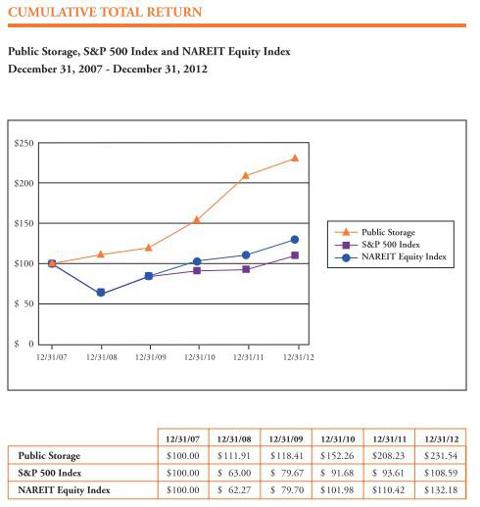 Since 2007 the company has outperformed the S&P 500 and the NAREIT Equity Index. The argument is though, is this attributable to the capital structure or the company's business model?
Business Model
PSA is known for its self-storage units as being its main revenue source. Management has acknowledged the company has a concentrated portfolio in storage units, but in reality the company's business goes beyond just storage units in the United States. PSA owns a 43% common equity interest in PS Business Parks, Inc (NYSE:PSB), which owned and operated approximately 28.6 million rentable square feet of commercial space, primarily flex, multi-tenant office and industrial space. In addition, management has traveled across the pond to seven different European countries, and owns 49% of Shurgard Europe, which operates 188 facilities with approximately 10 million net rentable square feet.
Owning PSA allows an investor to have the luxury of two types of diversification: 1) International exposure to public storage units, and 2) Domestic commercial real estate exposure through small multi-flex office buildings. Both the storage unit business model and the commercial real estate model allows PSA's management to apply their experience over sub-sectors.
The storage unit business is traditionally known as a safe cash-flow generating business, which doesn't require the same capital or time expenditures as a commercial building. A commercial building requires more continuous tenant improvements, common area maintenance, and more building staff to run. In addition, commercial RE is more economically sensitive to downturns as well as upturns in the economy than storage units. In a rising economy, owning commercial RE will add more to PSA's equity in earnings, as higher rental rates will be achieved. From 2010 through 2012, PSB, has added $20.7m, $27.7m, and $10.6m in equity from earnings to PSA's balance sheet. The decrease from 2011 to 2012 is due to the repurchase of preferred shares by PSB.
Storage units provide for a constant for PSA, commercial RE provides for variability in PSA's stock price, what's the unknown factor in PSA which could propel the stock price over $200?
European Operations
The stock price is above the book value of approximately $29.27, as of September 30, 2013. As an investor, looking to price the assets of RE, you must look at the discounted cash-flows. As the growth rate in the domestic operations of PSA lets assume PSA and PSB, grow at a stable rate of 5% for the next 15 years, and the growth rate of the European operations grow at a rate of 12% for the next 15 years with expenses domestically/internationally growing at 4%/7% respectively. (Refer to financial model)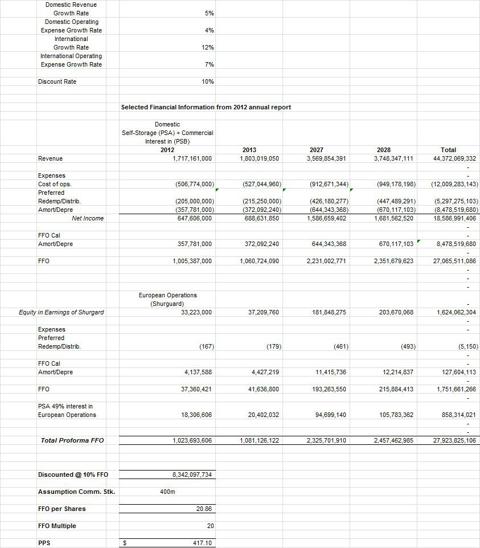 In this scenario, all else equal, FFO would be roughly around $9.5B, discounted at 10% to its present value. This is an oversimplified model, but if there were over 400m common shares outstanding over the same period of time the FFO per share would be roughly $20.86. I have no gross delusions, as the law of large numbers eventually will be a factor in expanding domestically and in Europe. The next frontier though for management would be to expand into China. Though there are no formal plans currently to expand into the Asian continent, a per share FFO of $20 or greater wouldn't be a gross delusion. As China is becoming a large creditor nation with a middle class that is expanding at a record pace. The Chinese will be accumulating goods and expanding services as American's currently do. The four D model as the CEO pointed out in his annual report will apply to the Chinese as it currently does for Americans.
Conclusion
PSA's management has done an exceptional job weathering the storm of the 2008 financial crisis and is in a position to expand the operations at an unprecedented rate. Though the company isn't immune to economic downturns, the company's capital and business structure allow it to acquire distressed assets and emerge financially stronger. With a stock price at around $160 in November 2013, a stock price of $200 in the next 12-18 months wouldn't be unreasonable. I would consider PSA a pillar (Manager Your Own Federal Reserve) in an investment portfolio worth considering for stable cash-flows and also growth.
Disclosure: I have no positions in any stocks mentioned, and no plans to initiate any positions within the next 72 hours. I wrote this article myself, and it expresses my own opinions. I am not receiving compensation for it (other than from Seeking Alpha). I have no business relationship with any company whose stock is mentioned in this article.