Do you like peep shows?
How about a sly peek at what could be part of AOL's broader strategy to flood the web with contributor-generated content and monetize it?
Well, AOL (NYSE:AOL) built Owl as a testing ground for its SEED platform–or, as some people are calling it, its "craptent" platform. The site, according to an AOL insider, "is not currently being used," but it gives us a sneak peek at how AOL plans to distribute content across the web.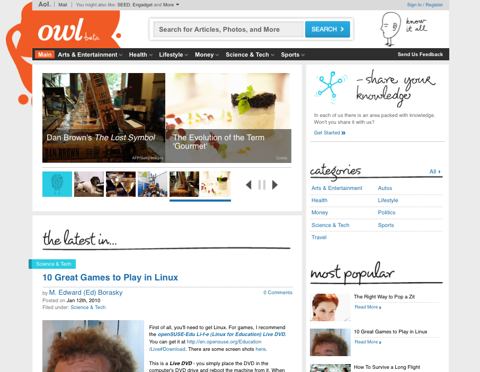 Click to enlarge
What's interesting is that SEED gives AOL the ability to create and syndicate content to sites such as Owl, with very little set-up costs. After all, Owl looks like a pretty slick site, but clearly AOL didn't have too much invested in it–if it could so easily afford to let it lie fallow. I suspect we'll see AOL build dozens of these sites–Hawk, Pigeon, Chicken, Yellow-nosed Albatross–the possibilities are endless!
In the meantime, you'll just have to sit back and wait for AOL's new strategy to unfold. In the meantime, you can catch a glimpse of what's to come. Here's Owl's most popular article to date:
…who knew there was a wrong way?