Thanks to Friday, the week ended up being a loser for stocks – the fifth loser in the last ten (though we're still up for that time frame).
Part of the reason for the pullback was likely to be a simple time factor: stocks have been overbought or a while, and treading water at a key resistance line. The other part of the reason was apt to be disappointing economic news, particularly on Friday. None of it was disastrous, but let's just say the expectations were a little too lofty.
Let's start there.
Economic Calendar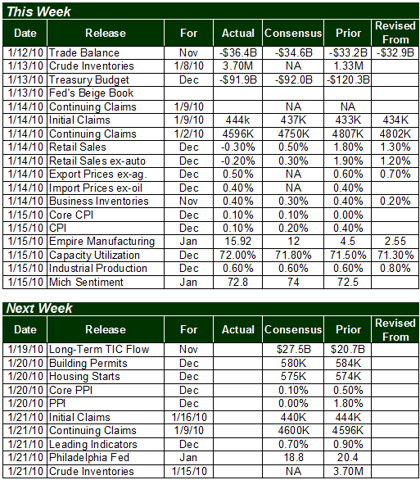 Click to enlarge
Initial claims were a little higher than thought, while continuing claims were slightly lower than expected. On a net basis, it's a modest concern in that ongoing claims may be shrinking more so because benefits are expiring, while larger number of new claims suggests 'job growth' is, well… not growing. It's still too soon to jump to conclusion though.
On other fronts, retail sales were down a hair, despite the expectation for solid improvements (which may have been the ultimate reason for the selloff, even if it came on a delayed basis). And, productivity and capacity utilization were up a tad, as expected.
Perhaps the only real bright spot was another tempered uptick in inflation. It was up 0.1% in December, or up 2.7% on a Y.O.Y. basis. This is actually a two–edged sword; it can be an indication of limited consumer demand and limited purchasing power (compared to long-term norms), or the current trend itself can be a tad scary, knowing how low interest rates are and how many dollars are floating out there. Nevertheless, last month's data mostly beats the alternative… which is wildly steep inflation.
The upcoming week is a little lighter in terms of announcements, though we do have a couple of biggies on the way. Namely, building permits and housing starts will be posted on Wednesday, which will likely push stocks around some. Thursday should be an interesting day as well, with a couple of key numbers from the Federal Reserve. Be ready.
S&P 500/VIX: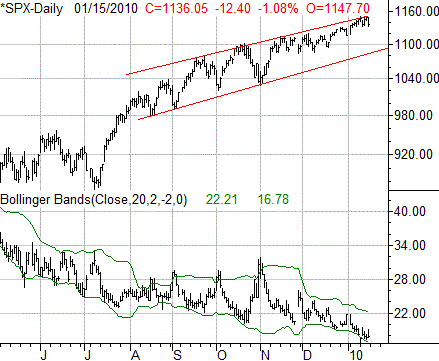 While we've talked about the SPX's upper resistance line (red) for weeks now, we've yet to actually see the tumble back to the lower edge of the recent bullish range. That looked like a distinct possibility after the modest slide in early December, but the buyers stepped in quickly to push the upper envelope again.
Could Friday (and last week for that matter) finally be the beginning of the healthy pullback we've been expecting since late November? Perhaps.
In terms of size, last week's net selling – though not earth-shattering - was somewhat significant, and should have struck a bit of fear in the hearts of investors. The problem is, it didn't. The CBOE Volatility Index (VIX) barely budged last week after hitting new multi-month lows. Hitting new lows makes sense as the market hits new high. The failure of the VIX to move any higher while the market's falling as fast as it did on Friday, however, says investors just shrugged the selling off…. a dangerous arrogance, in the near-term that will eventually need to be adjusted with a dip.
On the flipside, 'the trend is your friend', and as it stands right now the trend is bullish. In fact, our market timing service is still bullish based on the overall market trend and VIX trend, cognizant of the fact that last week's action – though concerning – isn't yet a reversal of the bullishness. The pullback possibility lingers nonetheless.
On that note, it's also important to understand the timeframes in question. In the bigger picture, the major trend is bullish (as described in our bulletin), and a brief bearish trend is likely…. a pullback that as it stands now would be a good entry opportunity. For now, a near-term pullback from the S&P 500 should find a floor around 1090. We'll be looking for the VIX to (finally) hit its upper Bollinger band around that time.
Sector Performance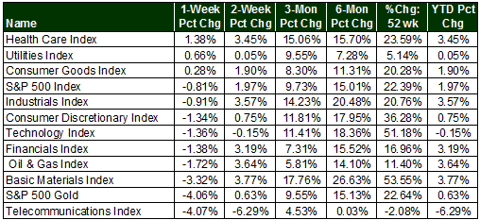 Click to enlarge
It wasn't a bad week for healthcare, but it was a terrible week for telecom. There are two things to note about telecom's 4.0% pullback though. First, strong selling from AT&T (NYSE:T) and Verizon (NYSE:VZ) – and only those two stocks - was the bulk of the reason why the sector looks so awful. And two, the dip was excessive to the point that now would be a good time to step into longer-term holdings on those two stocks (or any in the group, for that matter).
Earnings Calendar
It's here. Though the first earnings season of the year is suggested as February, they actually start to roll in mid-January. Below are the biggest ones for the coming week.
Date Company Symbol EPS Est/Year Ago EPS
Disclosure: No positions.